MLB.com Columnist
Tracy Ringolsby
Should he stay or should he go? The choice is Tulowitzki's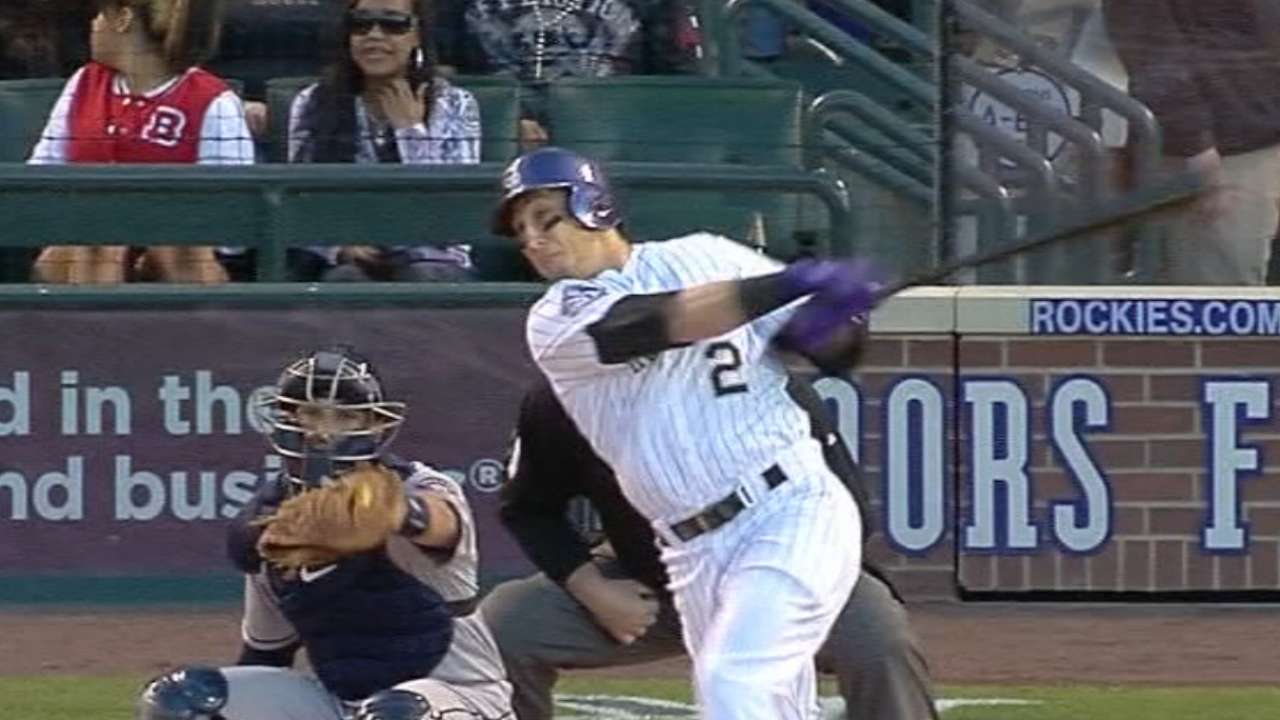 Approached by a reporter earlier this week in Anaheim, Rockies shortstop Troy Tulowitzki seemed taken back by sudden speculation that he might ask to be traded.
"I have no idea where [the reports] are coming from,'' he said.
Fortunately, Tulowitzki is meeting with his agent Paul Cohen in Los Angeles today, like he does every time Colorado visits Los Angeles. Cohen can explain the latest outburst of Tulowitzki trade rumors.
Cohen, after all, is the one who fueled the latest speculation when he told the New York Post's Joel Sherman on Tuesday that he was going to meet with Tulowitzki and discuss the possibility of asking for a trade.
Tulowitzki has tried to downplay the subject for more than three years, but he never shuts the door. He will add the caveat "if the Rockies feel that's what is best for the organization."
And he gets visibly upset when speculation surfaces over a "disgruntled" Tulowitzki, like it did last August when he went to Philadelphia for an examination on his left hip, which eventually required surgery, and the day before was spotted in the stands at Yankee Stadium.
Tulowitzki had the plausible explanation that he had to be in the East on Sunday so he could be on time for his medical appointment, and so instead of sitting in a hotel room, he decided to stop in the Bronx and watch his idol, Derek Jeter, play in what was Jeter's final season.
That, however, did nothing to end the speculation.
For the sake of himself and the sake of the Rockies, the time has come for Tulowitzki to make a definitive statement. Either he wants to be a member of the Rockies or he wants to be traded.
This isn't an issue of what the Rockies want to do. This is about where Tulowitzki wants to be. He is the face of the franchise, and he made it clear from the day he arrived in 2006 that he wanted to be the leader of the team.
Leaders, however, lead in good times and bad.
If the ongoing struggles of the franchise are wearing on Tulowitzki after nine years in Colorado, nobody could blame him for wanting a chance to go somewhere else and have an opportunity to win.
Tulowitzki is 30, and given his ongoing physical problems, which limited him to 264 games the past three seasons, he has to wonder about his future. He had the hip surgery at the end of last season, and the hope is that will alleviate the series of injuries.
What has to be understood is that Tulowitzki came into this season with six years and $118 million remaining on his contract, a major financial obligation for any team. For the Rockies to trade him, they will either have to eat a major chunk of that contract if they want to get quality prospects in return, or take a lesser package of talent for a team to take a gamble and assume what's remaining on the contract.
And don't overlook the fact that if Colorado does trade Tulowitzki, the contract calls for him to receive another $2 million and also provides that he will have a complete no-trade clause with the new team.
That's how Tulowitzki can indicate how serious might be in being dealt.
Does he want a chance to go elsewhere bad enough that he will waive the $2 million bonus?
Does he want a chance to go elsewhere bad enough that he will waive the no-trade clause for the new team?
Does he want a chance to go elsewhere bad enough that he would ease the concerns about his health by agreeing to replace part of his guaranteed contract with bonuses based on his availability to play?
Those are questions only Tulowitzki and his agent can answer.
It is not unprecedented.
After the 1999 season, shortly after Dan O'Dowd became the Rockies general manager, Barry Axelrod, the agent for pitcher Darryl Kile, met with O'Dowd, and both sides agreed that Kile would benefit from a change of scenery. The curveball that was such a critical part of Kile's arsenal wasn't suited for Denver's mile-high altitude.
The two discussed possible teams of interest, and Axelrod assured O'Dowd if Colorado found a willing trade partner, Axelrod would massage what remained on Kile's contract to make sure it would fit in the budget of the new team, but also would be acceptable to the Major League Baseball Players Association.
Within a couple of weeks, O'Dowd had a deal in place with the Cardinals. Axelrod and Kile agreed to adjust the contract to fit the Cards' budget. The MLBPA signed off on the adjustments and the trade was made.
It was an example of a player knowing he needed to be elsewhere and an agent creative enough to make it happen.
Tracy Ringolsby is a columnist for MLB.com. This story was not subject to the approval of Major League Baseball or its clubs.