Jay to DL; Cardinals recall Scruggs
Outfielder dealing with left wrist tendinitis, bruise on thumb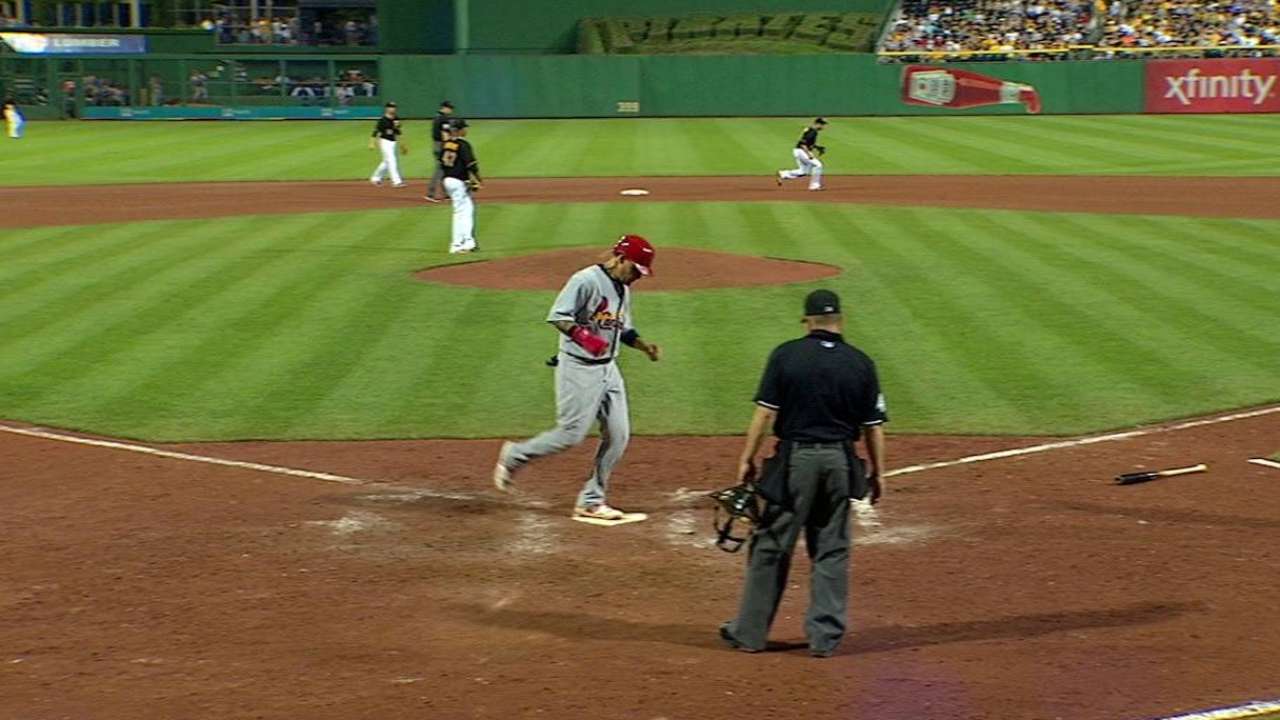 CLEVELAND -- The Cardinals placed Jon Jay on the 15-day disabled list and recalled Xavier Scruggs from Triple-A Memphis prior to their Thursday series finale against the Indians. Jay is suffering from a case of tendinitis in his left wrist and a bone bruise on his left thumb.
Jay underwent surgery on the wrist on October 20, but it has yet to be 100 percent this season. Jay has struggled through 115 plate appearances to open the year, batting .248/.330/.267 without a home run or a steal. Cardinals manager Mike Matheny says the wrist caused Jay to manipulate his swing, and according to Jay, that the compensation likely played a part in the thumb injury.
"It's one of those things where it's still early in the season, and we're just trying to stay ahead of it now," Jay said. "Obviously, I want to be out there playing, but I think this is the best thing for now. Hopefully, we'll get back on track, and I'll get back out there as soon as I can."
Jay had missed the previous three games due to the thumb, and the Cardinals were put in a pinch on Wednesday when Matt Holliday was removed from the game after being hit by a pitch on his left elbow. The Cards were forced to use infielder Pete Kozma in left field for the remainder of the game, since Jay was unavailable.
Holliday was originally going to be held out of Thursday's game, but lobbied Matheny at the last minute and was inserted into the lineup as the designated hitter, batting third. Jhonny Peralta was given a day off.
"This is a day we were trying to give Jhonny off a week or so ago; we had kind of marked it on the calendar," Matheny said. "Holliday came in and pulled me out of the weight room and really lobbied hard, which is great news for us."
Scruggs, a first baseman and outfielder, was batting .229 with a team-high six home runs for Memphis at the time of his promotion. The former 19th-round Draft pick played briefly for the Cards last season, and he's logged a .255 career average and 140 home runs in 801 games in the Minor Leagues.
Worth noting
• Matheny mentioned that outfielder Randal Grichuk "isn't far away" from completing his rehab assignment on a sore back that has bothered him since Spring Training. Grichuk was scheduled to play rehab games Thursday and Friday, and he could rejoin the team as early as Saturday in St. Louis. Grichuk could see time in center field upon his return, according to Matheny.
• The Cardinals also announced Thursday that they have transferred Jaime Garcia's 30-day injury rehabilitation assignment from Memphis to Double-A Springfield. Garcia is expected to start for Springfield on Friday, and he allowed five earned runs in his lone start for Memphis.
August Fagerstrom is an associate reporter for MLB.com. This story was not subject to the approval of Major League Baseball or its clubs.