MLB.com Columnist
Jim Callis
Pipeline Inbox: Who should D-backs select?
Reporter Jim Callis answers prospect questions from fans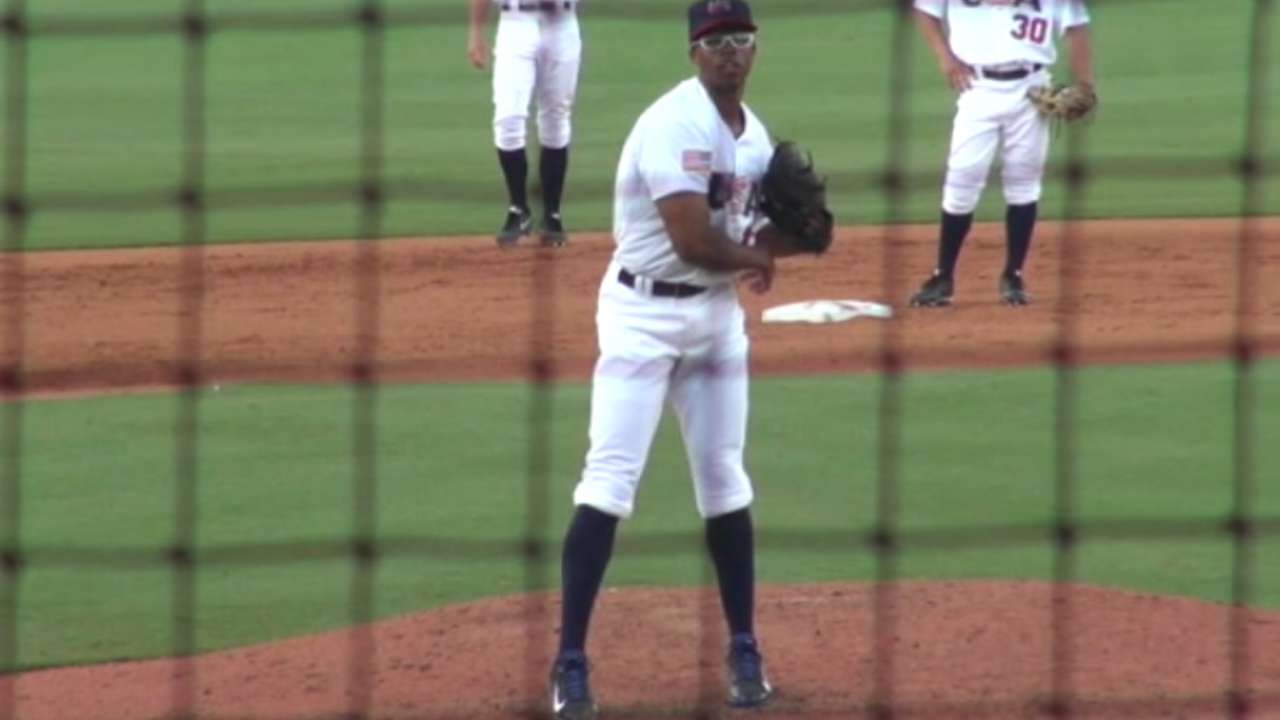 We're 25 days away from the Diamondbacks making the No. 1 overall pick in the 2015 First-Year Player Draft on June 8, and it seems like there's just as many rumors as to whom they'll select.
Arizona has been linked to the consensus top three prospects available -- Lake Mary (Fla.) High shortstop Brendan Rodgers, UC Santa Barbara right-hander Dillon Tate and Vanderbilt shortstop Dansby Swanson -- and my gut tells me Swanson is the front-runner in that group. The D-backs have also been tied to what presumably would be discounted deals with several players who otherwise figure to get taken significantly lower in the first round, such as Niskayuna (N.Y.) High outfielder Garrett Whitley and Kennesaw Mountain High (Kennesaw, Ga.) catcher Tyler Stephenson.
Going the latter route doesn't make much sense to me. The assigned bonus-pool value for the top choice is $8,616,900, and no one in this Draft is going to command close to that. To put that amount in perspective, the Draft record for a straight bonus is the $8 million the Pirates gave No. 1 overall pick Gerrit Cole in 2011.
Arizona can take whomever it believes is the best player and save at least $2 million that can be allocated to other selections. There's no need to do a discount of $4 million or more, and it's unlikely there will be enough quality players to spend that much extra money on in later rounds.
Click here to submit an Inbox question
Dillon Tate appears to be the consensus top college pitcher in this year's Draft. Where would you rank him among the top college pitchers available in 2013 and '14? On a similar note, where would Brendan Rodgers and Dansby Swanson rank among the better shortstops drafted over the past couple of years?
-- Dan T., Davis, Calif
Based on their stature at the time of their Drafts, Tate would rate behind Jon Gray (the No. 3 overall pick in 2013), Carlos Rodon (No. 3 in '14), Mark Appel (No. 1 in '13) and Aaron Nola (No. 7 in '14). The last two Drafts weren't strong in shortstops, and Rodgers and Swanson would rank first and second ahead of Trea Turner (No. 13 in 2014) and J.P. Crawford (No. 16 in '13).
Yes, I know this contradicts what Jonathan Mayo wrote in last week's Pipeline Inbox about Swanson versus Turner, but I'll take Swanson's superior bat and defense and settle for plus speed rather than Turner's well-above-average wheels.
While Rodgers, Tate and Swanson are the three best players available this year, it's not a great crop of top-of-the-Draft talent. Rodgers, who would be my choice if I were in charge of the Diamondbacks, would have been the fourth-best prospect in 2013 (behind Gray, Kris Bryant and Appel) and third in '14 (after Brady Aiken and Rodon). Tate and Swanson would have ranked eighth two years ago (behind Gray, Bryant, Appel, Clint Frazier, Kohl Stewart, Austin Meadows and Colin Moran) and seventh last June (after Aiken, Rodon, Kolek, Alex Jackson, Nick Gordon and Nola).
There are many imminent graduates on MLBPipeline.com's Top 100 Prospects list. How far off is Cubs shortstop Gleyber Torres from making the cut?
-- Chris L., Chicago
At the rate our Top 100 Prospects are losing their rookie and prospect eligibility, Torres could join the list before the end of May. He's barely 18 years old and he's hitting .336/.427/.416 with eight steals in 31 games in the low Class A Midwest League. More important, Torres has the tools to back those numbers up.
Signed for $1.7 million out of Venezuela in 2013, Torres could develop into a plus hitter with average power and speed. He has a strong arm and good instincts at shortstop, though his quickness and range may be better suited for second base in the long run. The Cubs already have a young and talented infield with Anthony Rizzo, Addison Russell, Bryant and Starlin Castro, and it will be interesting to see where Torres (not to mention Arismendy Alcantara and Javier Baez) will fit in.
Which college hitter in the 2015 Draft has the most power?
-- Ryan R., Chicago
It's not a good year for college power bats. The obvious answer to this question is Boston College outfielder Chris Shaw, who led the Cape Cod League with eight homers last summer and has 11 in 37 games this spring despite breaking the hamate bone in his right hand a month ago. He's a 6-foot-3, 248-pounder with a lot of strength and pop to all fields.
There's not another college hitter on MLBPipeline.com's Top 100 Draft Prospects list with plus power. There are a number of college outfielders on the Top 100 with average pop -- Ian Happ (Cincinnati), Andrew Benintendi (Arkansas), D.J. Stewart (Florida State), Donnie Dewees (North Florida), Christin Stewart (Tennessee) and Joe McCarthy (Virginia) -- but none who look like a lock to become 20-homer guys in the Major Leagues.
Are the Reds going to continue taking pitching in the first round or will they go with a position player?
-- Mike H., Sterling, Va.
I don't see Cincinnati as favoring pitchers in the first round. Scouting director Chris Buckley is a firm believer in taking the best player available. His eight first-round and supplemental first-round choices in the past four Drafts are spread among all four demographics: high school pitchers (Robert Stephenson in 2011, Nick Travieso in '12) and position players (Jesse Winker in '12), college bats (Jeff Gelalich in '12, Phil Ervin in '13, Alex Blandino in '14) and arms (Michael Lorenzen in '13, Nick Howard in '14).
Unless a pitcher such as Vanderbilt's Carson Fulmer falls to the Reds at No. 11, I think the top prospect on their board likely will be a position player. Plant High (Tampa, Fla.) outfielder Kyle Tucker might be the best hitter with a chance to get there, and other possibilities include Happ, Stephenson and Benintendi.
Jim Callis is a reporter for MLB.com and writes a blog, Callis' Corner. Follow @jimcallisMLB on Twitter. This story was not subject to the approval of Major League Baseball or its clubs.