Bergman a bright spot in Rockies loss
Right-hander delivers 5 1/3 strong innings in relief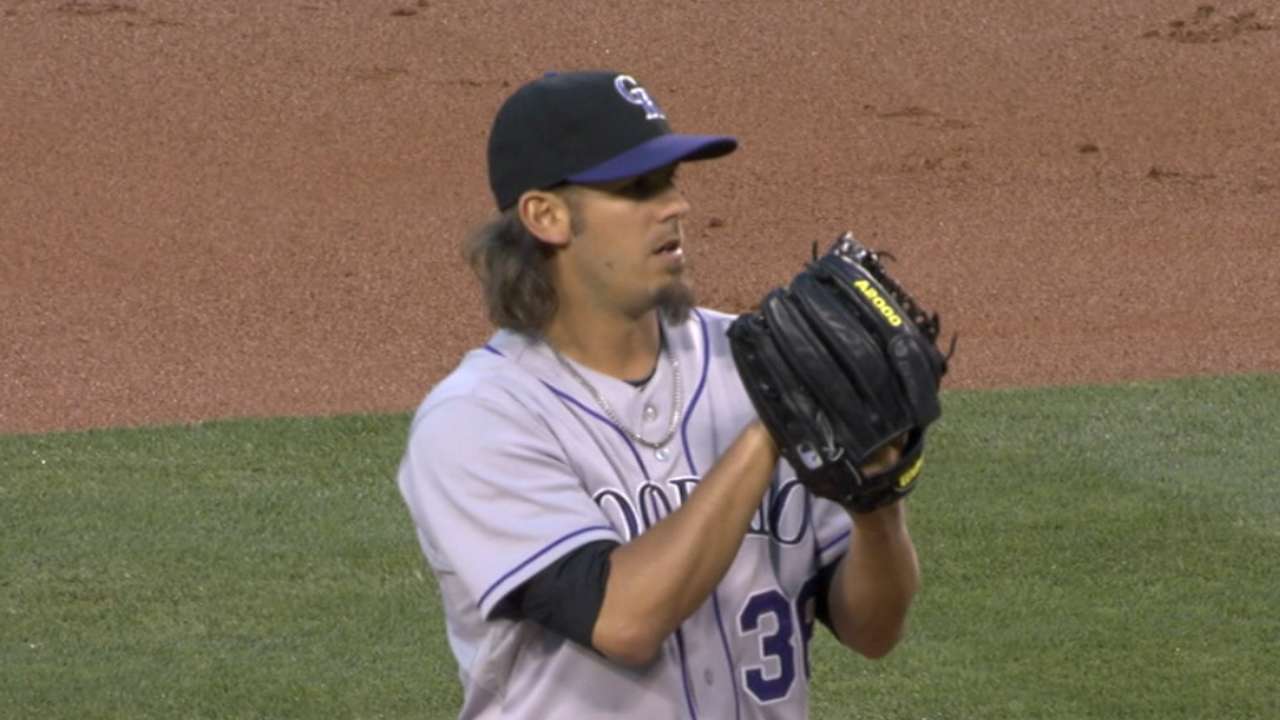 ANAHEIM -- On a night when the Rockies lost manager Walt Weiss before the game to an appendectomy, then lost right-hander Jordan Lyles when he was struck on his pitching hand by an Albert Pujols line drive in the first inning, they also got some of the best pitching they've seen all season -- most of it from right-handed reliever Christian Bergman.
It was not enough, however, to arrest their slide, as the Rockies' losing streak reached 11 games Wednesday at Angel Stadium when Pujols beat a five-man infield with a bases-loaded sacrifice flyin a 2-1 loss.
"It's par for the course, the way things are going right now," said bench coach Tom Runnells, who managed in Weiss' place. "We're really proud of the kids, though, the way they battled. If we play like we did tonight, and battle, we'll be fine."
The Rockies, who came in with a staff ERA of 5.48, got a 1-2-3 first from Lyles, then five innings from Bergman in which he faced the minimum of 15 batters. Bergman finished 5 1/3 innings of three-hit ball, allowing one run while striking out four.
"Back in the doctor's office for X-rays (which showed no fractures), we had the TV on," Lyles said. "That was really good for him to step up like that. That's what he does, he throws strikes and be efficient."
Bergman said he didn't see where Pujols' liner hit Lyles, and after seeing him walk to the dugout with the inning over "I was surprised when the call came down to warm up." Bergman added: "I had to be efficient. I had to get us to the sixth, and I got into the seventh. I felt good the whole way through. I pretty much had four pitches working that I was able to locate."
Runnells called Bergman's effort "outstanding," and emphasized that he hugged the reliever when he came out with one out in the seventh.
"He was phenomenal," Runnells said. "He gave us length. He pitched tremendously. He kept the ball down, and threw first-pitch strikes."
Walks have plagued the Rockies most of the season. Kyle Kendrick (for the third time) didn't walk a batter in his seven-inning no-decision Tuesday. The Rockies didn't issue a walk Wednesday until Scott Oberg walked David Freese to load the bases in the seventh, but Colorado got out of that jam with a tie when center fielder Drew Stubbs threw Pujols out at the plate. Counting an intentional walk to Mike Trout in the decisive 11th, the Rockies walked just two in 10 1/3 innings.
"It's frustrating," Stubbs said of the losing streak. "When we pitch great, we don't score, and vice-versa. We're being tested."
Right fielder Carlos Gonzalez, who moved in to play first when Runnells deployed the five-man infield against Pujols with none out and the bases loaded against Christian Friedrich, said the whole day -- losing Weiss, then Lyles, then the game -- was typical of the 11-19 Rockies season.
"Whatever happens, it happens against us," Gonzalez said. "We still have a lot of games ahead of us. We can't put our heads down. We've got to keep grinding."
Earl Bloom is a contributor to MLB.com. This story was not subject to the approval of Major League Baseball or its clubs.