MLB.com Columnist
Mike Bauman
White Sox leave Milwaukee as advertised
Dominant starting pitching steers South Siders in right direction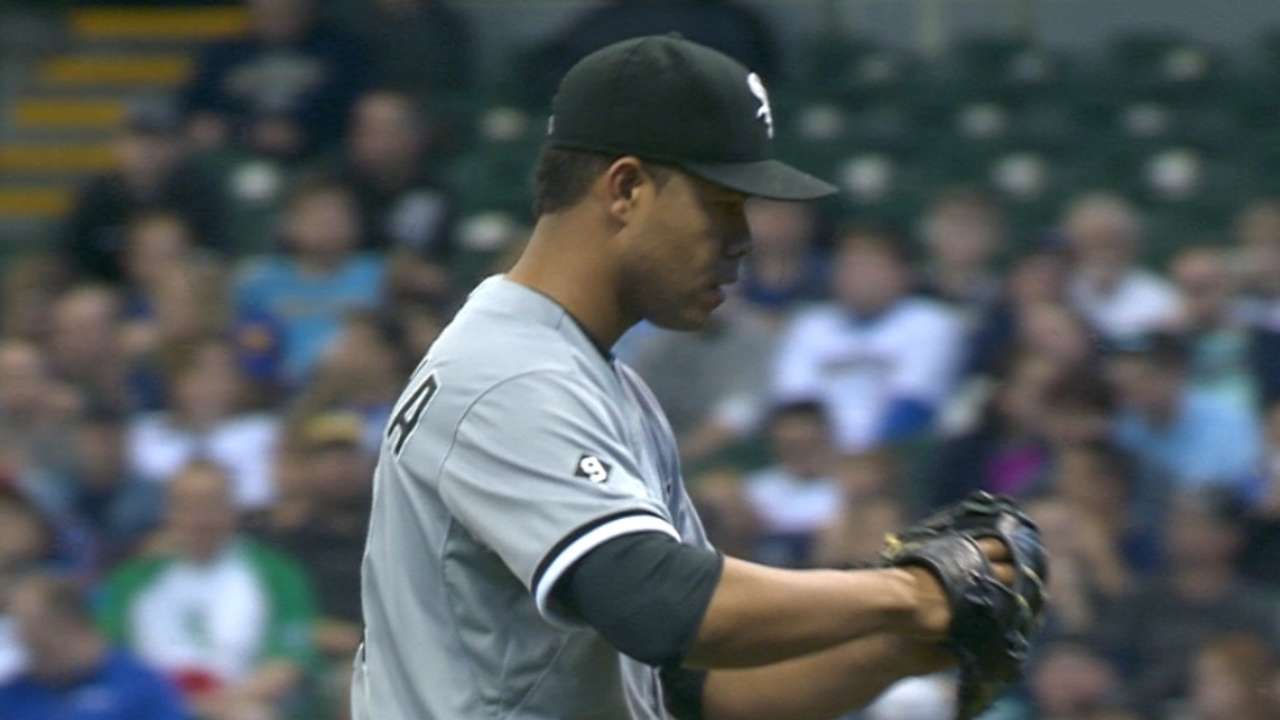 MILWAUKEE -- The past two nights, these were the Chicago White Sox as advertised and more.
When a team gets strong starting pitching, all things seem possible. When a team gets dominant starting pitching, all things actually are possible.
That was the kind of starting pitching the White Sox received the past two nights in victories over the Milwaukee Brewers. Tuesday night, staff ace Chris Sale gave up two runs on three hits and one walk while striking out 11 over eight innings in a 4-2 victory.
Wednesday night, there were strikingly similar results. Jose Quintana allowed one run on four hits, with one walk and 10 strikeouts over seven-plus innings in another 4-2 victory.
Those two victories gave the White Sox their third straight series victory. They are still under .500, but they have won six of their past nine games and appear to be headed in the right direction.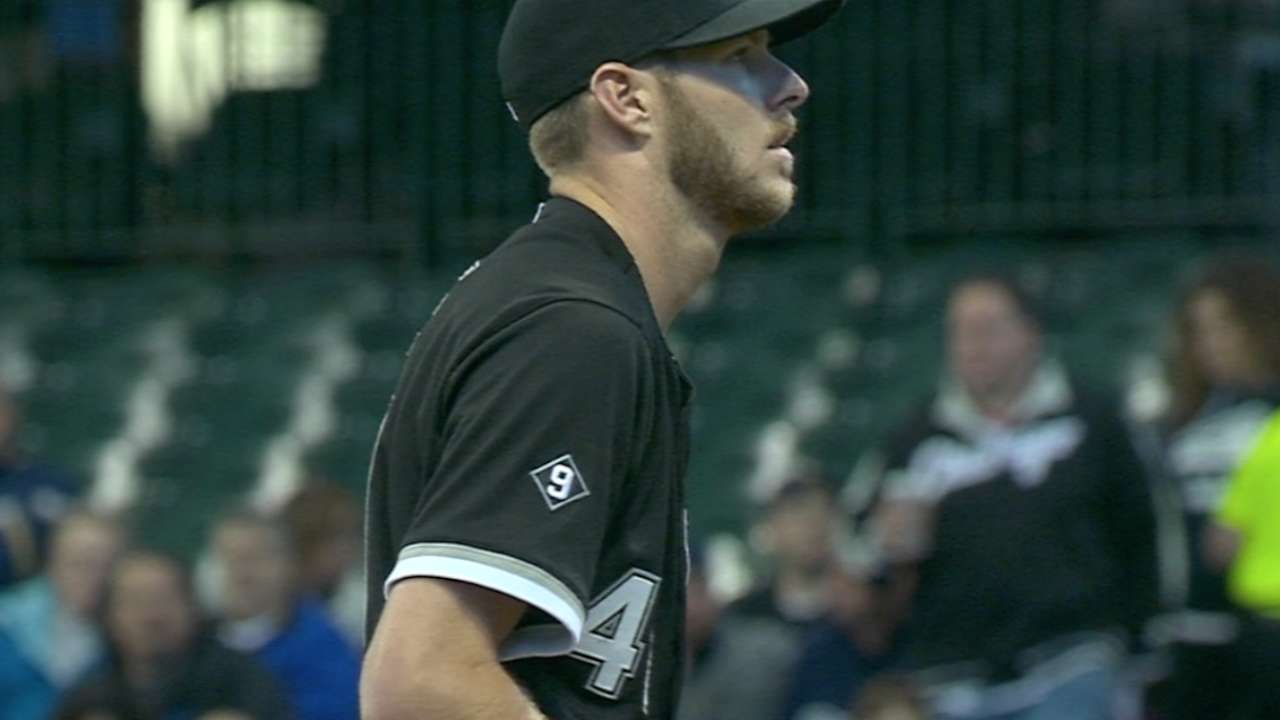 For the most part, the Sox have not had the starting pitching they expected, so the past two games were significant in more ways than one. By winning two out of three from Milwaukee, the White Sox won their first road series of the season. Coming into this game, Chicago starters had a road ERA of 6.78.
But happy days are here again if the White Sox can string together more of these starts. Sale is one of the best in the game. Quintana has already demonstrated that the can compete successfully at this level. And the White Sox are convinced that he has the potential for even more.
"He was fantastic, he was strong, even there at the end, he was throwing strikes," White Sox manager Robin Ventura said of Quintana. "I think that's more the stuff that you expect out of him. When he throws strikes like that and has been aggressive, he's been good."
Quintana was roughed up in two of his first three starts this season. But over his past four starts, he has compiled a 2.08 ERA. Quintana made a very big impression on the opposition in this start.
Brewers center fielder Carlos Gomez homered in the ninth against White Sox closer David Robertson, but against Quintana, he struck out, flied out and grounded out, with second baseman Emilio Bonifacio making a fine play to rob him of a hit.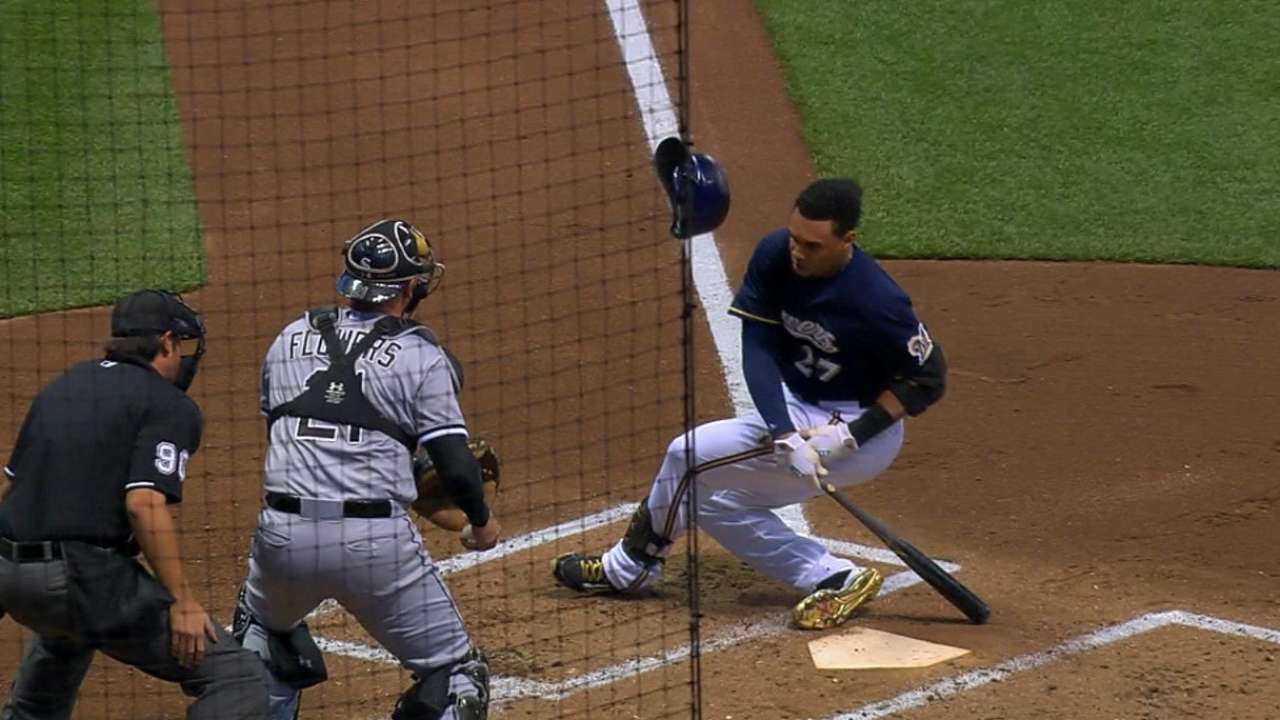 "[Quintana] came today and threw strikes and kept the ball low in the strike zone," Gomez said. "He didn't miss many pitches today. Even myself, I had three good-bats. The first at-bat, I had eight or nine pitches, the second at-bat, too. I swing and the ball disappeared. He threw that cutter and the sink, back and forth, outside and inside. You have to give the credit to Quintana today. He threw the ball good, and that's what it is."
Facing Sale one night and Quintana the next, both at the top of their game, turned out to be an insurmountable obstacle for Milwaukee's lineup.
"You're not always going to have guys like this," Gomez said. "Sale, he was really good. He has really [nasty] stuff. Quintana, he had been struggling before he came here, but if he continues to pitch like that, he's going to be one of the top guys in the league. Every ball was down in the strike zone, and when he wanted, you could see a couple pitches at 94 when he wanted to finish. He's got good stuff and a good career to go."
For Quintana, this kind of performance is the goal.
"We try every time with my preparation to have all my stuff working good," Quintana said. "I'm happy with it and now I'm going to try to keep going, to continue."
Beyond the two needed victories, the length of these two starts also gave a much-needed breather to the White Sox bullpen. Ventura noted that it was important for the starters "to get that mindset" of going consistently deep into games.
Overall, these two starting performances and the resulting victories have provided a better mindset for the entire team. There can be optimism regarding the work of Sale and Quintana. But beyond that, the Sox have every reason to expect that Jeff Samardzija's work will reach a higher, more consistent level than it has to date. And the insertion of talented rookie Carlos Rodon into the rotation could provide another boost.
There is no overstating how much outstanding starting pitching means. As a point of reference, check out how much better the White Sox season looks than it did two days ago.
Mike Bauman is a national columnist for MLB.com. This story was not subject to the approval of Major League Baseball or its clubs.