MLB.com Columnist
Richard Justice
Astros thrilled game-changer Springer is back
In first game off DL, energetic outfielder clubs game-winning homer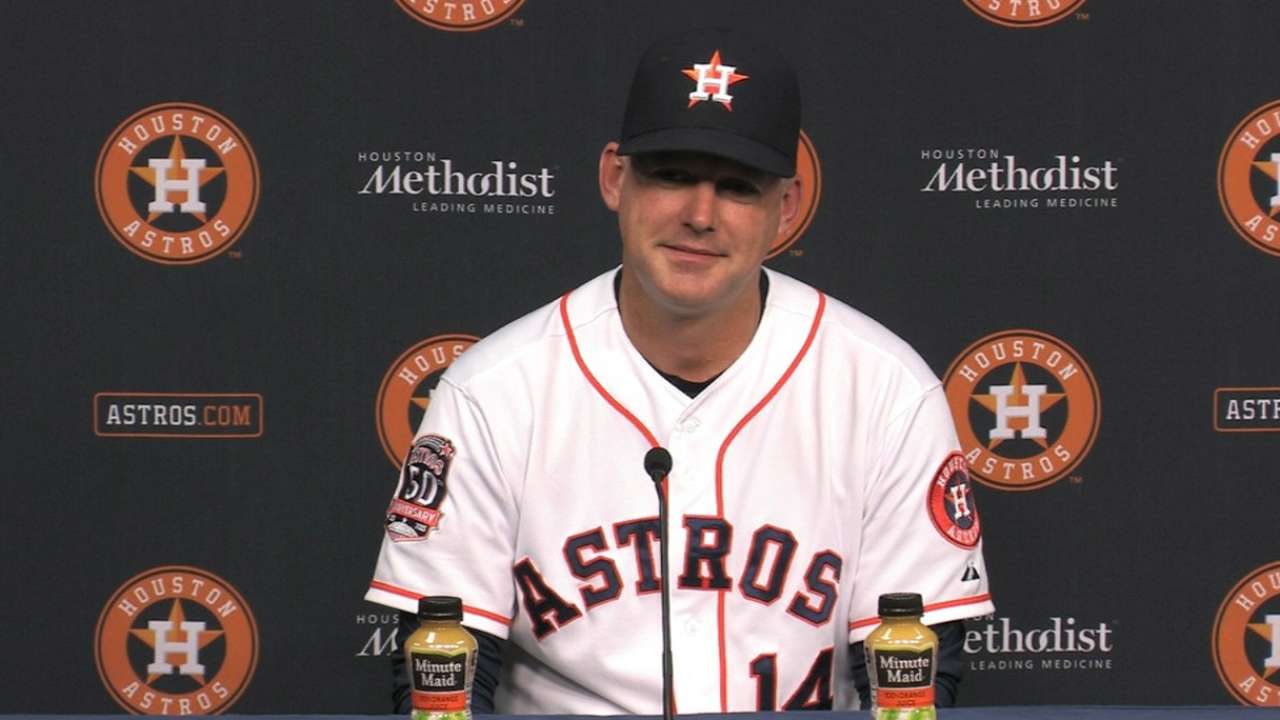 HOUSTON -- He impacts everything. In the end, it couldn't be simpler. Some guys are like that, and this is what the Houston Astros always hoped George Springer would be.
"He's one of those dynamic players that can change a game in a lot of ways," Astros catcher Jason Castro said.
And that's just part of the story.
"His personality is very infectious," Houston manager A.J. Hinch said. "He never has a bad day."
Actually, Springer has had one or two lately. One thing so appealing about these Astros is their youth and energy and how they throw themselves around the field.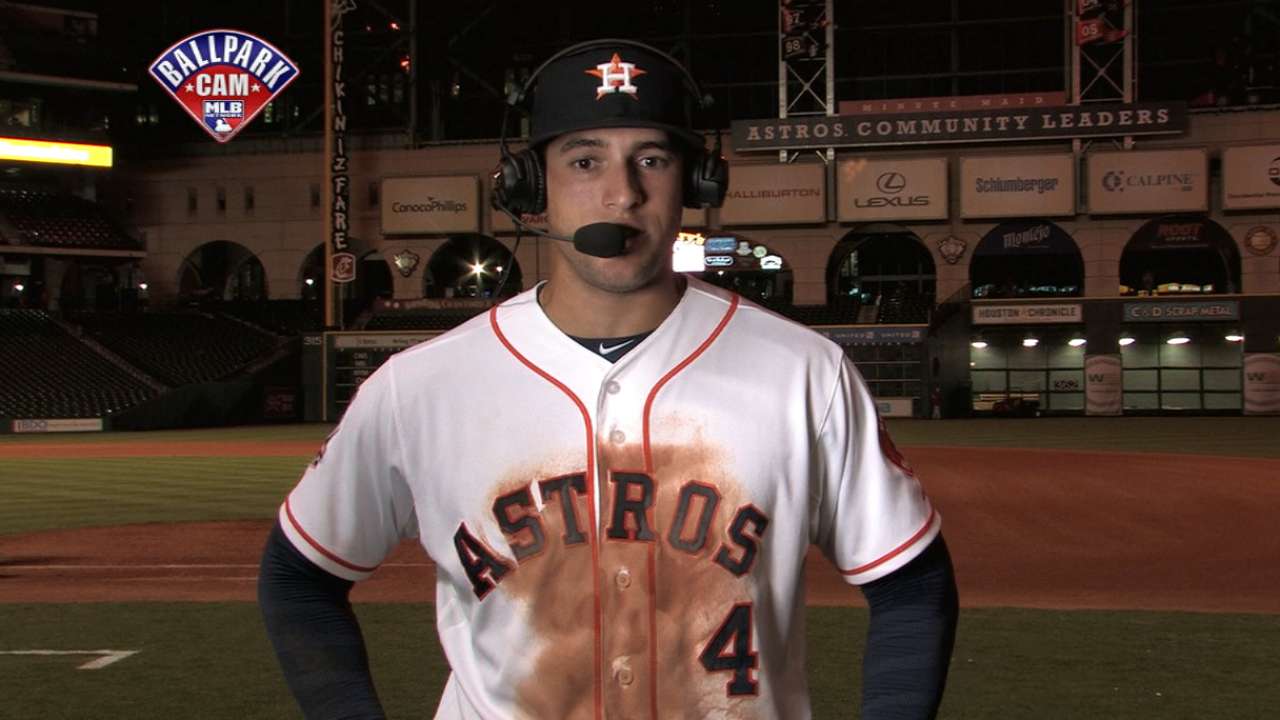 Springer already has made a string of highlight-reel plays. And then last Thursday, he went hard after a ball and collided with the outfield wall in right field. Was this a case of too much youthful energy?
"It's hard to tell a player to play a certain way, especially if they're wired to play hard," Springer said.
Springer ended up on the seven-day concussion disabled list, and when he returned Wednesday night against the Giants, the Astros needed a spark. They'd gone 18-9 with him in the lineup and 2-4 without him.
"We missed his energy, we missed a lot of what he brings behind the scenes," Hinch said.
And so in another perfect moment for this team, Springer stepped to home plate in the bottom of the eighth inning of a tie game and delivered a towering home run to left-center to give Houston a 4-3 victory.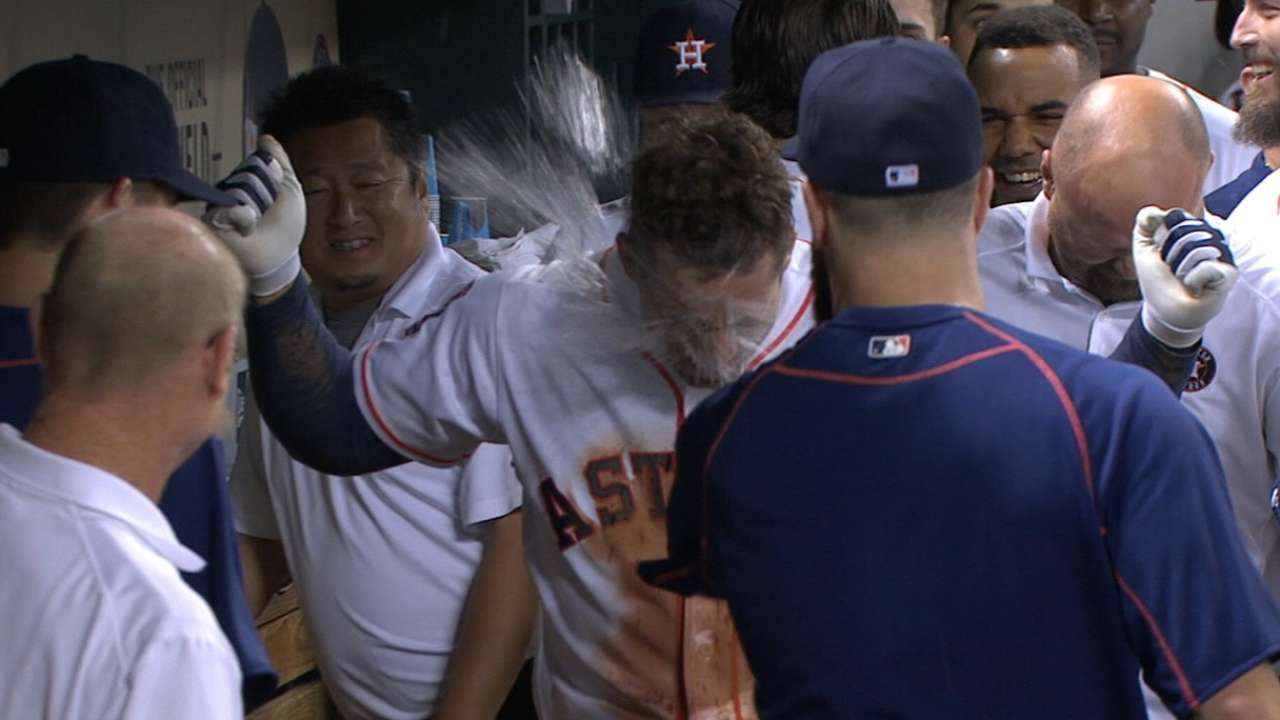 At 21-13, the Astros lead the American League West by 4 1/2 games, and while a new season is still just beginning, their expectations have changed dramatically.
Springer is part of that new feel. He's hitting just .196, but with his ability to change games defensively and to steal bases and draw walks and all the rest, he's one of the most compelling reasons to watch this team.
Springer has played just 106 big league games, including 78 last season, but the Astros believe he has a chance to be a star player for years to come. When he does things like he did Wednesday, the team believes this is a preview of what the next few seasons are likely to look like.
When Springer homered, he returned to the dugout and ignited a wild celebration that seemed to be his way of unleashing the stored-up energy from a week away.
"He's high energy," Hinch said. "He's on the louder side of letting his opinion be known to guys, making guys laugh, keeping guys loose."
In stepping into the batter's box against Giants reliever Jeremy Affeldt, Springer told himself, "Slow yourself down and get to first base for whoever's behind me."
Springer worked a full count, and when a 91 mph fastball slipped over the plate, he launched it. He also drew a walk that put a runner in scoring position in the fourth inning and sprinted from first to third when Colby Rasmus singled.
When Springer wasn't with the team, Hinch talked about missing his voice and his competitive fire along with his production.
Others see it, too.
"When he's swinging the bat the way he's capable of, he does everything," Houston veteran starter Scott Feldman said. "The thing about him is that even if he's not impacting the game offensively that night, he can really do some things defensively, baserunning. He's really just a complete player."
Are these Astros the real deal? Can they sustain their success? Having gone 16-10 against AL West teams, they've methodically gained the confidence that they're plenty good enough.
There's depth in Houston's farm system as well. One of the Astros' top prospects, right-hander Lance McCullers Jr., seems likely to join the rotation soon. And they are discussing when would be the right time to bring up 20-year-old shortstop Carlos Correa, MLB.com's No. 3 overall prospect.
Has general manager Jeff Luhnow's reconstruction of the franchise paid dividends sooner than expected? Houston's defense and bullpen are among the best in baseball. Left-hander Dallas Keuchel has emerged as a legitimate No. 1 starter. Offensively, there were bundles of home runs, walks, stolen bases and strikeouts, lots of strikeouts.
Regardless of what others think, the Astros believe in themselves. They believe there's plenty of talent -- and more on the way -- to keep going.
"It's awesome to be back and to go out there and fight with these guys," Springer said. "It means a lot."
Richard Justice is a columnist for MLB.com. Read his blog, Justice4U. This story was not subject to the approval of Major League Baseball or its clubs.