Trout leaves Angels in awe of his game-saving gems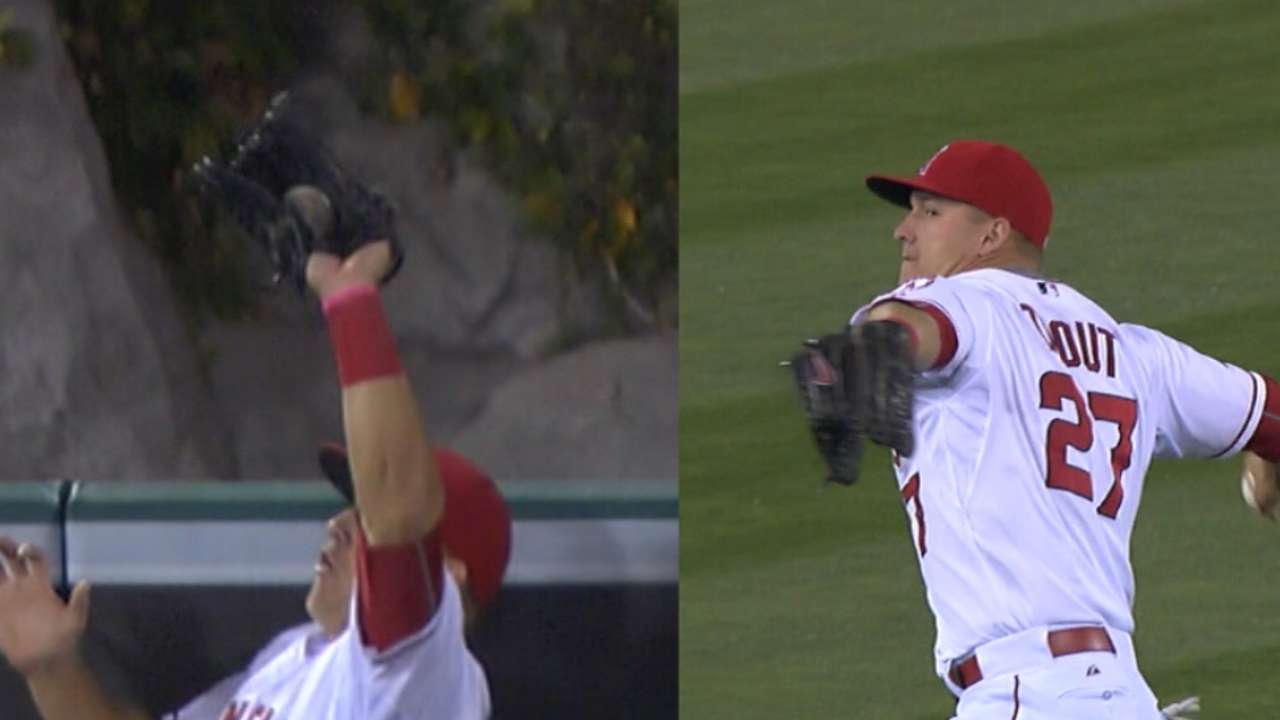 ANAHEIM -- He robbed Troy Tulowitzki of a game-winning home run in the top of the 10th, nailed Carlos Gonzalez at home plate in the top of the 11th, watched Albert Pujols win it on a sacrifice fly in the bottom half, and then -- poof -- he was gone.
Mike Trout had a plane to catch late Wednesday night -- a redeye flight back east, to visit his hometown of Millville, N.J., before the Angels start a series in nearby Baltimore on Friday -- so he didn't have time to fool around.
He saved his teammates, then left them glowing.
"He has it all, man," Pujols said after the Angels' 2-1 win, their third walk-off victory of the season.
"The thing about Trout that I admire the most is that it doesn't matter what he does at the plate; he'll still go out there and play great defense. I don't think he got any hits in this series, and he played the Gold Glove outfield that he always does. For a 23-year-old guy to do that and stay focused, knowing he can help us out every different way -- with his speed, with his glove -- it's pretty special."
With one out in the 11th, Tulowitzki crushed an 0-2 fastball from Angels reliever Fernando Salas and sent it deep into one of the toughest places to drive a ball at Angel Stadium, especially at night. Trout raced to the Yokohama sign in front of the rock pile, briefly set his feet, timed his jump perfectly and made the catch just before making contact with the padded fence, keeping the score knotted at 1.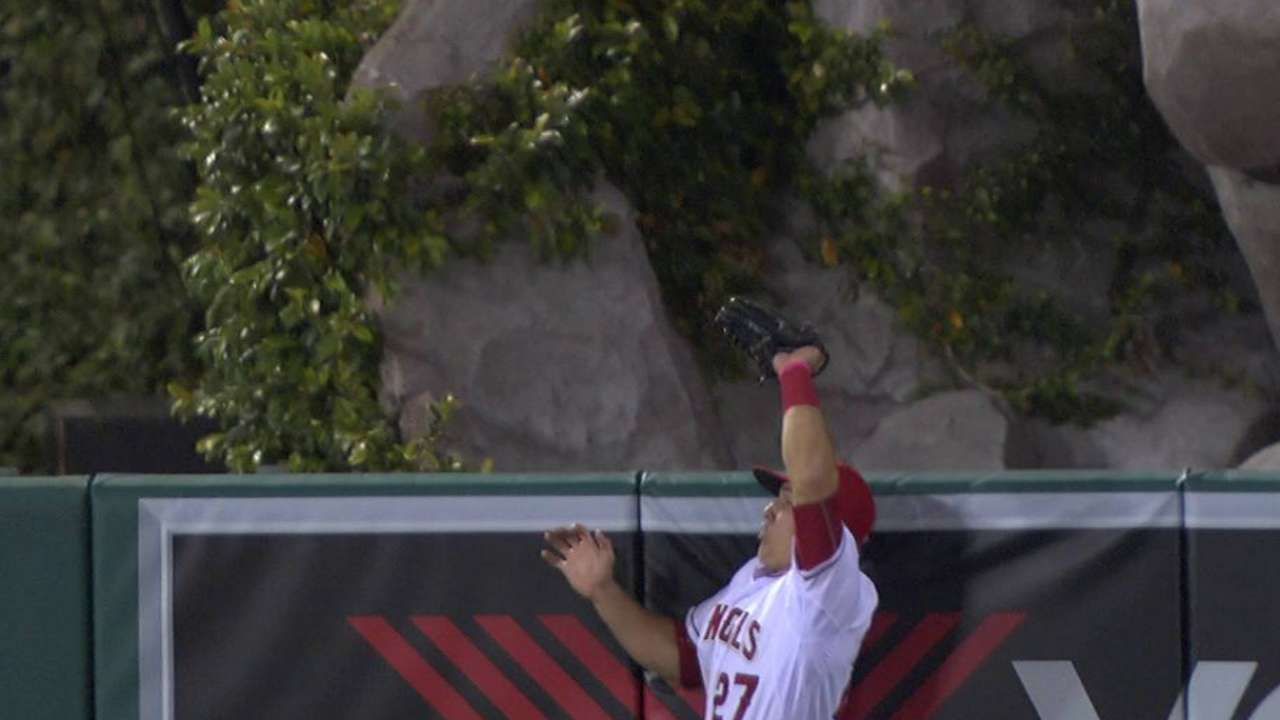 When the Angels came to bat, Garrett Richards turned to Collin Cowgill and said, "He makes it look so easy."
Cowgill, who had a great angle on the play as the left fielder, shook his head.
"I think it's easy for him," Cowgill said. "He gets back to the wall so fast and knows where the ball's going to be. It's an incredible knack for knowing where the ball's going to land. Everybody has an internal clock in baseball -- infielders, outfielders. His is just more accurate."
With one out, a runner on third and the score still tied the next inning, Daniel Descalso hit a flare into shallow center field.
"I thought for sure that was going to drop," Pujols said.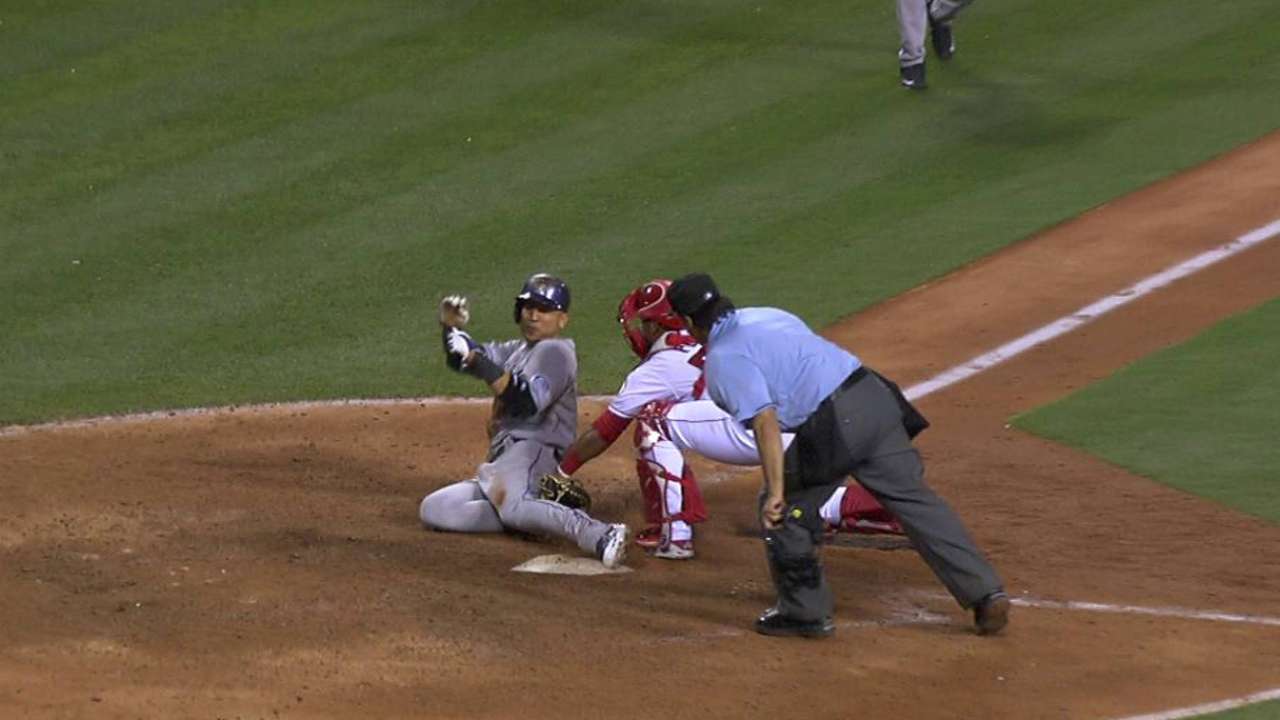 But Trout raced in, made a basket catch near his ankles, crow-hopped and fired a bullet home. Plate umpire Phil Cuzzi initially called Gonzalez safe, but replay seemed to indicate that Angels catcher Carlos Perez tagged Gonzalez's right foot just before his left one came across home plate, prompting an overturned call.
"To field it low, set your feet and throw an absolute strike on the fly to home -- there's just not many guys who can do that, from that distance, that play, that situation," Cowgill said. "For him to be able to slow himself down in that moment, knowing it's the go-ahead run -- I mean, the dude just continues to wow us, man. He shocks me every day."
A quick look at the Statcast data proves just how special the play was. According to Statcast, Trout's route efficiency was 98.669, he covered 73.956 feet and reached a top speed of 19.795 mph, which was faster than Gonzalez who topped out at 19.328 mph.
Angels right fielder Kole Calhoun beamed at that play -- not just because it saved the game, but because it showed how far Trout has come with his arm strength.
"He's been working his tail off to improve that thing," Calhoun said. "It's pretty special to see him work on something many people overlook."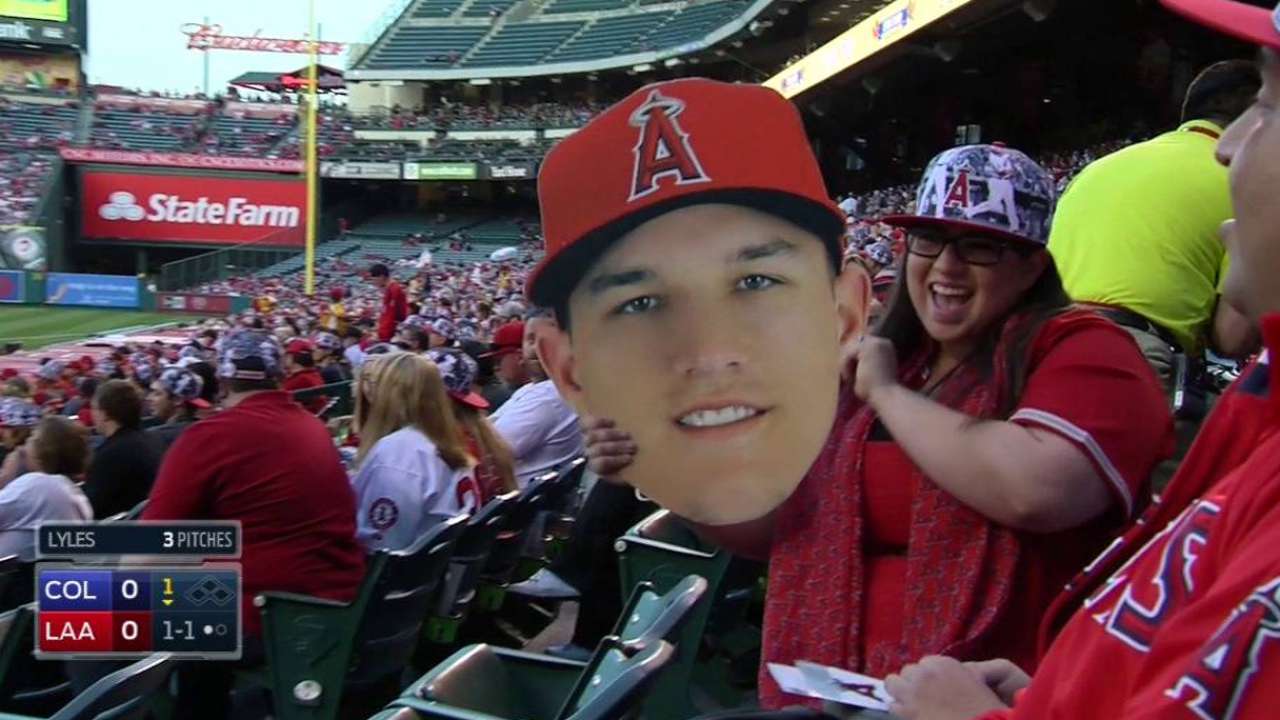 The only blemish in Trout's game -- the one trait that prevented him from being a true five-tool player in many people's minds -- used to be his throwing arm. But through long toss, better mechanics and the additional strength that came with settling into his 20s and growing into his body, Trout has become a better, more accurate thrower.
Three weeks ago, Trout began a daily long-toss regimen with Calhoun, who probably has the strongest outfield arm in the organization. And after every long-toss session, the two would try to throw the ball over the center-field fence from the left-field foul line.
For the first couple of weeks, Trout came up short.
Finally, earlier this week, he got his first one over -- and never came up short again.
"You could just see how much he was improving," Calhoun said. "It's a good arm, man. I mean, look at that throw. It's definitely showing up."
Alden Gonzalez is a reporter for MLB.com. Read his blog, Gonzo and "The Show", follow him on Twitter @Alden_Gonzalez and listen to his podcast. This story was not subject to the approval of Major League Baseball or its clubs.