Tigers hope to wake up struggling offense
V. Martinez breaks down slump at the plate, has no plan to stop switch-hitting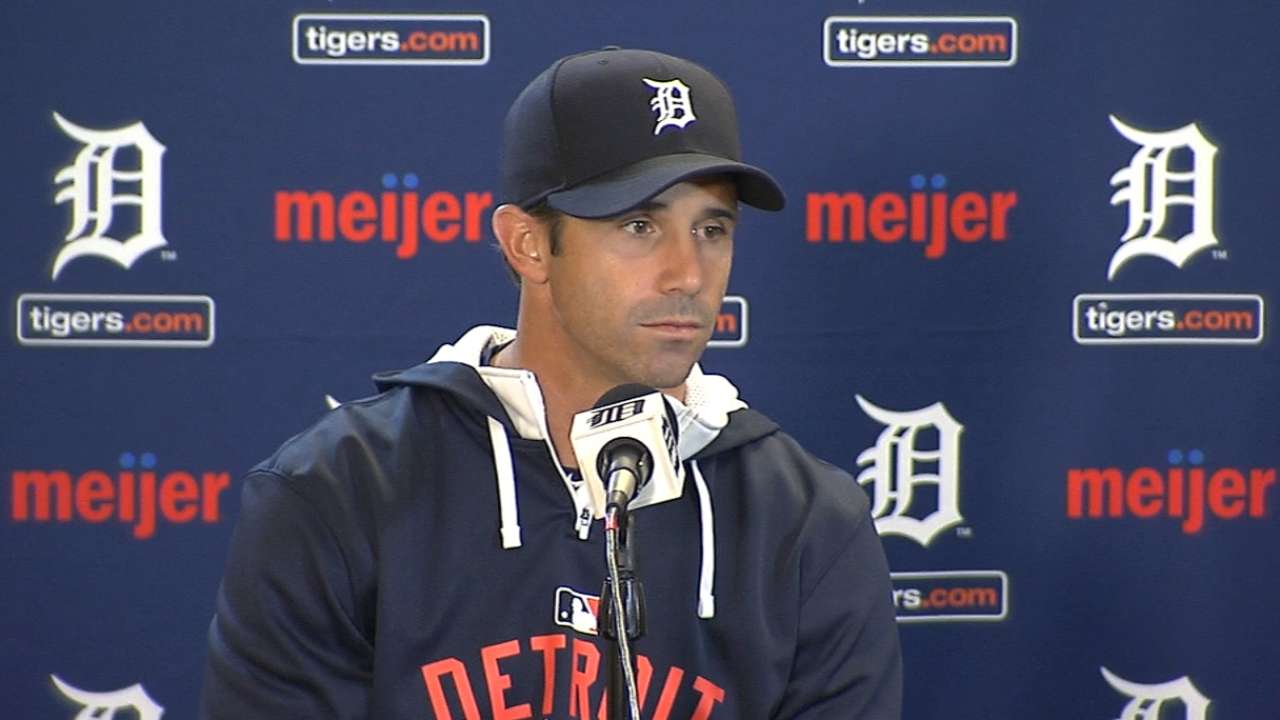 DETROIT -- The questions linger about Victor Martinez's left knee. His shoulders are still strong enough to carry blame.
Martinez seemingly anticipated the questions that were coming Wednesday after his first three-strikeout game in almost two years, and just the eighth of his career.
No, he said after Wednesday's 6-2 loss to the Twins, his struggles batting left-handed on his surgically repaired left knee won't lead him to bat right-handed full-time.
"I'm never doing that," he said diplomatically.
No, he does not believe his left knee is getting worse.
"Honestly, I've actually been feeling better," he said. "I think I can just say this is a bad day."
No, he doesn't believe taking time off will help, though he'll be out of the lineup for three games this weekend in St. Louis with no designated hitter.
"It's getting better," he said. "Like I said, I have to fight it. You know, I won't sit. I mean, I can't sit. That's something that I went through a couple years ago. I know at some point it's going to go away."
But yes, his struggles are hurting the Tigers' offense.
"You know what, I think I was the one who went out there with a lot of men in scoring position," he said of his 0-for-4 night with six men left on base, including a bases-loaded strikeout in the seventh. "I didn't get the job done. The guys have been swinging the bat pretty good. But today I really had the opportunity to really turn the game around and didn't do anything."
In fairness, there was enough responsibility to share on a night when the Tigers didn't generate much early off Twins starter Ricky Nolasco, then left 10 men on base for the game. Even when Martinez hit last week in Chicago, the Tigers struggled to score runs in bunches. This homestand has exacerbated the problem, and the anxiousness seemed to show on Wednesday.
"The best thing we can do about [Nolasco] is walk," Miguel Cabrera said of his former Marlins teammate, "but we're an aggressive team. We didn't work too much. We're ready to hit and we're ready to swing."
Wednesday was the fourth straight game, and the ninth in the last 14 games, that the Tigers scored two runs or fewer. They've had nearly twice as many games scoring four runs or fewer (22) than five-plus runs (12). They've weathered the struggles with six wins when scoring two runs or fewer.
"We haven't been able to get that big hit, whether it's a three-run homer or three-run double," manager Brad Ausmus said. "We just haven't been able to get that to open the floodgates."
They own the second-best batting average in the American League, trailing only the Royals, the highest on-base percentage and the fifth-highest OPS. Their 142 runs, however, rank ninth in the AL, and their 130 RBIs place them 10th. For May, the Tigers are last in the Majors with four home runs, and tied for last in the AL with 30 RBIs. Their .639 OPS ranks 13th.
Their struggles the last few days have come against right-handed pitchers with breaking balls, exploiting a predominantly right-handed lineup.
"To be honest with you, I think we need a little luck," said Cabrera, who ended an 0-for-14 slump Wednesday with a seventh-inning single to improve to 2-for-17 on the homestand, "because the last three or four games we hit the ball hard right at them. So what are we going to change? If we change, I think it's going to be worse."
Jason Beck is a reporter for MLB.com. Read Beck's Blog and follow him on Twitter @beckjason. This story was not subject to the approval of Major League Baseball or its clubs.