Baez headed for MRI after velocity dip, exit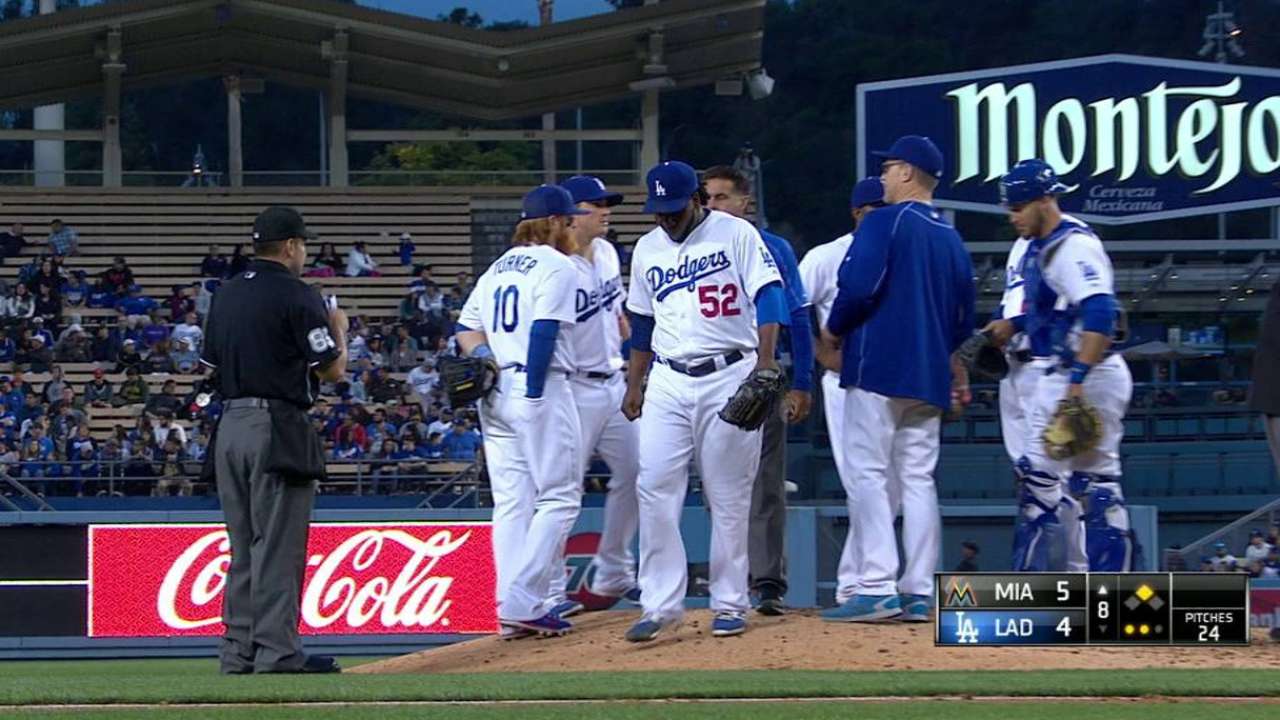 LOS ANGELES -- Don Mattingly thought Pedro Baez strained a pectoral muscle. Someone else said it was a lat. Baez wasn't talking to reporters in any language, so an MRI exam Thursday might bring medical clarity to whatever injury the Dodgers' reliever suffered in the eighth inning Wednesday night.
Baez had just struck out three consecutive Marlins, escaping a bases-loaded mess in the seventh inning, when the ninth pitch of a grueling at-bat against former teammate Dee Gordon saw Baez's fastball drop 5 mph and Gordon lace it to the fence for his fourth hit of the game.
Catcher Yasmani Grandal motioned to the dugout, head trainer Stan Conte came to the mound and that was it for Baez, who will likely take his 1.76 ERA to the disabled list just about in time to make room for the return of closer Kenley Jansen.
The plan was to activate Jansen on Saturday, but Mattingly hinted that the timetable could be moved up a day.
Although Mattingly had been ejected in the fourth inning, he had no regrets that acting manager Tim Wallach called on struggling Chris Hatcher to take over after Adam Liberatore allowed both batters he faced to single, loading the bases. Hatcher then allowed former teammates Martin Prado and Giancarlo Stanton to drive in three runs and the game flipped from win to loss.
"Lack of execution," said Hatcher. "Same old story. I let the team down. I know I'm better than that."
Baez was being saved for the eighth inning and Yimi Garcia for the ninth.
"I would have done the same thing," Mattingly said of Wallach's pitching changes. "I thought that was Hatcher's spot."
Ken Gurnick is a reporter for MLB.com. This story was not subject to the approval of Major League Baseball or its clubs.