Quintana uses support to nail down win
Lefty fans 10 over 7-plus after being handed first-inning advantage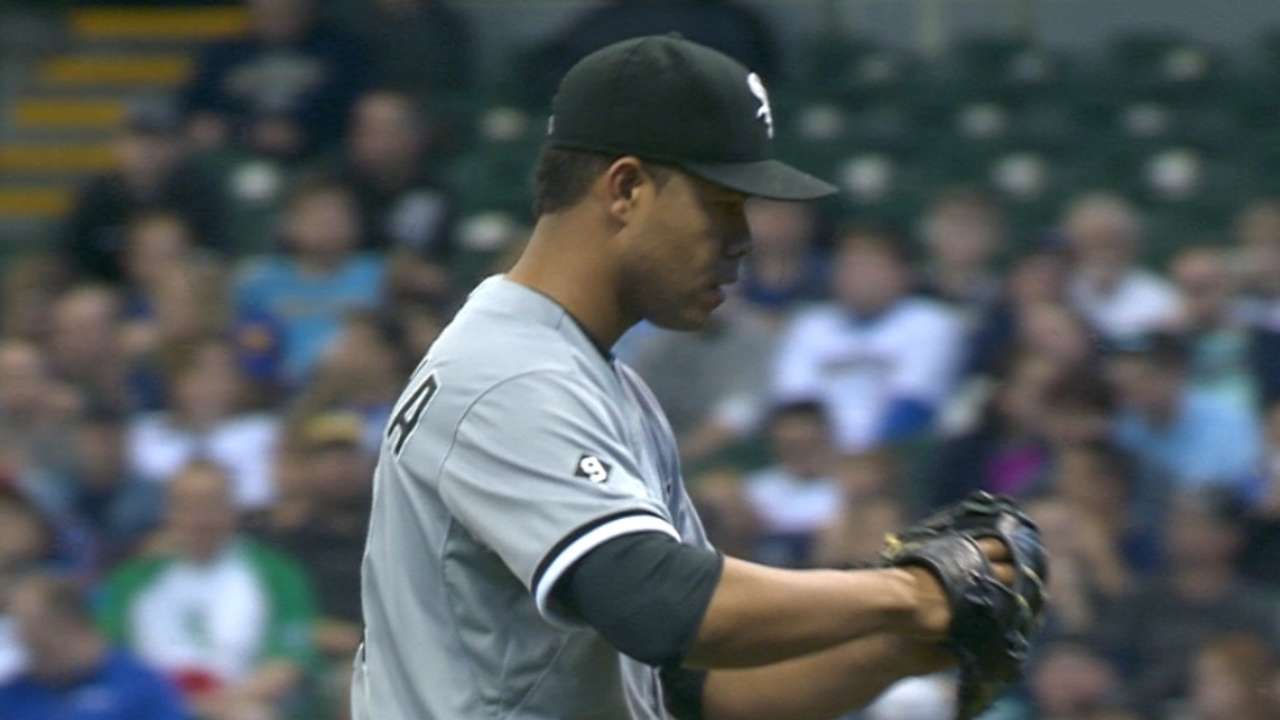 MILWAUKEE -- Before Jose Quintana took the mound Wednesday night against the Brewers, he might have done a double-take at the Miller Park scoreboard.
It read three runs for the White Sox. Yes, a crooked number for a group that entered the night as the lowest-scoring first-inning team in baseball, and a crooked number for a starting pitcher who has the third-lowest run support in the American League since 2012 at 3.97, behind Justin Masterson (3.85) and Chris Archer (3.86).
That output pretty much represented all Quintana needed on this night, as he cruised through seven-plus innings and drove the White Sox to a 4-2 win and their third straight series victory. Quintana recorded his fifth career double-digit strikeout effort with 10, and faced only 19 batters through six innings.
And this night all began with a level of comfort for Quintana to attack the strike zone and yield one run on just four hits.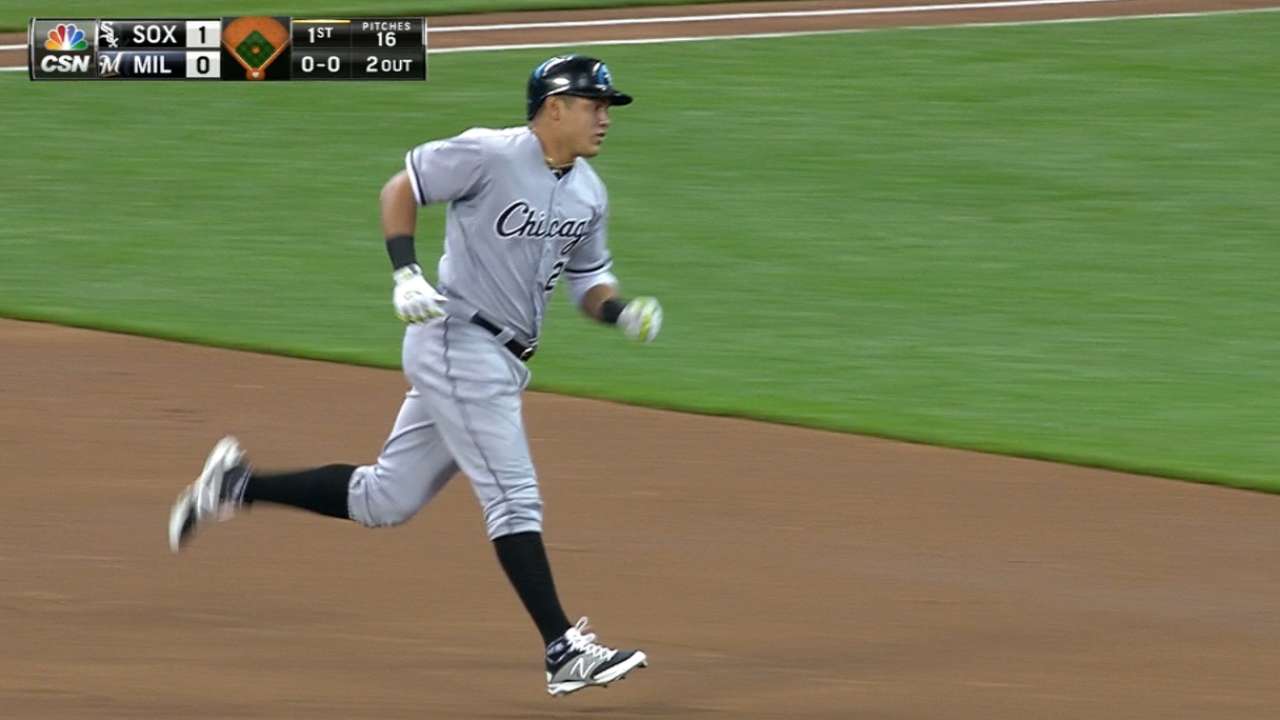 "Yeah, it feels good," said Quintana of the first-inning push, sparked by back-to-back homers from Avisail Garcia and Adam LaRoche. "I have the confidence, you know, try to get outs quickly and get more runs in the game.
"Sometimes the innings, between innings, I feel like I wanted a complete game today. I tried to get long. But I feel pretty good. I'm happy with the game and the win."
Quintana's smooth sailing got a little bumpy in the seventh when Khris Davis and Ryan Braun opened with singles. Carlos Gomez followed with a hard-hit ball headed for right field, but Emilio Bonifacio made a great diving stop at second and made an even smarter play to settle for the out at first with a four-run lead.
Adam Lind and Martin Maldonado were Quintana strikeout victims to end the seventh without a run.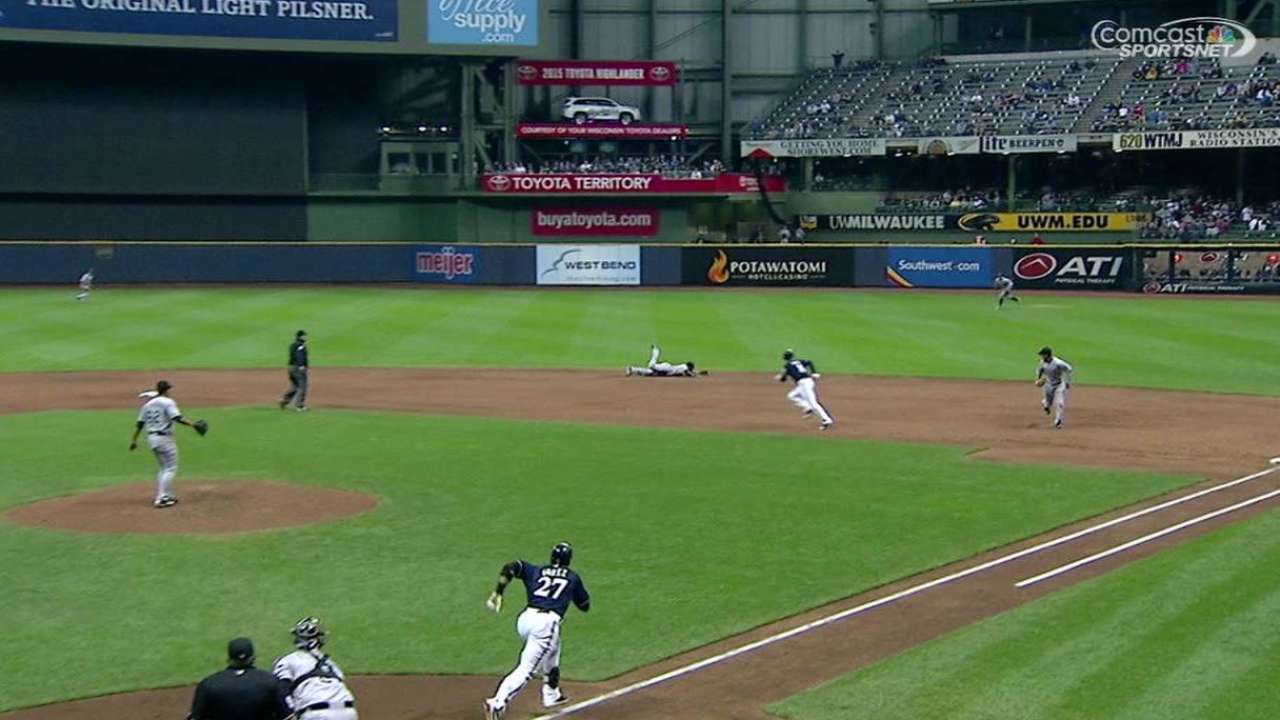 "Big play, big play for this inning," Quintana said. "I think that's good, try to get an out and get a ground ball. The defense working, you feel good."
"To me, that's the difference in the game," Brewers manager Craig Counsell said. "That stops an inning. We would have had bases loaded with nobody out at least. That was a big play."
Bonifacio's play was essential, but Quintana was the difference. The southpaw has allowed just six earned runs in 26 innings over his last four starts, with 29 strikeouts, but Wednesday night marked his first victory during that stretch. It also stood up as the White Sox first road series win, buoyed by Quintana's complementary piece to Chris Sale's 11-strikeout effort Tuesday night.
"He has really [nasty] stuff," said Gomez of Quintana, whose ERA has dropped from a season-high 8.40 on April 19 to 4.39. "He had been struggling before he came here, but if he continues to pitch like that, he's going to be one of the top guys in the league.
"Every ball was down in the strike zone, and when he wanted, you could see a couple pitches at 94 when he wanted to finish. He's got good stuff and a good career to go."
Scott Merkin is a reporter for MLB.com. Read his blog, Merk's Works, and follow him on Twitter @scottmerkin. This story was not subject to the approval of Major League Baseball or its clubs.