Choo finds swing, confidence in leadoff role
Rangers right fielder hitting .345 in May after April slump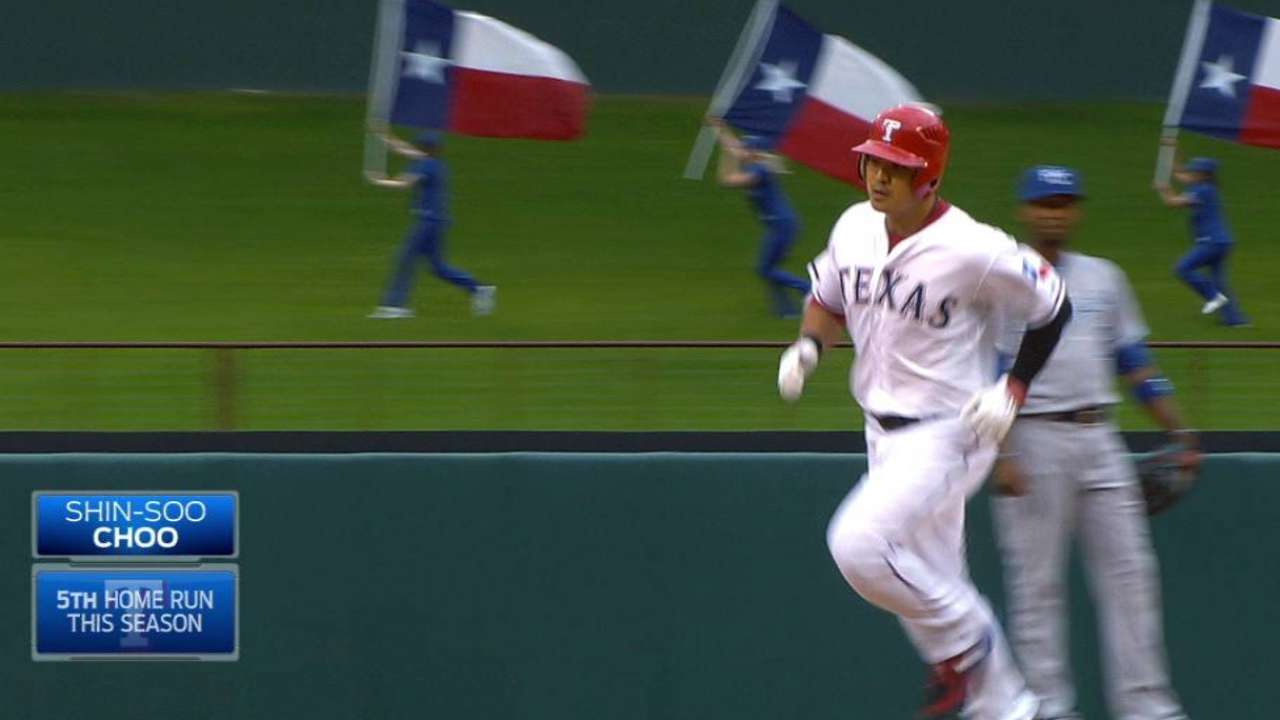 ARLINGTON -- For the second consecutive night, Rangers right fielder Shin-Soo Choo got fans out of their seats not long after they sat down.
This time it was with a line-drive shot to right field that sparked a hot first inning for the Rangers in their 5-2 win against the Royals. It was Choo's second game in a row with a leadoff home run, and that was only part of another productive night.
"It feels good," Choo said. "[A leadoff home run] sets the tone. I really like the leadoff spot. … I just feel like a leader in the lineup."
Choo finished 2-for-4 with two RBIs and a run scored. He singled in the second, then hit a hard grounder to the right side to drive in a run in the fourth, making sure his mark was felt all over the Rangers offense.
Only a few weeks ago, Choo was ice cold and gathering a growing list of doubters. Now, Choo is holding down the Rangers' leadoff spot, he's the hottest hitter on the team and his hit streak is at 13 games.
And more importantly, the Rangers are 7-3 since Choo started batting leadoff.
"He's one of the best leadoff hitters in the league," shortstop Elvis Andrus said. "He's done it his whole career. It makes everything easy for me, easier for Prince [Fielder] and the rest of the guys."
Choo hit .086 in April, but his .345 clip in May has raised his season average to .224. That resurgence isn't only evident on the stat sheet -- Rangers manager Jeff Banister said you can see it on the field.
"You see the confidence grow every night with how he gets in the box and what he looks like," Banister said. "You can see that in his swing. He's letting his swing go.
"He's done some work. He and the hitting coaches have really worked hard in the video sessions, the hitting sessions, but more than anything else it's the confidence he takes into his at-bats now."
For Choo, the early-season slump was unlike anything he was accustomed to fighting through. But he stayed patient. He credited Banister for talking with him and continuing to give him opportunities. He found his swing, and now he's helping the Rangers find the win column.
"Everybody has their ups and downs, but this was the longest it has happened to me, a whole month," Choo said. "The reason we stop is because we know red lights turn into green lights. It was very frustrating, but I knew at some point I'd be back."
Cody Stavenhagen is an associate reporter for MLB.com. This story was not subject to the approval of Major League Baseball or its clubs.