Gallardo finally gets support to snap skid
Rangers starter backed with early 4-0 lead in win over Royals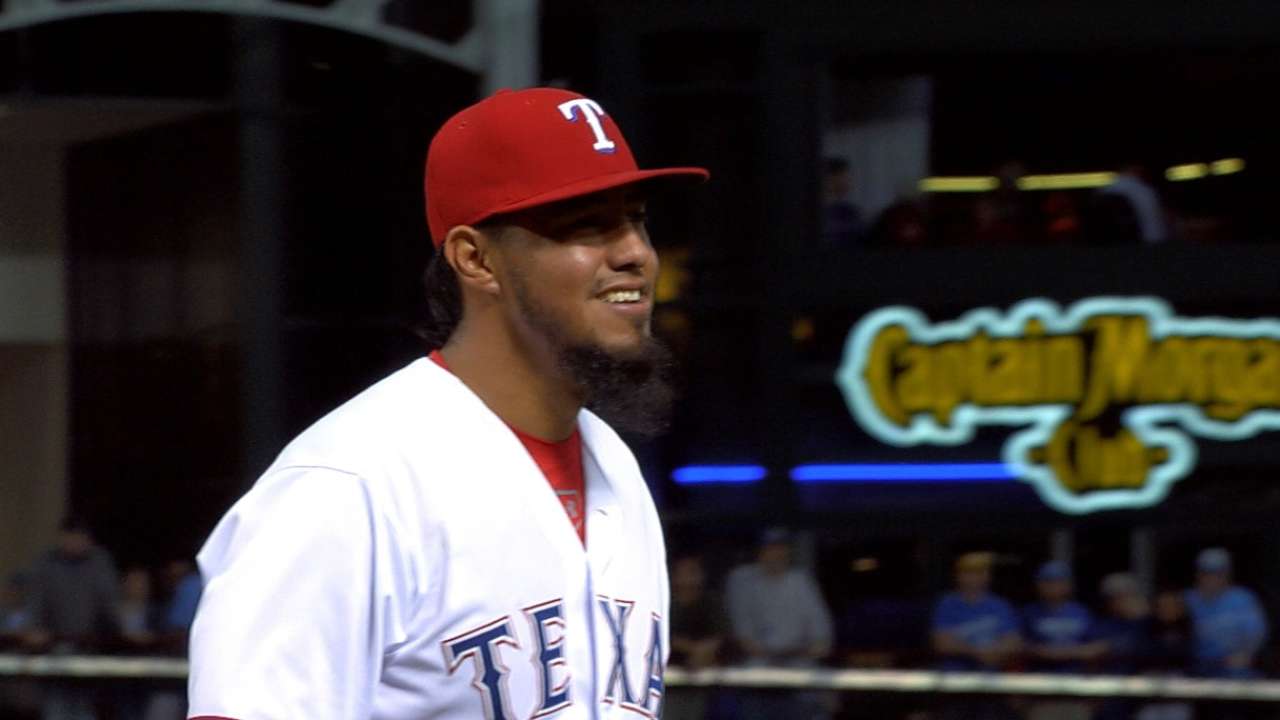 ARLINGTON -- Rangers manager Jeff Banister said Yovani Gallardo didn't have his best stuff against the Royals on Wednesday night. Gallardo concurred with the manager.
"My slider was a little flatter than normal," Gallardo said. "That's why I used my curveball a little more. I made pitches and moved the ball around. The guys made plays behind me."
The Rangers also scored some early runs for Gallardo, something that has been missing for him. The Rangers gave Gallardo a 4-0 lead after two innings and he made it stand up in a 5-2 win over the Royals on Wednesday.
Gallardo entered the game having been given 2.09 runs of support per nine innings in his first seven starts, the third lowest in the American League.
"It's like I've always said, the guys are going to hit," Gallardo said. "It was a matter of time and they're showing it with good at-bats and scoring runs."
The Rangers, with Shin-Soo Choo hitting a leadoff home run, scored two runs in the first inning. That equaled the amount of runs they scored in the past four games while Gallardo was on the mound. He had not won since April 17 against the Mariners and his four-game losing streak was tied for the longest of his career.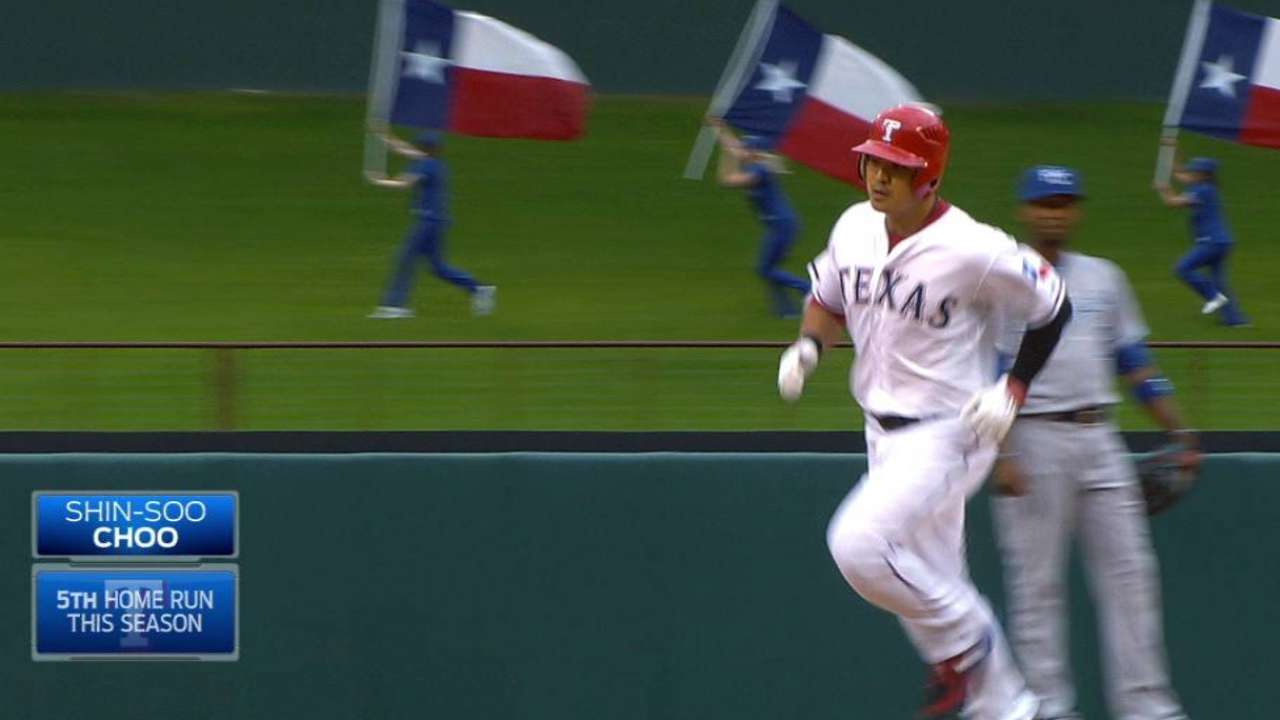 "It was not the first time," Gallardo said. "It's something I can't control. One of the things I've learned is the only thing I can control is hitting the glove. Command my pitches and whatever happens, happens."
Gallardo had a four-game losing streak with the Brewers in 2013.
"There was no frustration," Banister said. "This is a competitor who has been there before. This is a guy who in Milwaukee they looked for to right their ship from time to time. He has pitched in big games. He knows how to pitch. He has been the same guy every time out. He is a quality, veteran pitcher."
Gallardo took a three-hit shutout into the seventh, having allowed just one baserunner to reach second base. He walked just one batter and that was Alex Gordon in the second inning with the score 2-0.
But Prince Fielder made it 4-0 with a two-run home run in the second. Delino DeShields had a one-out triple and scored on Choo's grounder in the fourth.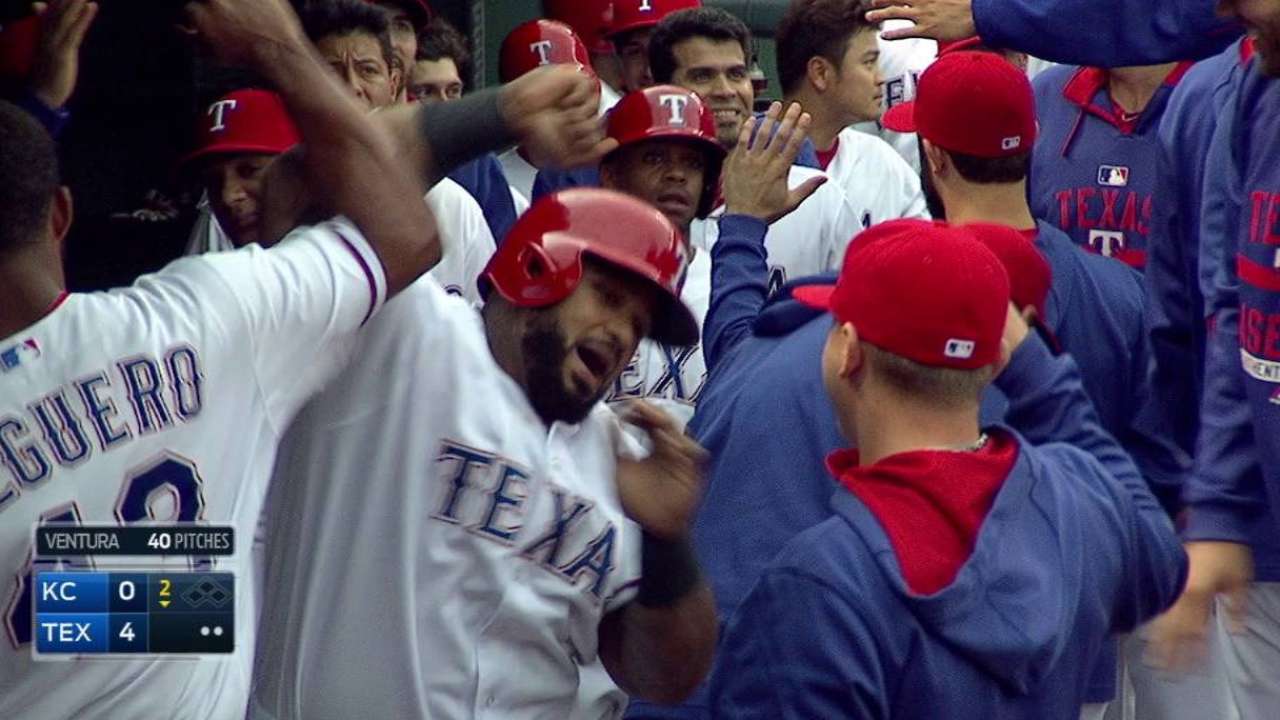 The Royals scored two in the seventh on a leadoff single by Lorenzo Cain, a one-out double by Kendrys Morales and a two-out double by Salvador Perez. But that was it.
"I started getting the ball up in the seventh and they started hitting me," Gallardo said. "But I'd rather have that then walking guys."
"The run support was big for him," Banister said. "I don't think he had his best stuff but he was able to move the ball around and get outs when he needed them."
T.R. Sullivan is a reporter for MLB.com. Read his blog, Postcards from Elysian Fields, follow him on Twitter @Sullivan_Ranger and listen to his podcast. This story was not subject to the approval of Major League Baseball or its clubs.