Nelson rebounds, but early HRs mar outing
Right-hander gives up consecutive shots in first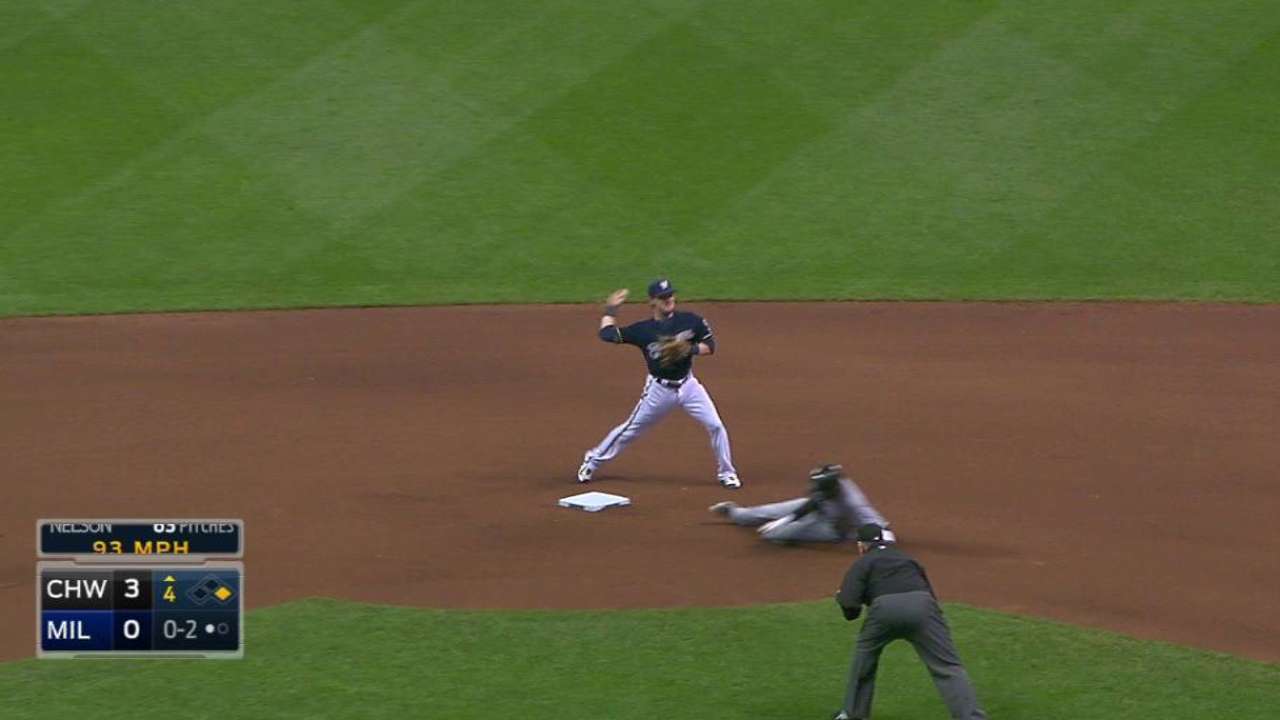 MILWAUKEE -- Brewers starter Jimmy Nelson practiced effective damage control from the second inning into the seventh on Wednesday night. But the damage was already done.
For the second straight start, Nelson was burned by the home-run ball. He surrendered back-to-back solo shots to White Sox sluggers Avisail Garcia and Adam LaRoche to cap a three-run top of the first inning, and those homers proved the difference in the Brewers' 4-2 loss at Miller Park.
Nelson had never allowed more than one home run in 23 Major League appearances entering this homestand, including 18 starts. But he has allowed multiple homers in two straight starts.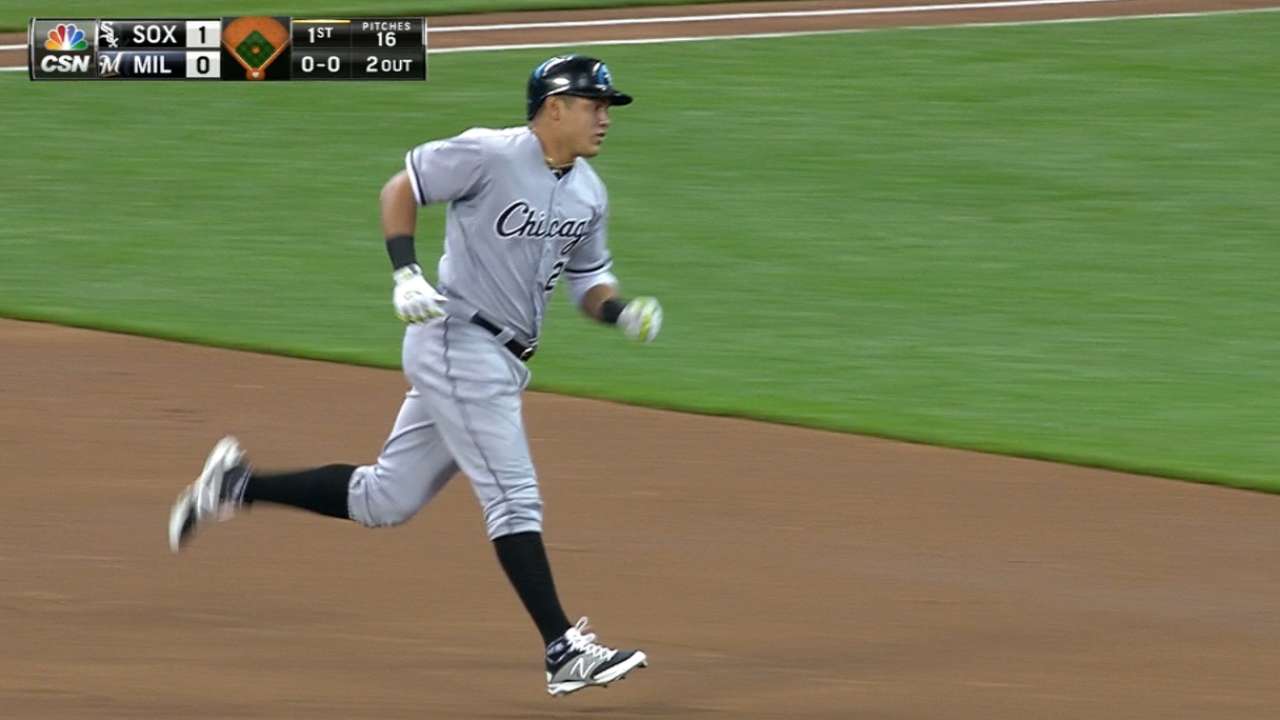 "That's the first inning. There's a lot of game left," Nelson said. "As a starter, you have to know that. Three runs in the first -- you have eight innings to come back from that. I just tried to pretend like it never happened."
He did just that, beginning with a 1-2-3 second inning. Nelson did not surrender another run until the seventh inning, when second baseman Scooter Gennett couldn't come up with a backhanded play that would have ended a scoreless inning.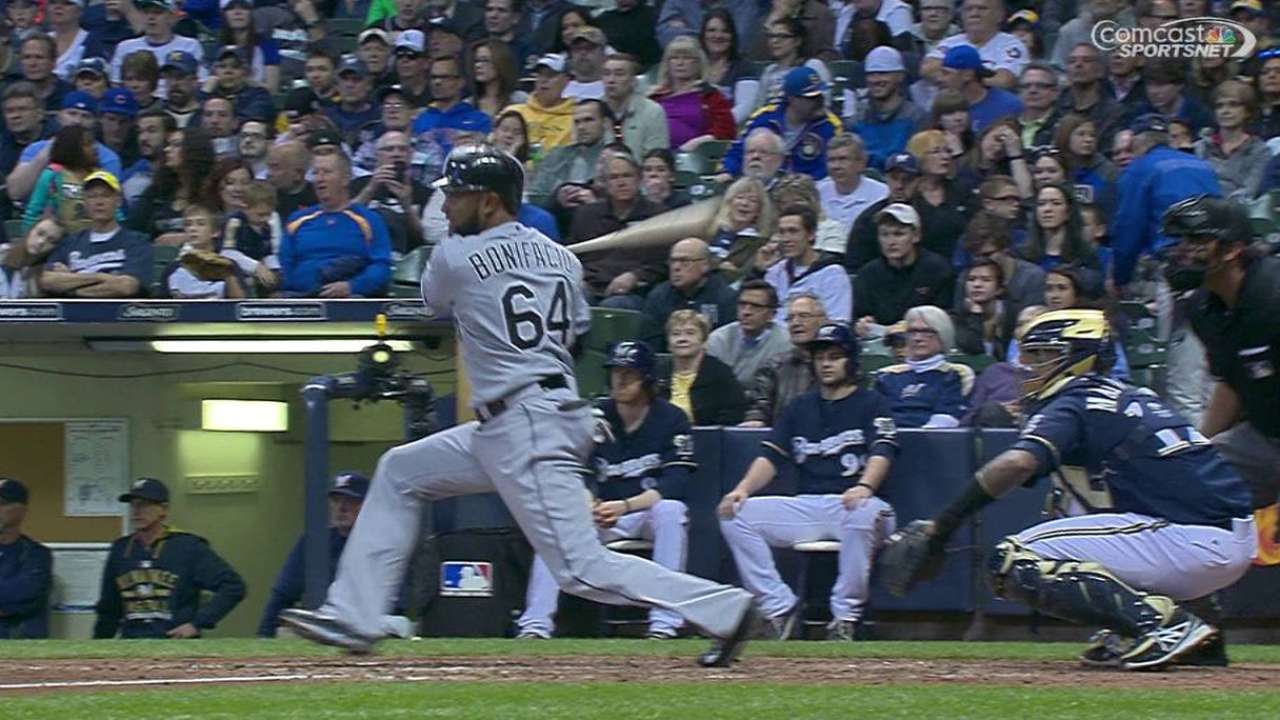 When the baseball popped out of Gennett's glove, Emilio Bonifacio had an RBI infield hit, and Nelson's night was over. He was charged with four runs on eight hits in 6 2/3 innings and fell to 1-4 on the season -- joining three other Brewers starting pitchers with four losses.
The Brewers went 5-5 during manager Craig Counsell's first homestand as manager, but lost the last two games to Sox left-handers Chris Sale on Tuesday and Jose Quintana on Wednesday. In each of the final two innings on Wednesday, Milwaukee brought the tying run to the plate.
"It was the first inning again tonight, just kind of getting on track and getting into the rhythm of the game," Counsell said. "He was good after that first inning. I think he got better as the game went on."
"It's a disappointing way to end," Counsell said. "I thought we really battled tonight though, man. The last two innings, I was proud of their at-bats. We came up short. We ran into two pretty good pitching performances the last two nights."
Adam McCalvy is a reporter for MLB.com. Follow him on Twitter @AdamMcCalvy, like him on Facebook and listen to his podcast. This story was not subject to the approval of Major League Baseball or its clubs.