Yanks hope for break, but replay confirms out
Teixeira tagged while trying to score on single by Beltran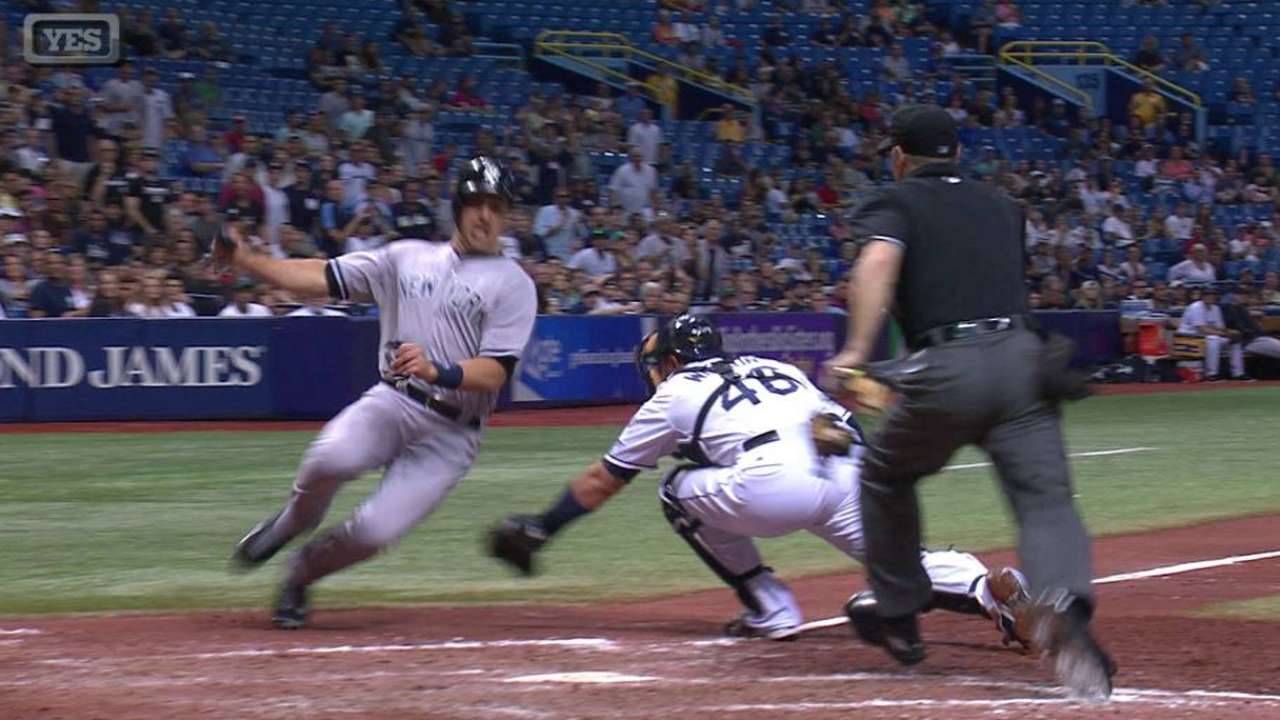 ST. PETERSBURG -- Mark Teixeira knew that the tag from catcher Bobby Wilson had been applied as he slid into home plate in the fifth inning on Wednesday, but there was still hope that the Yankees might catch a break within the rule book.
The Yankees challenged, asking to see if Wilson violated Rule 7.13 by blocking home plate. The call was confirmed, leaving Teixeira out attempting to score from second base on Carlos Beltran's single in a game the Yanks went on to lose, 3-2.
"I didn't think I was safe. I was just wondering if we could maybe steal one from a technicality," Teixeira said. "I guess the rule says you've got to give the runner a lane. I was hoping that maybe we could steal one. I was out. It didn't work."
Kevin Kiermaier uncorked a strong throw in time to nab Teixeira, who had reached base on a rare infield single earlier in the inning. With Wilson occupying part of the baseline, Teixeira tried to slide around the catcher and slap the plate with his left hand.
"Whenever they challenge, I get kind of uneasy," Rays pitcher Nathan Karns said. "You never know if they're going to say he was blocking the plate or whatnot. When they finally came back and confirmed the call, it was awesome. K.K. made one heck of a throw out there."
Teixeira said that only later did he realize that the catcher was Wilson, whom Teixeira ran over in an April 2010 collision at Angel Stadium, when Wilson was a rookie with the Angels. Wilson sustained a concussion on that play, with Teixeira scoring.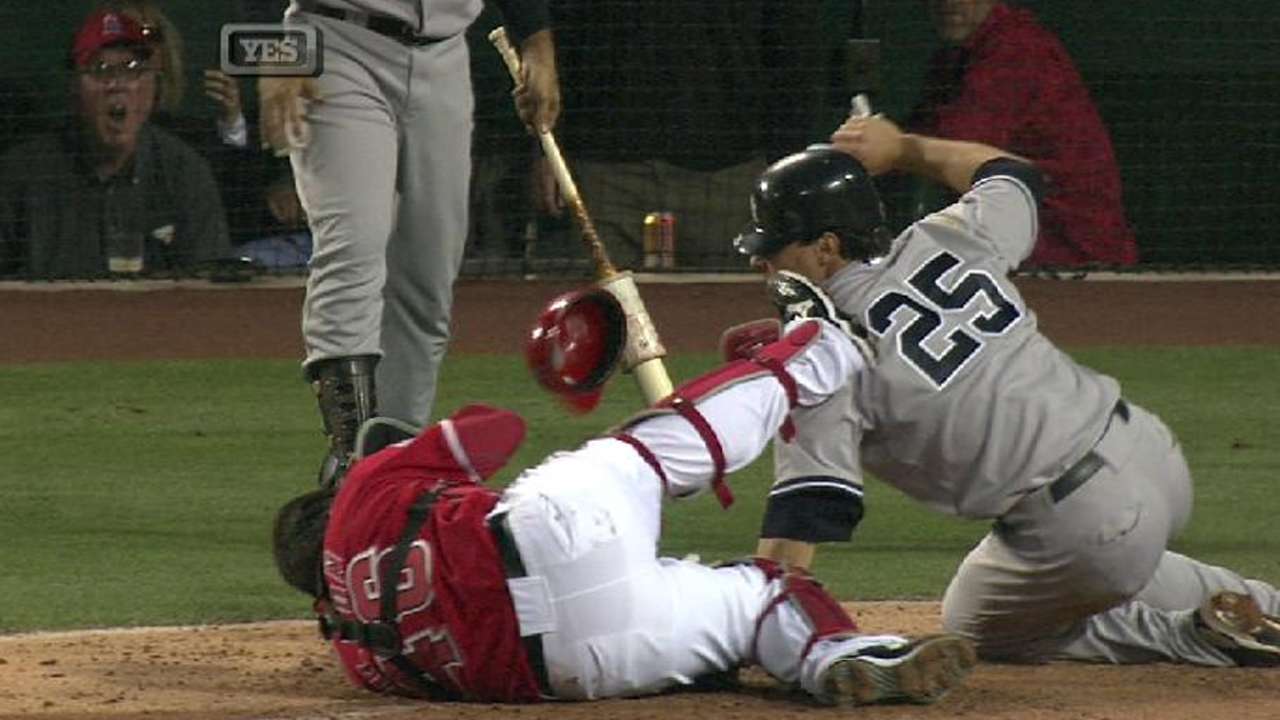 Teixeira said that because Rule 7.13 is in play, colliding with the catcher is no longer something that he thinks about, instead looking for a sliver of home plate that he can shoot for.
"Two years ago, absolutely I would have run the catcher over," Teixeira said. "I've run over plenty of catchers in my career. If you slide into a guy who is blocking the plate, you can break your ankle and ruin your career, so the only way to protect yourself and try to be safe is to lower your shoulder. That's been taken away, so the only thing you can do is try to jump around him."
Yankees manager Joe Girardi said that he believes there is still some confusion for runners regarding the rule and what they can and cannot do.
"I think there's probably more confusion on the baserunner's part than the catcher's part," Girardi said. "Catchers just continue to do what they've always done."
Teixeira said that he saw a replay and didn't see an option for a different outcome.
"If I slide into him, I'm out," Teixeira said. "If I run into him, I'm suspended, probably. I did the only thing I could do."
Bryan Hoch is a reporter for MLB.com. Follow him on Twitter @bryanhoch, on Facebook and read his MLBlog, Bombers Beat. This story was not subject to the approval of Major League Baseball or its clubs.