Frenchy's arm nets historic save for Papelbon
Right fielder throws out tying run to end game; closer sets franchise saves mark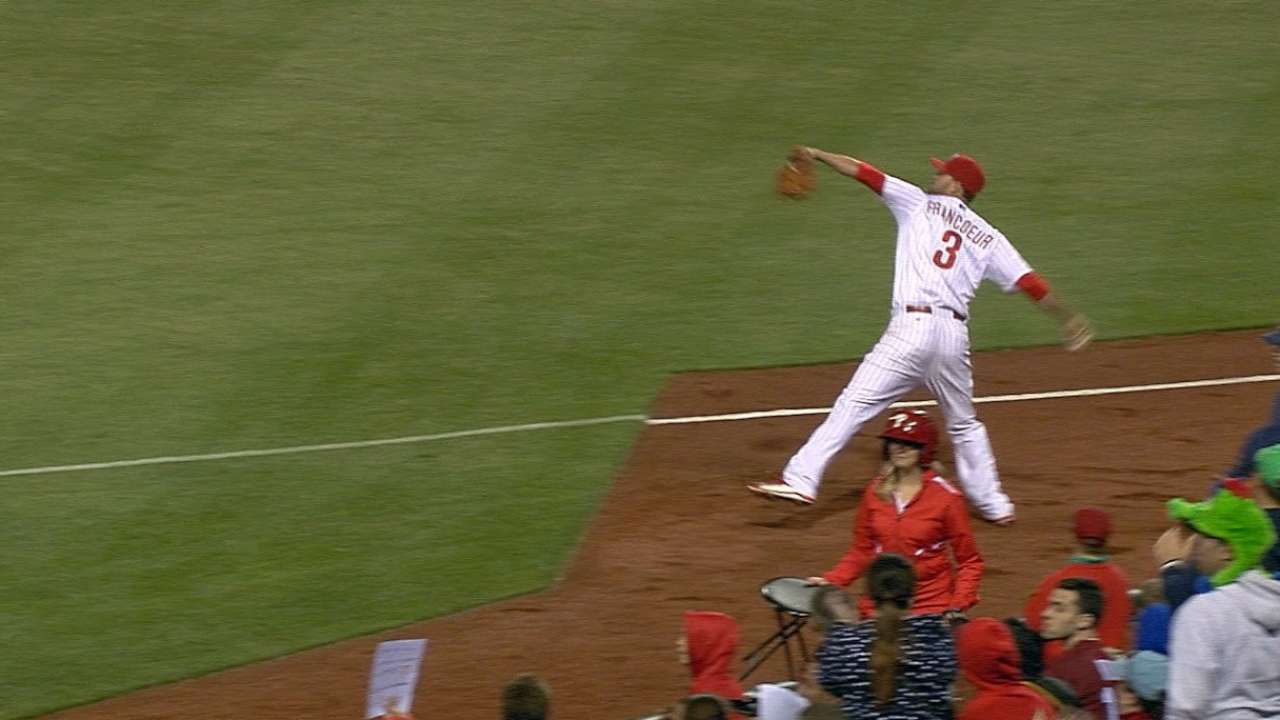 PHILADELPHIA -- Jonathan Papelbon sure loves drama.
The only thing that might have topped the way he finished Wednesday night's 3-2 victory over the Pirates at Citizens Bank Park would have been if he entered the game wearing the pink Ric Flair robe that normally hangs in his locker.
"Aw, man," Papelbon said afterward. "I don't even know what just happened."
Papelbon earned a Phillies record 113th save in dramatic fashion. The Pirates had the tying run on third base with one out -- Papelbon's errant throw on a pickoff attempt sent Steve Lombardozzi from first to third -- when Jordy Mercer hit a fly ball down the right-field line. Phillies right fielder Jeff Francoeur caught the ball in foul territory and threw out Lombardozzi at the plate to end the game.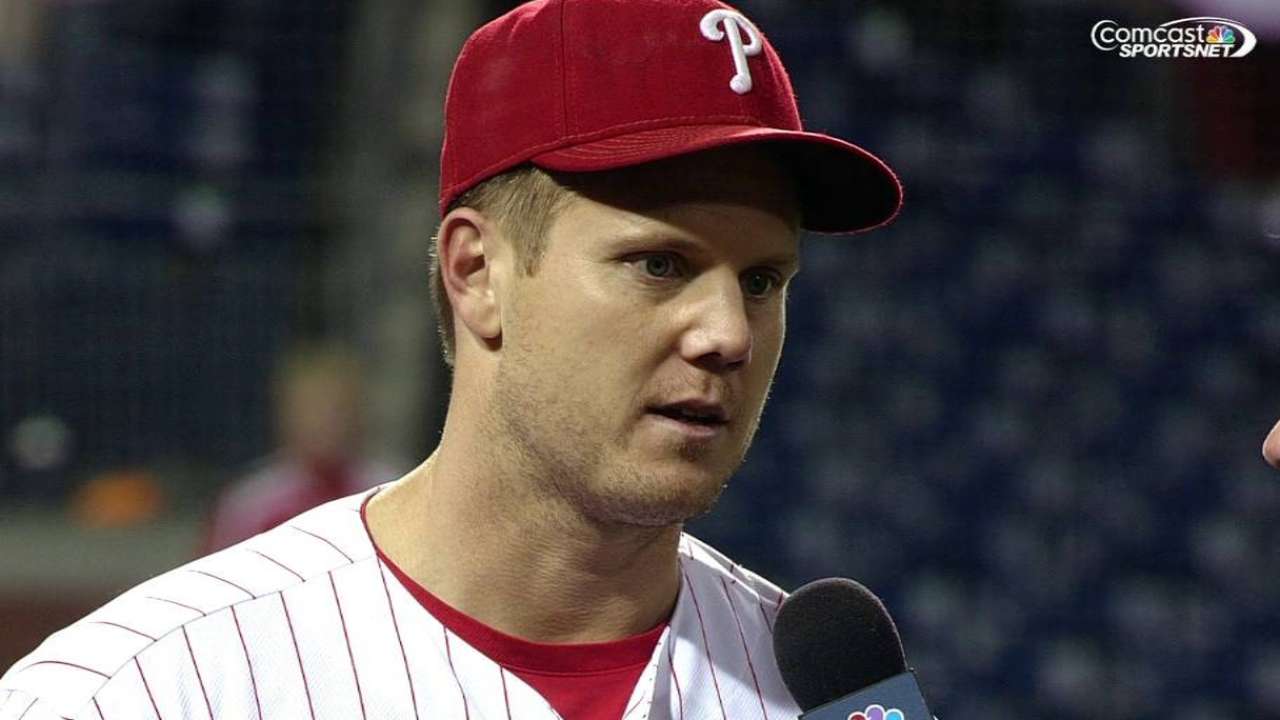 "Yeah, you know if there's one way to do it, that's the way to do it," said Papelbon, who bumped Jose Mesa to second place on the franchise's all-time saves list. "Go out in an exciting way."
Francoeur is known for his strong arm, but the Pirates essentially forced him to make a perfect throw.
He did.
"The only thing that made that a little tougher is that the wind kind of kept blowing it toward the railing over there," Franceour said. "So, I was trying to make sure I was there, but when I caught it I felt pretty good about my chances.
"It felt real good. A long time ago here I let one go and threw it in the stands. I'm usually good for one of those a year, and I'm glad it wasn't tonight."
Papelbon stashed a bottle of Johnnie Walker Blue Label in Francoeur's locker as a pretty fantastic thank you.
"That's Blue Label," Francoeur said. "That's even better than a porterhouse."
Francoeur earned it because Papelbon's accomplishment is pretty significant. He already is Boston's all-time saves leader (219), which makes him one of two pitchers in baseball history to lead two franchises in saves. Robb Nen is the other. He recorded 108 saves for the Marlins and 206 saves for the Giants.
Papelbon is 12-10 with a 2.37 ERA and 113 saves in his Phillies career. He has performed as well as expected, but he also has had a rough go in Philadelphia. The Phillies have disappointed, and he has upset fans with some of his words off the field and some of his actions on it. But lately, Papelbon said he has been humbled by his pursuit of the saves record.
"It means a lot to me, honestly it does," he said. "Like I've said before, I came here to try to win championships and you know, this organization, we're not in that realm of thinking, we're trying to do some other things. For me, it's an opportunity to keep on getting for work every day and trying to do the best I can in helping out these guys in the bullpen as much as I can. Just come in and have fun and despite the circumstances we're in, come here ready to work every day."
Todd Zolecki is a reporter for MLB.com. Read his Phillies blog The Zo Zone, follow him on Twitter and listen to his podcast. This story was not subject to the approval of Major League Baseball or its clubs.