MLB.com Columnist
Anthony Castrovince
Klu-bot proves to be fully operational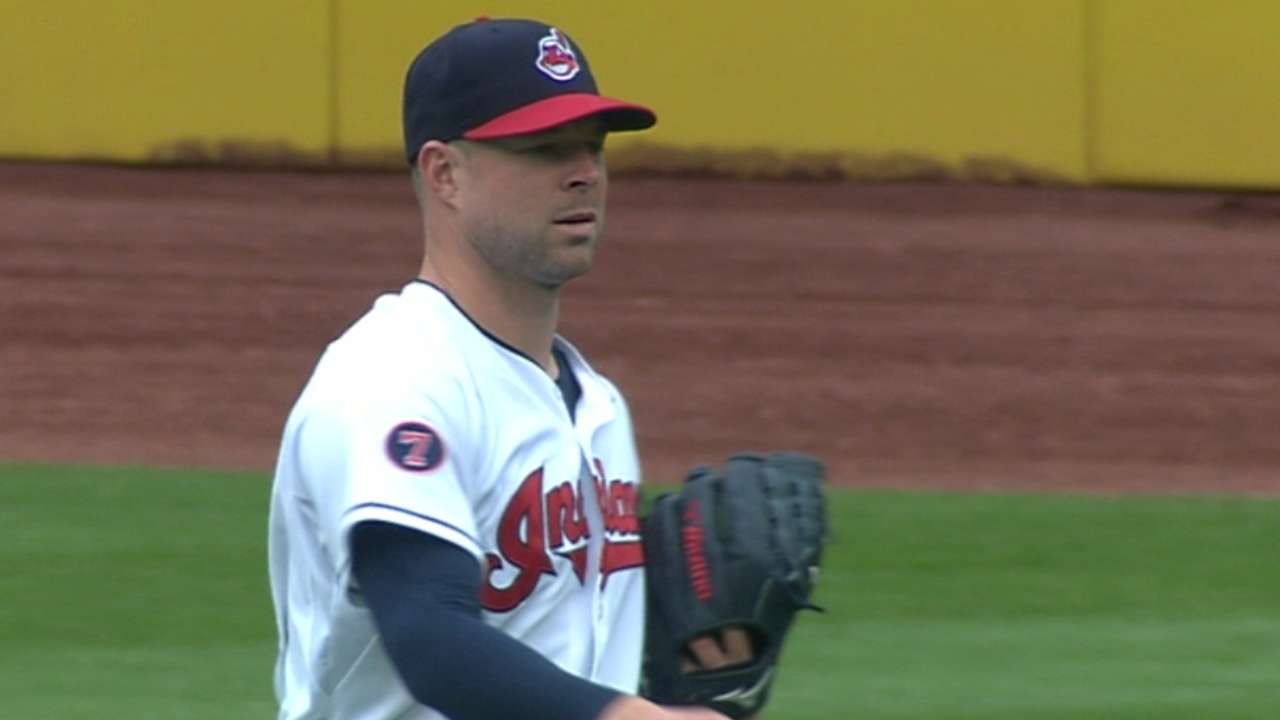 CLEVELAND -- You could tell Corey Kluber was really searching the day before this start.
I don't mean that as a figurative description of Kluber trying to recapture his American League Cy Young Award-winning form. I mean he was literally searching through the channels on a clubhouse television, looking for a Champions League soccer match.
Kluber seemed far more concerned with a cable channel lineup that was foreign to him than he was about the early statistics that looked so foreign next to his name. Actually, he was taking the national fretting -- from fantasy owners and Indians fans -- about his 0-5 record and five-plus ERA in stride.
"I guess it comes with the territory, after last year," Kluber had said.
Calm, confident, Kluber knew what few were acknowledging: It wasn't as if the "Klubot" had become totally disengaged. Kluber's stuff was intact, his arm felt fine. There were simply some early-count command woes -- as well as an adjustment to backup catcher Roberto Perez, with Yan Gomes on the shelf -- amplifying the damage done against him, and he was actually more encouraged than discouraged by his previous outing in Kansas City.
Now, I'm not suggesting Kluber knew he was on the verge of possibly the greatest eight-inning outing in Major League history, on the verge of tying the legendary Bob Feller for the Indians' franchise record for strikeouts in a nine-inning game, with 18.
Kluber is not that confident.
But Kluber does expect great things from himself, and even if his bid Wednesday night for the Tribe's first no-hitter in almost exactly 34 years fell one seventh-inning ground-ball single from Jhonny Peralta (and three ninth-inning outs) shy of completion, this performance in the Indians' 2-0 win over the Cardinals was about as dominant as a human being can be on a baseball mound.
Eight innings, one hit, no walks and, yes, those 18 K's, which not only tied Feller (who, fittingly, was posthumously honored earlier in the day with an exhibit opening at Progressive Field) for the franchise record but tied pending Hall of Fame inductee Randy Johnson for the most in an eight-inning outing since at least 1914.
Kluber did it all in 113 pitches.
All soccer aside, this was the game Kluber was looking for.
Sure, we can nitpick here, as many are and many will, and say we wish Kluber had been brought out for the ninth to chase the 20-strikeout record held by Roger Clemens and Kerry Wood. But bench coach Brad Mills, who replaced an ejected Terry Francona, did the right thing. Kluber had not exceeded 107 pitches this year, and he exceeded 113 just four times in his AL Cy Young Award-winning season last year, with none of those instances coming in the first half.
"I knew going into my last inning, I saw 101 [pitches]," Kluber said, "so I figured that was going to be the last one, regardless of what happened."
For Kluber, eight was enough to make history. The early-count command issue was gone, and so he was able to properly use his breaking pitches for their putaway purpose.
"He started to find it and feel it," Francona said. "The pitches were thrown with conviction and confidence and attacking with all his pitches. When you have the talent he does, that's what can come of it."
In the rubble of unmet expectations that is this early portion of Cleveland's 2015 season, there is hope -- or, at the very least, small bursts of brilliance -- coming from K's. Tribe starters have amassed the Majors' most strikeout-heavy starting staff, with Kluber now at 12.9 K's per nine innings, Danny Salazar at 13.1 (with just five walks in 33 innings), Carlos Carrasco at 10.7 and Trevor Bauer at 8.9.
Kluber is not headed toward another AL Cy Young Award this season. His early troubles, in which the Indians lost each of the first seven games he started, all but ensured that. But on this night, Kluber was better than he had been on any single night in his Cy Young season. In fact, Kluber's "game score" -- a Bill James-devised metric used to determine the strength of a starter's performance -- was 98, which, again, is the highest in an eight-inning outing since at least 1914.
True to form, Kluber thought little of any of this trivia. He just wanted the win.
"My location might have been a little bit better," Kluber said, "but I thought [Perez} did a great job of keeping them off-balance. We've spent a lot of time talking about stuff and trying to understand each other. I think some of that hard work paid off a little bit."
The work went on behind the scenes as people on the outside wondered aloud, "What the heck happened to Corey Kluber?" Because he was a late bloomer who broke out with an absurd 2014 season that few outside of Cleveland saw coming. The inevitable curiosity over whether the golden carriage had turned back into a pumpkin arose.
But Kluber was unconcerned. Now, nobody's concerned. One start can change the conversation that quickly. And this was a start that, as it evolved, had baseball fans across the country searching through their cable stations, looking for the Indians-Cardinals game.
Kluber knows the feeling.
Anthony Castrovince is a reporter for MLB.com. Read his columns and follow him on Twitter at @Castrovince. This story was not subject to the approval of Major League Baseball or its clubs.