Oberholtzer returns to DL with finger issue
Astros lefty leaves after three innings as layer of skin over blister peels off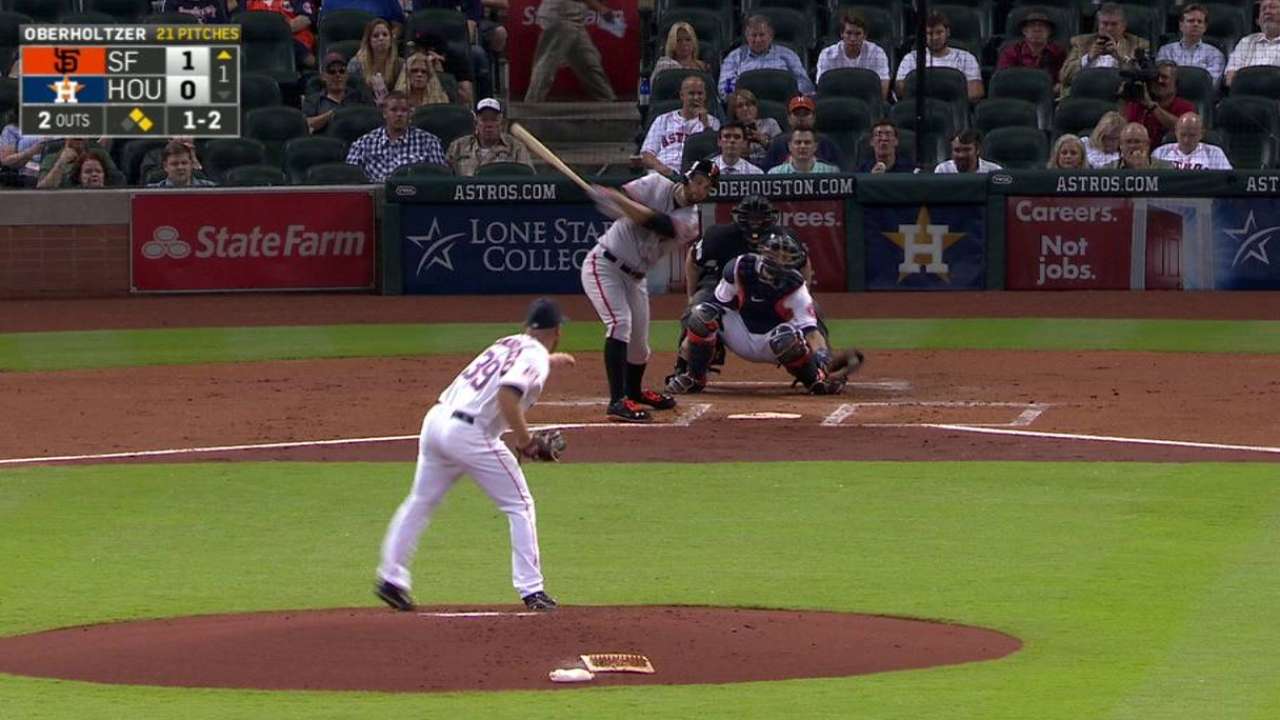 HOUSTON -- Astros lefty Brett Oberholtzer was placed on the 15-day disabled list following Wednesday's game after the protective layer of skin covering a blister on his left index finger came off and put him in danger of developing another blister.
Oberholtzer, who spent more than a month trying to recover from a blister he suffered in Spring Training, made his season debut in the 4-3 win over the Giants at Minute Maid Park and lasted only three innings. He threw 54 pitches and will miss at least two starts.
"It's frustrating that I exited and only threw three innings," he said. "The blister didn't reoccur, just the top layer of the skin came off a little bit. Good news is it's not bad and it didn't boil up again. The bright side is I'll only miss [two] starts and get right back to it. I'll be able to continue to throw as the training staff told me. That's the good news. The bad news is I only went three today and made the bullpen have to pick me up a little bit."
A source told MLB.com the Astros were going to call up right-hander Jake Buchanan from Triple-A Fresno. He's capable of pitching in relief -- Houston's bullpen covered six innings Wednesday -- but has also been starting at Fresno.
Oberholtzer said he didn't feel the skin come loose on a particular pitch, but looked down to see it peeling off a little bit at some point.
"There was no blood," he said. "It didn't boil up again like it did previously when I missed a month. I'm actually happy that top layer came off a little bit. It feels better now."
"We'll have to talk about what that all means, whether that cuts into the next start," Hinch said. "That skin is as fresh as it gets so I'm not sure how he's going to respond to that."
Oberholtzer said getting back on the mound in a Major League game was still a positive step for him, even if the night was cut short.
"I'm going to go one day at a time and get right and get back to it," he said.
Hinch has admitted he hasn't seen much of Oberholtzer yet because he dealt with a lat injury and then the blister during the spring, but he was impressed with what he saw for three innings.
"He looks the part," he said. "I know he's comfortable out there and made some pitches. Got some strikeouts that were nice to see and then the rest of our bullpen was fantastic."
Oberholtzer, 25, made 34 starts for the Astros the last two years and went 5-13 with a 4.39 ERA last year.
Brian McTaggart is a reporter for MLB.com and writes an MLBlog, Tag's Lines. Follow @brianmctaggart on Twitter. This story was not subject to the approval of Major League Baseball or its clubs.