MLB.com Columnist
Fred Zinkie
10 potential fantasy saviors to pluck off wire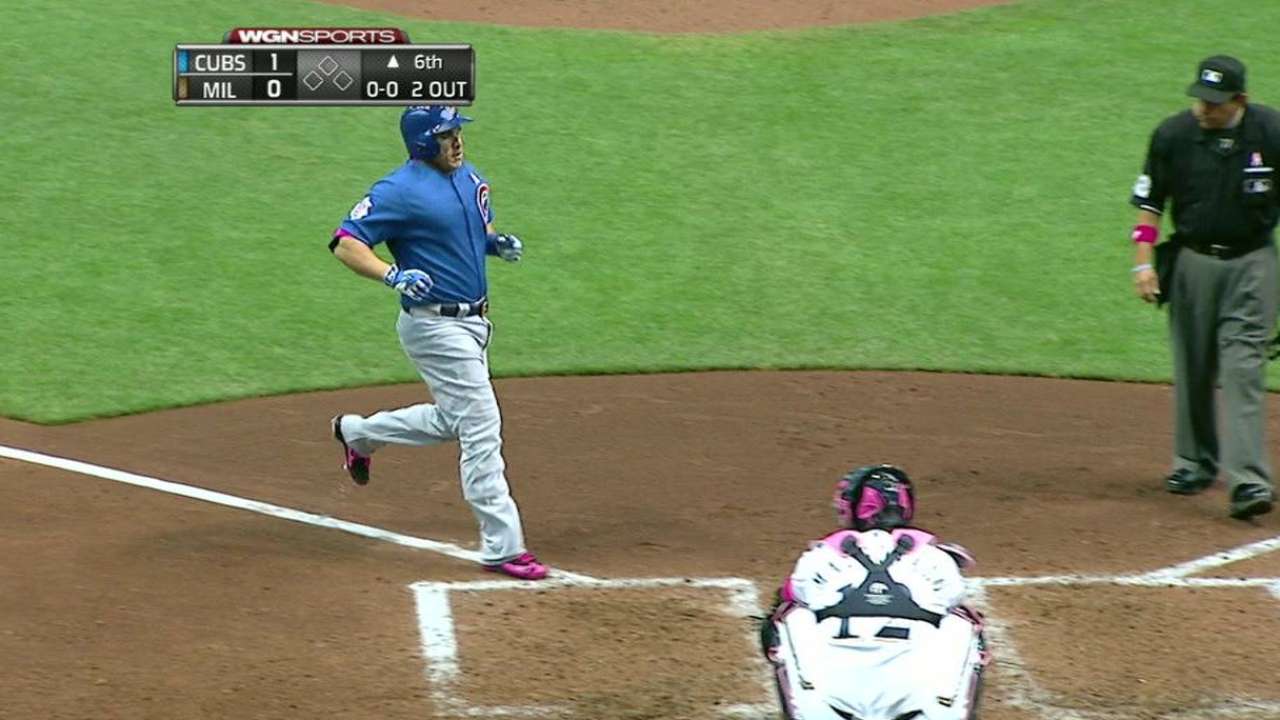 Several appealing two-start pitchers and a high-upside reliever highlight the hurlers who might appear on your fantasy baseball waiver wire for the coming week. There are also intriguing outfield options for those GMs who have tired of early-season strugglers. The 10 players listed below could all help fantasy squads to surge up the standings in the coming days.
Miguel Montero, C, Cubs
Owners who have been frustrated by the early-season injuries to Devin Mesoraco or Yan Gomes could turn to Montero for steady catcher production during May. The 31-year-old is hitting .296 with four homers and 15 RBIs, and it is possible that an offseason relocation to Chicago has sparked a return to the form that made Montero a reliable source of batting average and RBIs from 2011-12.
• Complete Fantasy Baseball coverage
Jimmy Paredes, 3B, Orioles
It is time for owners to start believing in Paredes. The 26-year-old has earned regular work out of the two-hole in the O's powerful lineup by hitting .357 with five homers and 17 RBIs across 84 at-bats. The switch-hitter also fared well during Spring Training. Paredes could cool off and still hit well enough to warrant a mixed-league roster spot.
Kevin Pillar, OF, Blue Jays
Pillar has earned regular at-bats by playing excellent defense and, to this point in the season, he has offered useful speed and a respectable batting average. The outfielder once swiped 51 bases in a Minor League campaign, so it should come as no surprise that he has compiled six swipes through 34 games this year. Because Pillar could help accumulate counting stats, he is a fine May option for those who need coverage for an injured outfielder.
Adam Eaton, OF, White Sox
Fantasy owners entered the season with high hopes for Eaton after he hit .347 with seven steals following the All-Star break in 2014. This year, the leadoff hitter started slowly and then dealt with a severe flu bug, which sent him tumbling to waivers in many mixed leagues. But having hit .310 across 29 at-bats this month, the 26-year-old could provide steals, runs and a helpful batting average for the remainder of the season.
Chris Colabello, OF, Blue Jays
Colabello -- who was hitting .337 with five homers across 83 at-bats with Triple-A Buffalo -- has batted .538 with a homer and a steal across 26 at-bats since an early-May recall. In the coming days, he could get regular outfield time while Jose Bautista deals with a shoulder injury. Wise fantasy owners, however, will remember that Colabello hit .286 with 27 RBIs last April before regressing rapidly in May. He may not be a long-term option, but the right-handed hitter could give a short-term spark to those in deep mixed formats.
Carlos Frias, SP, Dodgers
Owners could see Frias' career 5.00 ERA and dismiss him as waiver-wire fodder, but a closer look reveals a respectable career 3.46 FIP and a 1.22 WHIP. The right-hander showed impressive control during his Minor League tenure, and he could benefit from a pitcher-friendly home park and a Dodgers lineup that ranks first in the Majors with an .842 OPS. Frias should be used in most leagues next week for a road start at spacious AT&T Park and a home date with the Padres, and there is a chance that he could become a permanent roster fixture.
Rubby De La Rosa, SP, D-backs
The right-hander was once a notable prospect, but his fantasy stock plummeted when he posted a 4.54 ERA with the Red Sox from 2013-14. De La Rosa has shown some recent signs of improvement by tossing seven innings during three of his past four starts and compiling 42 strikeouts across 44 innings this season. He could be a useful two-start pitcher next week, when he makes a start at pitcher-friendly Marlins Park before returning home to face a strikeout-prone Cubs lineup.
Nate Karns, SP, Rays
Tampa Bay has a strong long-term track record with starters, and the organization may have developed another fantasy asset in Karns. The 27-year-old has allowed 11 earned runs (12 total) across his past six starts, and he has posted a 1.09 WHIP this season. With 38 K's across 40 1/3 innings, Karns is compiling a strikeout rate that makes him a mixed-league asset as long as he continues to log quality innings. Next week, he will make a road start at spacious Turner Field before returning to his pitcher-friendly home park to face the A's.
A.J. Ramos, RP, Marlins
Miami manager Mike Redmond has indicated that he could use multiple relievers to close out tight contests, but Ramos is the most likely candidate to lead the pack. The 28-year-old possesses the high strikeout rate to succeed in the ninth inning, and he has allowed just 44 hits across 81 innings since the start of last season. Shaky control sheds some doubt on Ramos' ability to stay out of trouble, but there is enough upside here to warrant a roster spot in most leagues.
Sean Doolittle, RP, A's
Doolittle is expected to begin a rehab assignment Thursday, and he could be back with Oakland by the end of the month. When the left-hander returns, he should regain closer duties from Tyler Clippard in short order. In his career, Doolittle has compiled a 10.5 K/9 rate and 0.91 WHIP. The 28-year-old could be a top-tier closer for the final four months of the season, so this is the perfect time to stash him in shallow leagues.
Fred Zinkie is the lead fantasy baseball writer for MLB.com. Follow him on Twitter at @FredZinkieMLB. This story was not subject to the approval of Major League Baseball or its clubs.