What to watch for in today's games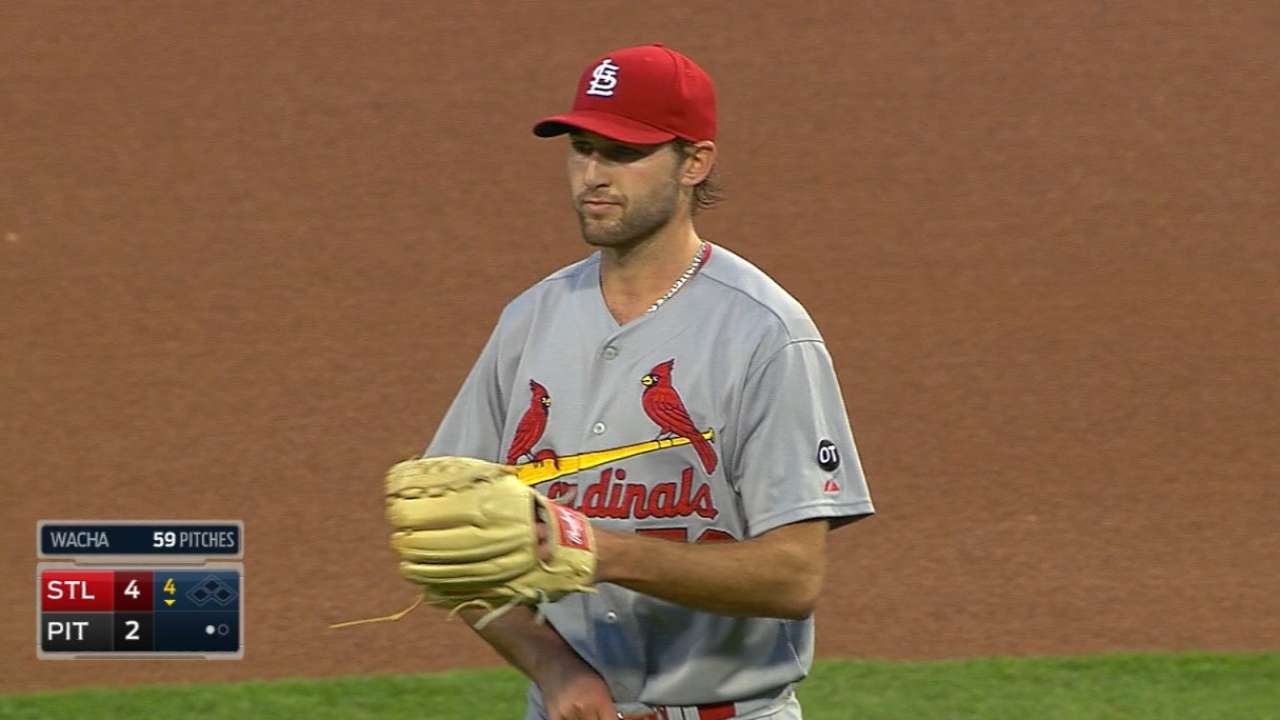 Cardinals right-hander Michael Wacha has quietly won five of his first six starts this season, and he'll be going for another command performance against the Indians today at 12:10 p.m. ET. Wacha boasts a 2.09 ERA and has had five quality starts in six opportunities.
The 23-year-old went six innings and earned the victory against Pittsburgh last time out, and he allowed no earned runs in his only no-decision this season. The Cardinals have won all six of the right-hander's starts, and he's given up just two home runs in his first 38 2/3 innings of work.
Trevor Bauer, 24, will get the ball for Cleveland, and he'll be trying to stem the tide of his past two starts. Bauer won his first two starts in April, but he's given up 11 earned runs in his last two outings, and he got knocked out before completing the sixth inning in both of those starts.
Here's a few other matchups and games to look forward to on Thursday.
Royal Flush, KC @ TEX, 2:05 p.m.
The American League Central is the only division in baseball with two 20-win teams, and the first-place Royals are feeling heat from the Tigers right behind them. Kansas City can stay atop the Central with another victory over Texas, and it will send veteran Jeremy Guthrie to the mound Thursday.
Guthrie is 2-2 with a 5.70 ERA in his last two outings, but he held the hard-charging Tigers to just two runs last week. Guthrie, for his career, has pitched to a 5-4 record and a 3.40 ERA against the Rangers, and he's logged a 3.75 career ERA in May, his second-best month behind only September (3.62).
The Rangers will counter with Ross Detwiler, who's still looking for his first victory of the season. Detwiler was a reliever last year for the Nationals, and he logged a 4.00 ERA out of the bullpen. This year, he's 0-4 with a 7.22 ERA in his first six starts in his first year with the Rangers.
Arm Wrestling, SF @ CIN, 7:10 p.m.
This is about as good a pitching matchup as you'll find. Tim Lincecum, the two-time National League Cy Young Award winner for the Giants, is off to a spectacular start this season, and he'll be matched against Cincinnati ace Johnny Cueto. Cueto is 3-3 with a 2.98 ERA in his first seven starts.
Lincecum, meanwhile, is 3-2 with a 2.00 ERA, and he's fired 15 scoreless innings dating back to the final inning of his April 27 start against the Dodgers. The 30-year-old has allowed more than three earned runs in just one of his starts, but he'd held the opposition to one earned run or fewer four times.
Cueto, the runner-up in last year's NL Cy Young Award balloting, has completed seven innings in six of his first seven starts. The right-hander had a 1.98 ERA at the end of April, but he gave up five runs in a loss to the Cubs on May 3 and four earned runs to the White Sox in a 10-4 victory on Saturday.
Padre Potential, WAS @ SD, 10:10 p.m.
Tyson Ross was one of the best stories for San Diego last season, when he earned a berth on the All-Star team and finished his year 13-14 with a personal-best 2.81 ERA. But Ross is still trying to find his bearings in 2015, and he'll go into Thursday's game with a 3.98 ERA.
Ross has now gone five starts without a victory, and he's completed six innings just four times in seven outings. But he's managed to do that in back-to-back starts, and the 28-year-old will go into the game with an 0-1 record and a 4.76 ERA in four career appearances against Washington.
The surging Nationals will counter with veteran Doug Fister, who is coming off another standout season. Fister registered a 2.41 ERA in his first season with the Nationals, and he's 2-1 with a 2.87 mark this year. Fister has made all but one of his first six starts against NL East teams.
Spencer Fordin is a reporter for MLB.com This story was not subject to the approval of Major League Baseball or its clubs.