Taylor revels in role of unlikely hero for Nats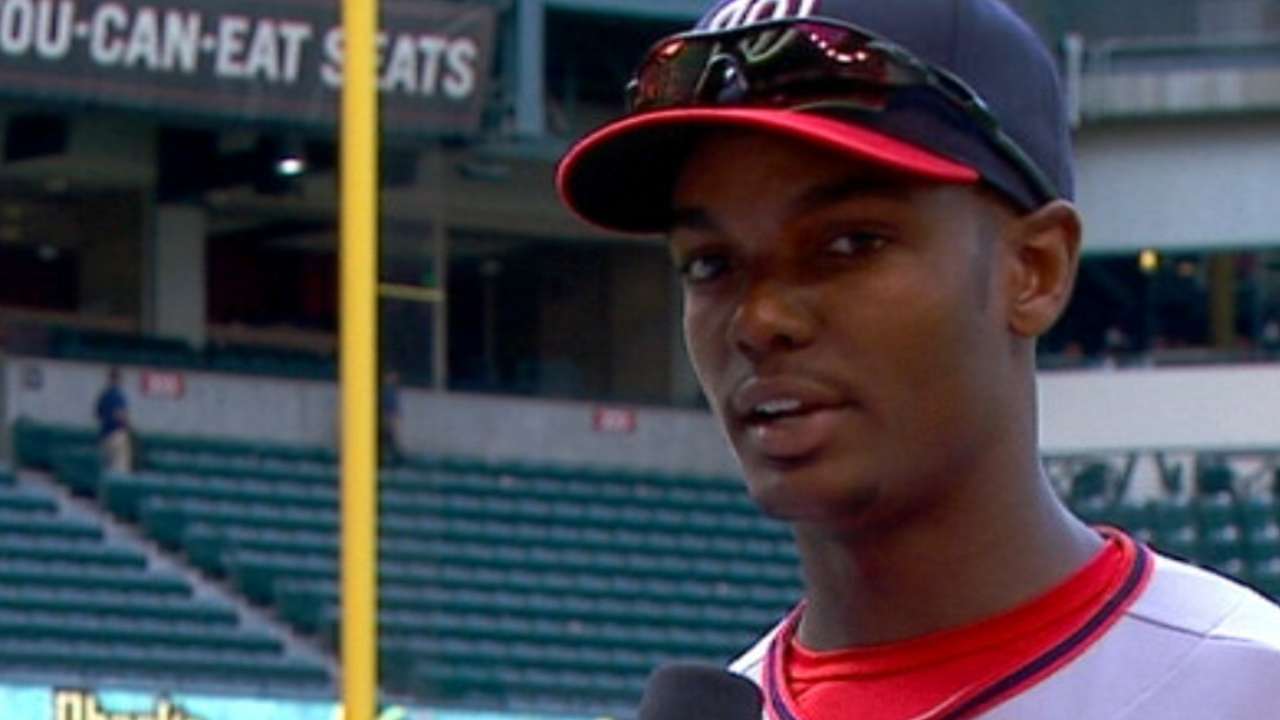 PHOENIX -- Only a few short weeks ago, Michael Taylor was in the Minor Leagues. On Wednesday, he found himself with the biggest opportunity of his still budding career.
With one out in the ninth inning, the bases loaded and the Nationals trailing the D-backs by a run, Taylor came up to bat -- in Bryce Harper's cleanup spot.
"I was just thinking, 'Barrel up the ball and try not to do too much,'" Taylor said. "I get in trouble sometimes when I try to crush the ball, so I went up there trying not to miss my pitch."
Taylor didn't miss the 1-0 pitch from D-backs closer Addison Reed -- a fastball down -- crushing it well above the yellow line beyond the dark green center-field wall at Chase Field more than 407 feet away. The grand slam was the first of his career and gave the Nats a 9-6 win that couldn't have been any sweeter.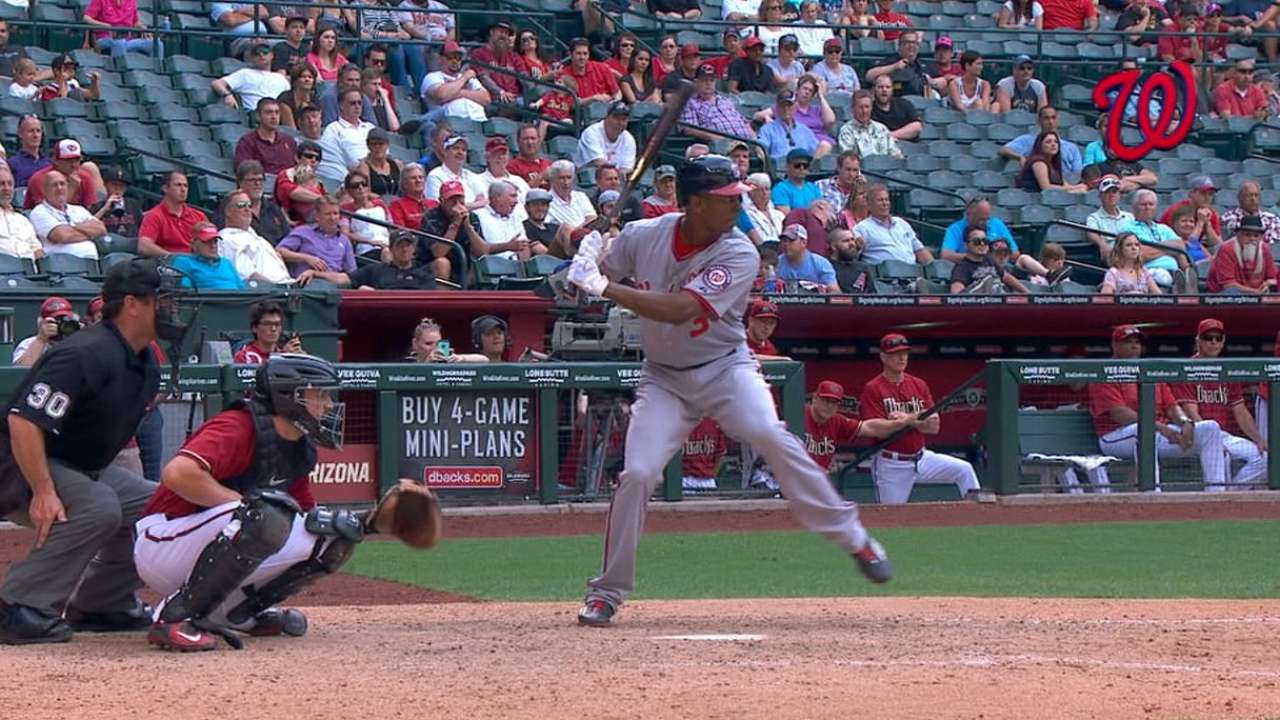 Taylor is 24 years old, and he has bounced back and forth from the Minors to Majors twice this season, spending more time with the Triple-A Syracuse Chiefs than the Nationals. And he found himself up with the game on the line because Harper was ejected in the seventh inning after arguing a check swing on a third-strike call.
It was no small irony that Harper -- with 12 homers, 31 RBIs and a .308 batting average -- was in the clubhouse while Taylor was engaged in his epic at-bat. That irony wasn't lost on Taylor.
"[Harper] probably would have hit it 500 feet," Taylor said.
It wasn't lost on Harper, either, who missed out on the key situation.
"Of course, I wanted to be up there, but they put Mike in that situation," Harper said. "I just owe him a steak dinner. He did what he did up there and got us that W. A tip of my cap to Mikey, and I'm glad he came through for us."
The D-backs had taken a 6-5 lead in the bottom of the eighth on a pinch-hit single by Yasmany Tomas, the Cuban rookie who is beginning to round into form as the season heads to the quarter-pole mark.
In came Reed, and immediately there was trouble. Denard Span and Yunel Escobar singled before Jayson Werth, who hit a three-run homer earlier in the game, showed extreme patience in working Reed for a walk that loaded the bases.
Up stepped Taylor in Harper's spot. On the bench, it was precisely the situation that the players had anticipated when Harper was tossed in what was then a 5-5 game.
"Sure, it goes through your mind," Werth said. "You've got a guy hitting three, four or five for you, you want him in there at the end of the game. But luckily it worked out for us and Mikey got him off the hook."
Taylor took a ball and said he was sitting on the fastball. Reed delivered.
"I didn't want to be too aggressive and swing at something outside the zone," Taylor said. "I had my one spot out over the plate, and if he threw it there, I was going to take a hack at it."
Hack, he did, clearing the bases, rounding the paths himself as if he were lighter than air. The reception at the plate and back in the dugout was part of the whole new experience.
"It was different," Taylor said. "Something I wasn't used to, but it was fun."
Barry M. Bloom is a national reporter for MLB.com and writes an MLBlog, Boomskie on Baseball. Follow @boomskie on Twitter. This story was not subject to the approval of Major League Baseball or its clubs.