MLB.com Columnist
Fred Zinkie
DraftKings picks: Gose, Miggy, Cuddyer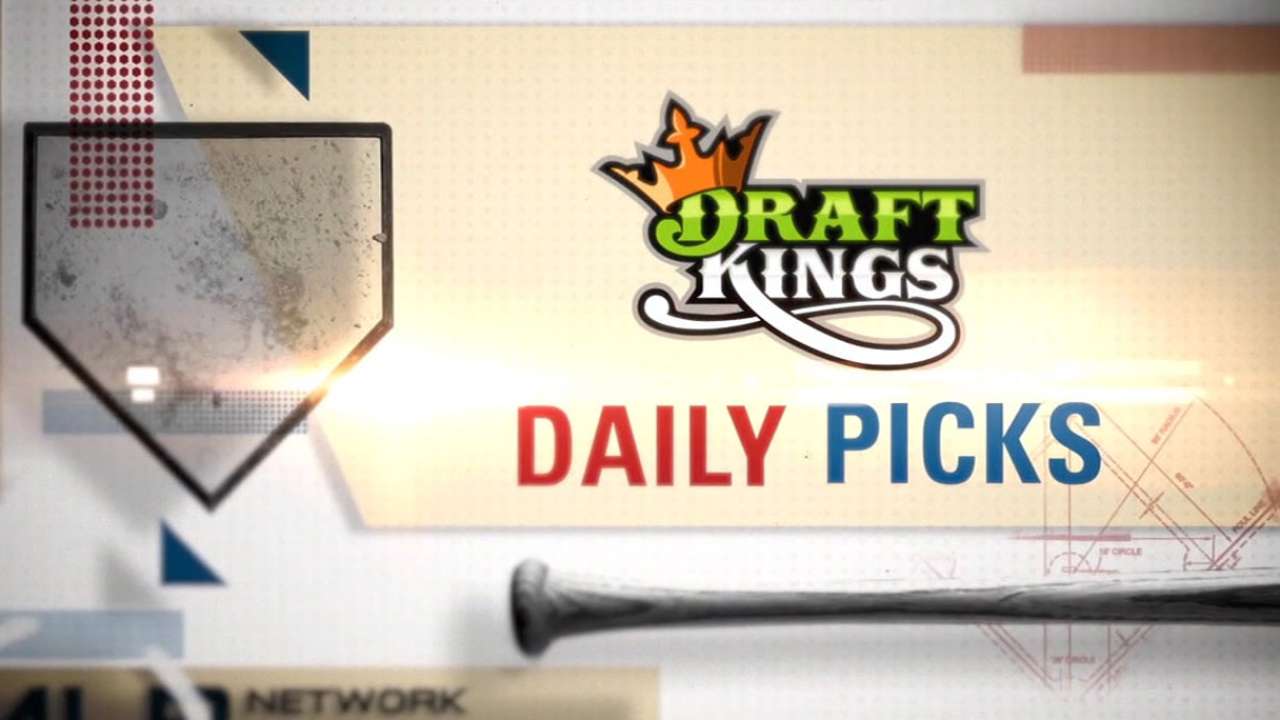 Welcome to DraftKings fantasy baseball, the Official Daily Fantasy Game of Major League Baseball.
The players listed below could provide difference-making stats for DraftKings participants on Thursday.
Anthony Gose (Tigers): The outfielder on Thursday will likely hit high in the lineup, which would maximize his chances to reach base and score runs against Twins righty Mike Pelfrey (career 4.50 ERA). Gose has compiled a lifetime .697 OPS against right-handers (.517 vs. lefties), and he could steal a base against Minnesota catcher Kurt Suzuki, who sometimes struggles to control opposing baserunners.
Miguel Cabrera (Tigers): Cabrera is off to a terrific start this season, with a .316 average, six homers and 21 RBIs. On Thursday, he could improve on his impressive career .321/.387/.564 OPS against right-handers when he faces Pelfrey (career 1.48 WHIP).
Michael Cuddyer (Mets): The outfielder has long fared best against left-handers, against whom he has posted a lifetime .880 OPS (.780 vs. righties). On Thursday, Cuddyer could rip a round-tripper when he faces the Cubs' fly-ball-prone lefty Travis Wood.
Alcides Escobar (Royals): From his perch atop the lineup, the shortstop could accumulate multiple hits and runs against Detwiler, who has compiled a 7.22 ERA and a 1.85 WHIP this season. The speedy Escobar has posted balanced career splits, with a .668 OPS against left-handers that slightly exceeds his .646 mark vs. righties.
Prince Fielder (Rangers): Fielder could be in an advantageous position on Thursday, when he brings his lifetime .962 OPS against right-handers (.798 vs. lefties) into a matchup with Royals righty Jeremy Guthrie at hitter-friendly Globe Life Park in Arlington. In his career, Guthrie has allowed left-handed hitters such as Fielder to record an .818 OPS (.702 mark surrendered to righty hitters).
Shin-Soo Choo (Rangers): Choo is another left-handed hitter who could have success against Guthrie at an offense-inducing venue on Thursday. The outfielder has posted a career .902 OPS against right-handers, in comparison to his .680 mark vs. lefties.
Colby Rasmus (Astros): Rasmus has produced a lifetime .790 OPS against right-handers (.647 vs. lefties), and he could rip a round-tripper during a home contest against the Blue Jays' fly-ball-prone righty Drew Hutchison (career 4.79 ERA).
George Springer (Astros): The Astros lead the American League with 46 homers, and Springer is among Thursday's top candidates to add to that total against Hutchison (career 1.2 HR/9 rate). The outfielder has smacked 18 homers across 290 career at-bats against right-handers.
Luis Valbuena (Astros): Valbuena, who can be used at second or third base in DraftKings contests, could be part of an Astros stack against Hutchison. Since the outset of the 2014 season, the third baseman has compiled an .805 OPS against right-handers (.550 vs. lefties). During that time span, he has hit 21 homers across 480 at-bats against righties.
Seth Smith (Mariners): The outfielder has accumulated pronounced career splits, with an .838 OPS against right-handers that exceeds his .608 mark vs. lefties. The left-handed-hitting outfielder on Thursday could thrive against Red Sox right-hander Joe Kelly, who in his career has allowed lefty hitters to compile a.738 OPS (.682 OPS allowed to right-handed hitters).
Kyle Seager (Mariners): Seager could reach base often against the right-handed Kelly, who has produced a career 1.36 WHIP. For his part, the lefty-hitting third baseman has posted a lifetime .801 OPS against right-handers (.665 vs. lefties).
Anibal Sanchez (Tigers): Sanchez has compiled a 5.44 ERA this season, but his 4.16 FIP suggests that he could soon lower his ERA closer to his career 3.60 mark. The right-hander has posted a lifetime 3.43 ERA at Comerica Park and, on a day with few secure starters, DraftKings participants could use him during a home start against the Twins. Because Minnesota will counter with Pelfrey, Sanchez could receive the necessary run support to turn a quality effort into a victory.
Johnny Cueto (Reds): Cueto could be a popular pick on Thursday, as he has the best resume of any starter on the docket. The right-hander will work at home against a Giants lineup that ranks 29th in the Majors with 3.3 runs per game. With a 2.98 ERA and a 0.88 WHIP through seven 2015 starts, Cueto is providing an excellent followup to the 2.25 ERA and 0.96 WHIP he posted during his 2014 season.
Vance Worley (Pirates): Because of his 4.63 ERA and 1.54 WHIP, Worley could be a low-cost second-starter option for DraftKings participants. On Thursday, the right-hander could notch a quality start against a Phillies lineup that ranks last in the Majors in runs scored (96) and OPS against righties (.586).
Aaron Harang (Phillies): DraftKings participants who do not choose Worley may wish to select his opponent, Harang. The right-hander has compiled a 2.38 ERA, a 2.96 FIP and a 1.01 WHIP this season, and he has tossed at least six innings in each start. Harang could continue to compile quality frames when he faces a Pirates lineup that ranks 26th in the Majors with a .660 OPS against right-handers.
All statistics are accurate through the completion of Tuesday's games.
Fred Zinkie is the lead fantasy baseball writer for MLB.com. Follow him on Twitter at @FredZinkieMLB. This story was not subject to the approval of Major League Baseball or its clubs.