Crisp breaks out, displays ability in left field
Veteran notches first hit since coming off DL, makes two diving grabs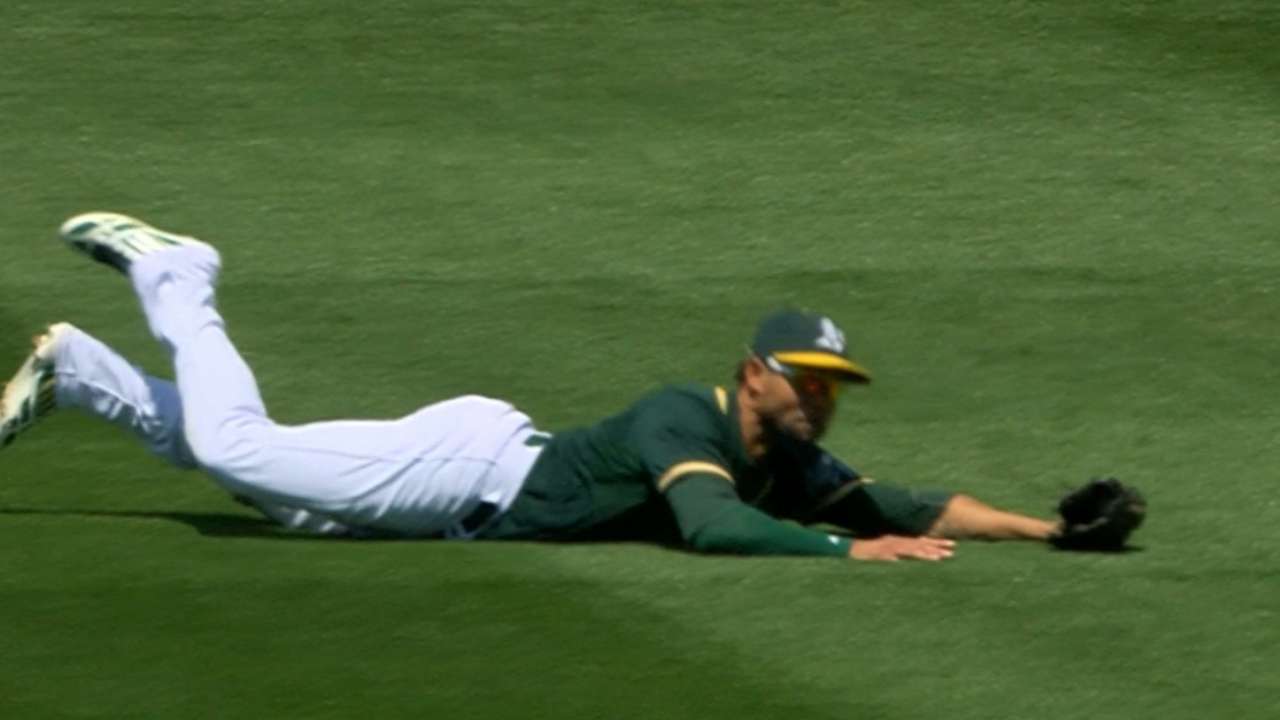 OAKLAND -- Aside from Sonny Gray's outstanding performance, A's left fielder Coco Crisp was the bright spot of Oakland's 2-0 loss to the Red Sox on Wednesday.
Crisp got his first hit of the season, a single off the end of his bat that barely eluded Dustin Pedroia's glove behind second base.
"Sometimes, those things take on a life on their own," A's manager Bob Melvin said. "It was good for him to get the first one out of the way. He can move on."
Crisp, on the disabled list following right elbow surgery in early April, ended an 0-for-26 streak to start the season. He was 0-for-39 dating to last September, the second-longest such streak in Oakland history.
"We need him big time," said A's outfielder Josh Reddick, who went 0-for-4 to end a nine-game home hitting streak. "He starts things for us. Getting his first one out of the way is a positive. Once he gets going, that's another guy you can drive in."
Crisp made the move to left field during Spring Training, and it looks like he's a veteran at the position after the highlight catches he made the past two games against the Red Sox. He made two catches Tuesday just before hitting the wall, and he laid himself out to make two more grabs just inches off the grass Wednesday.
One grab, a diving catch that robbed Pedroia of an extra-base hit in the sixth, was particularly impressive. According to Statcast™, Crisp reached a top speed of 18.8 mph, racing 79.1 feet with a route efficiency of 97.4 percent in making the grab.
"For a guy who has played center field for so many years, the plays he made in left are a testament to how hard he works at it," Melvin said.
Rick Eymer is a contributor to MLB.com. This story was not subject to the approval of Major League Baseball or its clubs.