Marlins weighing when to bring back Alvarez
Opening Day starter could return Sunday vs. Braves or make second rehab start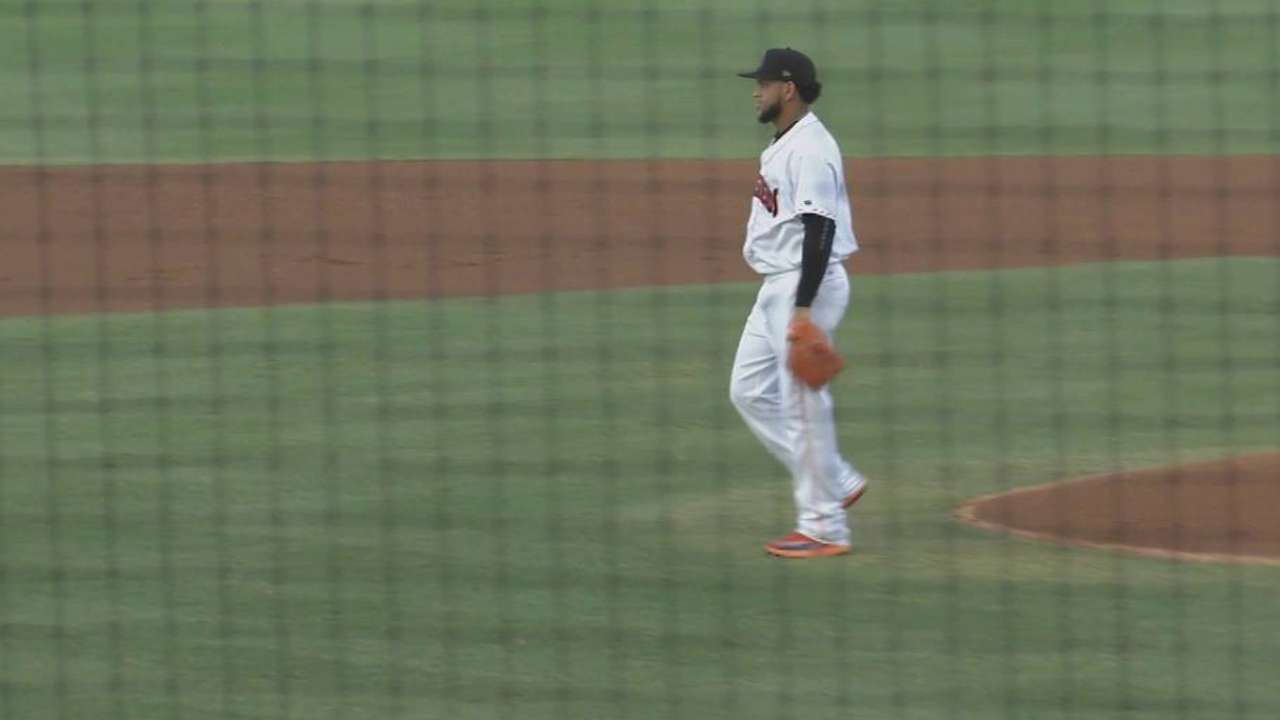 LOS ANGELES -- Henderson Alvarez's impressive rehab assignment start on Tuesday night has the Marlins weighing whether to give their Opening Day starter one more tuneup in the Minor Leagues or activate him in time to pitch on Sunday against the Braves.
Either way, Alvarez's recovery from right shoulder inflammation has remained right on schedule. Pitching for Class A Advanced Jupiter on Tuesday, the right-hander threw six shutout innings, striking out five with no walks against Lakeland.
The Marlins have been without their Opening Day starter since he faced the Rays on April 12.
"When you lose a starter, it definitely takes a toll somewhere," manager Mike Redmond said. "You have to take a guy out of the bullpen and move them into the starting rotation. Our guys have done a great job, but it thins you out in the bullpen, too."
David Phelps started the season in the 'pen, but he has stepped into the rotation for Alvarez, who lost both of his starts before feeling shoulder discomfort in April.
Alvarez was an All-Star in 2014. His presence is expected to give the club a big boost.
"When you open the season, he's your No. 1," general manager Dan Jennings said. "And it puts everybody else in the proper order. It's going to help the bullpen, because somebody will help the staff, quality-wise and depth-wise."
The Marlins will have some decisions to make when Alvarez comes back. Will they move Phelps back to the 'pen or keep him in the rotation? Tom Koehler is another possibility to go from starter to reliever, a role he has held in previous years.
"When Hendu comes back, that will be a decision we have to make, and it should be a boost to our bullpen, as well," Redmond said.
The Marlins are searching for bullpen help, but they are no longer interested in free agent Rafael Soriano. The internal feeling is he isn't an upgrade over what already is in the organization.
Regarding Alvarez, the organization is seeing how he feels the day after pitching. If another rehab start is made, it will likely be at Double-A Jacksonville.
"That's one of those things you have to wait til the second day and see and get a read on how much lat soreness is there," Jennings said. "Is there any shoulder soreness? If it's good, then, hey, let's put him in the league where it will count the most."
If Alvarez does immediately return, he would start Sunday at home against Atlanta.
Joe Frisaro is a reporter for MLB.com. He writes a blog, called The Fish Pond. Follow him on Twitter @JoeFrisaro and listen to his podcast. This story was not subject to the approval of Major League Baseball or its clubs.