A-Rod to only DH; Drew now backup at 3B
Yankees want to keep 39-year-old slugger fresh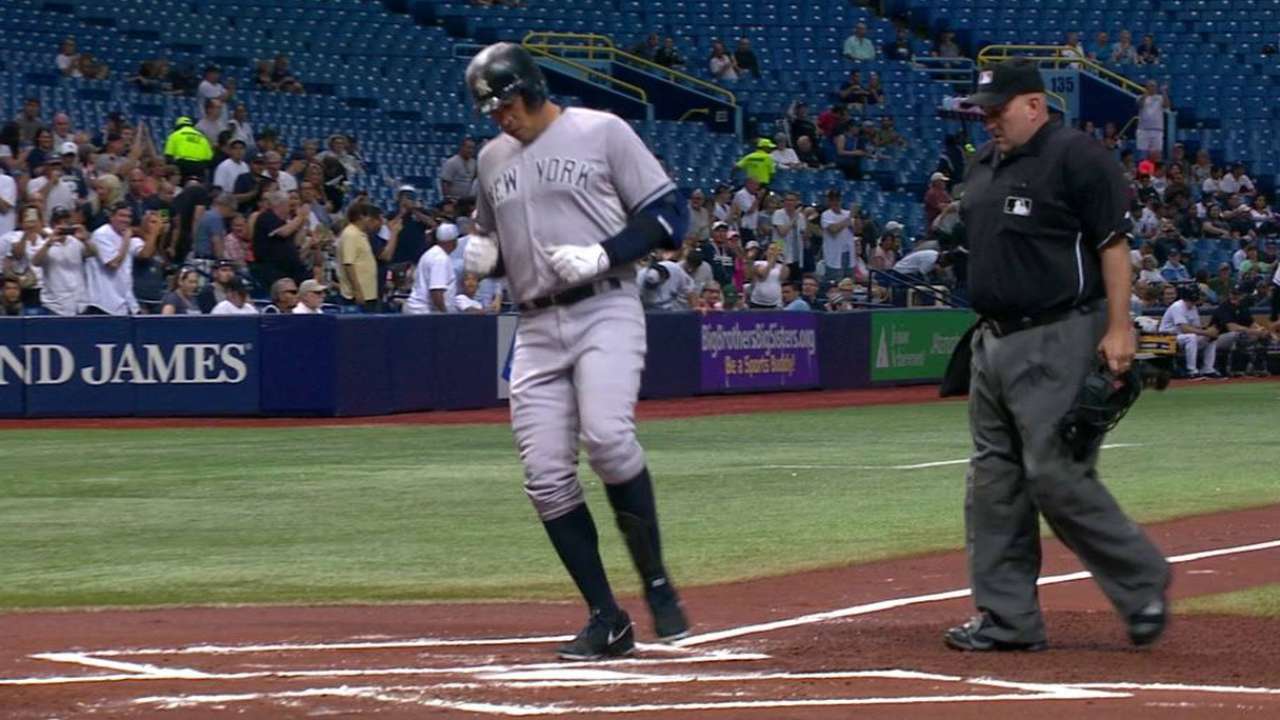 ST. PETERSBURG -- Alex Rodriguez can put his fielding gloves away for now. Because the Yankees see it as a priority to keep his bat in the lineup, manager Joe Girardi said that the plan is to use the slugger only as a designated hitter from this point forth.
Rodriguez, 39, has played the field sparingly this season, making three appearances (two starts) at third base and one start at first base. Wednesday marked his 27th start of the year at DH, as Stephen Drew filled in for Chase Headley at third base.
"I'm totally on board with whatever Joe wants," Rodriguez said. "I've said that from Day One, whatever Joe wants. I played third base in the ninth inning [on May 5] and was pretty nervous about that. That was pretty alarming. Whatever Joe wants, I can do."
Rodriguez entered play on Wednesday batting .243 with eight home runs and 20 RBIs in 31 games, having been slowed earlier this week by a tight left hamstring.
"If we have to adjust it, we'll adjust it," Girardi said. "But in my mind, I'm thinking we'll play him a lot more if we can DH him."
Girardi said that not diving on the infield and being able to stay off his feet more should help keep Rodriguez fresher, and Rodriguez agreed that regular duty in the DH role has seemed to be a positive for him.
"It's something that I'm getting used to. I'm enjoying it," Rodriguez said. "I feel that it gives me an opportunity to stay healthier and to be fresher. It's a nice welcome addition to my game."
Girardi said that he gave Drew the starting nod because Headley appeared "kind of beat up" physically. Drew has never played third base at any level, and he was given a crash course at the position early Tuesday afternoon by infield coach Joe Espada.
"It's fine. I kind of know my role," Drew said. "Yeah, it's something new, but at the same time just trust my hands and my feet and go from there. That's all you can really do. I'm not going to go over there and start stressing that I haven't played. It's just more reaction and hopefully I can do my job there."
Bryan Hoch is a reporter for MLB.com. Follow him on Twitter @bryanhoch, on Facebook and read his MLBlog, Bombers Beat. This story was not subject to the approval of Major League Baseball or its clubs.