'Serpico' Rodriguez impressing Hurdle with playing style
Bucs utility man hitting .351 through 27 games this season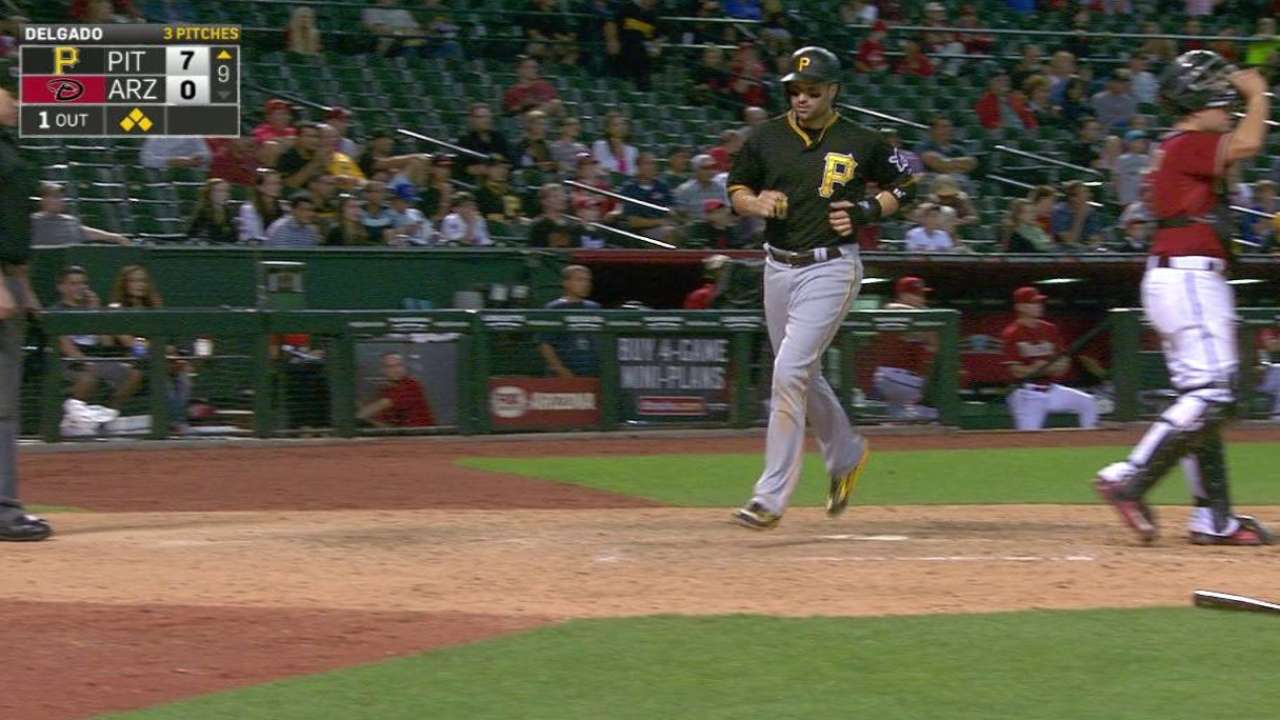 PHILADELPHIA -- Even before Sean Rodriguez started hitting the ball hard, the Bucs knew what he'd bring to their table. Spunk, combativeness, eyes on their backs.
Rodriguez triggered the rarest of baseball spectacles -- a Spring Training benches-clearing disturbance -- when he felt someone had quick-pitched him in an exhibition.
The word was out: Serpico was gonna make sure that baseball law is obeyed.
Rodriguez's heavy black beard has earned him a nickname as a look-alike for "Serpico," one of Al Pacino's iconic movie characters.
His personality and playing style have earned him instant respect in the Bucs' clubhouse.
"He has a lot of qualities that Russell Martin had," said manager Clint Hurdle, citing one of the souls of the 2013-14 Pirates. "The character, plays with an edge. An experienced guy sharing information. His in-game interaction in the dugout has been good."
By that, Hurdle presumably meant rooting for his teammates, with perhaps a dash of bench-jockeying, a lost art.
Rodriguez brings far more than intangibles. In a still-young season, he started at his fourth different position in Wednesday night's game, adding first base to previous starts in left and right field and at second base.
The batter's box has also been a good spot for Rodriguez, hitting .351 through 27 games following an 0-for-3 night in Wednesday's 3-2 loss to the Phillies.
"He's been a very good addition. There's a lot to like about him," Hurdle said. "The defensive versatility. The swing has played well. The determined focus. The interaction with players."
The appearance? And forget the "Serpico" analogy.
"He looks like a pirate when he puts the bandana on," Hurdle insisted. "If he put he eye patch on, he would be a pirate."
Tom Singer is a reporter for MLB.com and writes an MLBlog Change for a Nickel. He can also be found on Twitter @Tom_Singer and on his podcast. This story was not subject to the approval of Major League Baseball or its clubs.