Herrera eases pressure, releases power
Wife's advice, playing time credited for success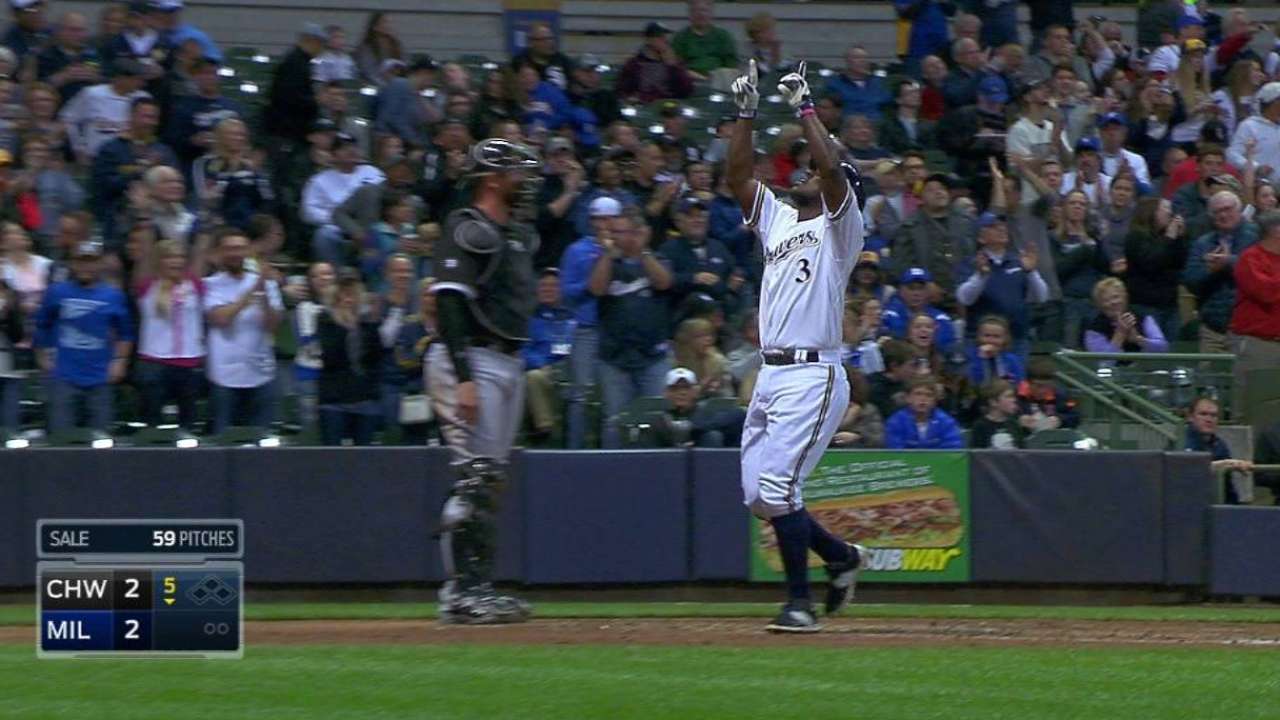 MILWAUKEE -- Brewers shortstop Jean Segura was a late scratch Wednesday because of a sore right pinkie finger, so Elian Herrera took his hot streak to the top of the team's batting order.
Herrera, playing third base this week while Aramis Ramirez is sidelined by back stuffness, entered the night with home runs in three straight games, a stunning streak for a player who entered the season with one home run in 230 Major League at-bats. On Tuesday night, Herrera hit his fourth homer this season in his 57th at-bat. Herrera's streak ended in Wednesday's 4-2 loss to the White Sox, as he went 1-for-4 without a home run.
Asked to pinpoint the source of his sudden power, Herrera pointed to a sticky note affixed to his locker that reads, "To God be The Glory."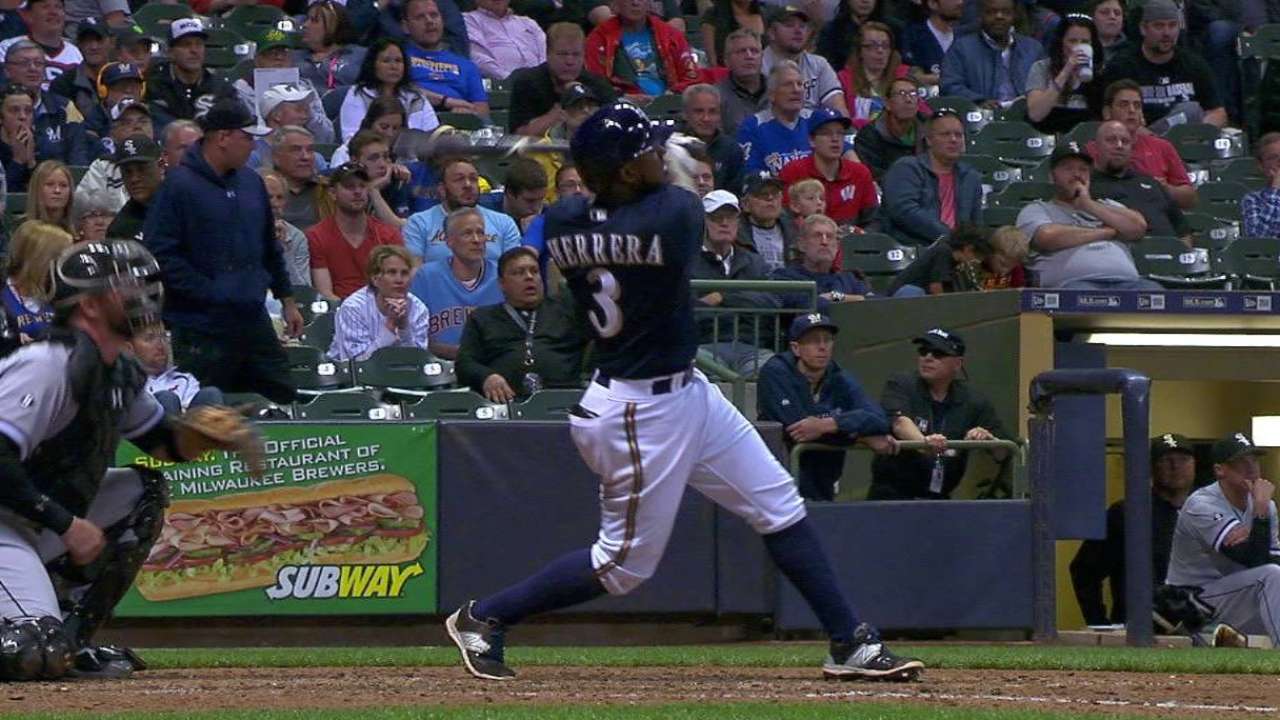 His wife, Staci, has something to do with it, too.
"The bigger thing is that I was just not trying to do too much, like I was last year," Herrera said. "Try to get a base hit every time if I want to play the next day; I think it was too much pressure for me. I think it was too much. I was on a new team last year, and I was trying to impress, like, 'I can do this.' I think it was too much.
"I went to winter ball, I was trying to play a little more relaxed and having my wife talk to me and say, 'Hey, your swing is different than before.' … She knows a lot about baseball, she helped me a lot. 'Your swing is different. You're swinging too hard right now, just be relaxed. And just play the game.'"
Herrera reflected at the time, and decided she was right.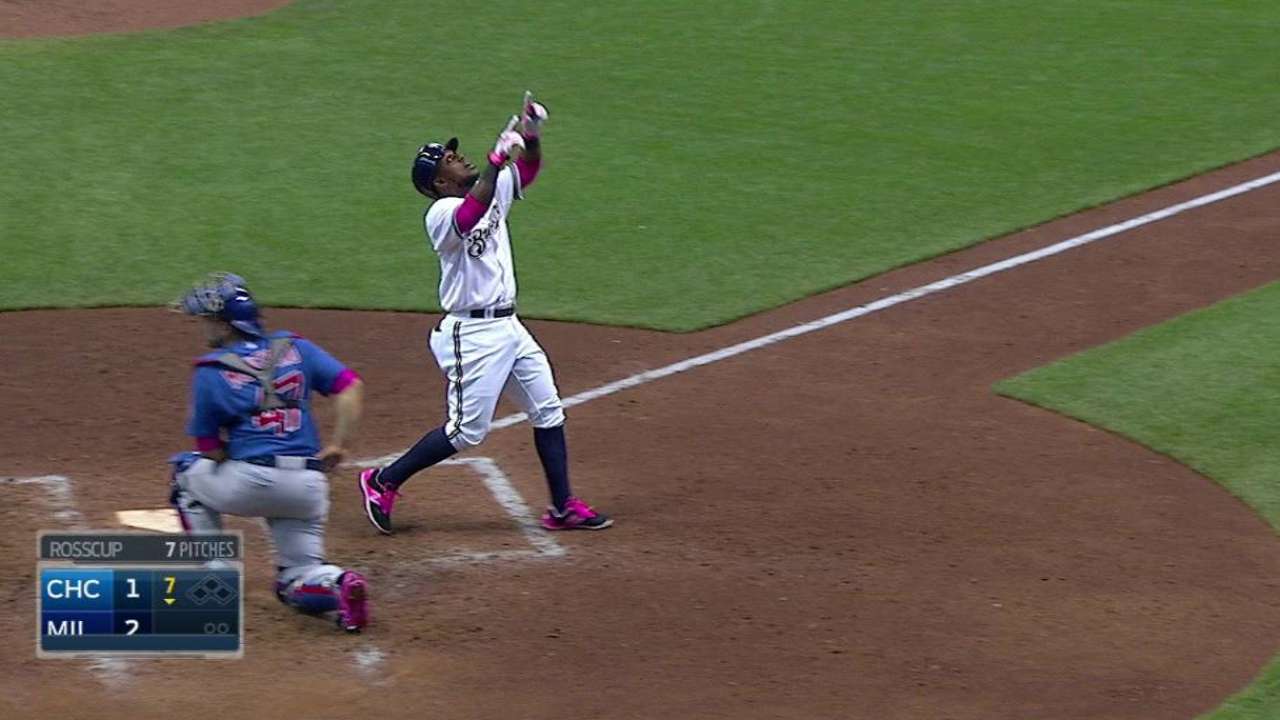 About two weeks ago, Staci offered the same advice.
"I'm happy that I can just listen to her and start doing what I'm supposed to do," Herrera said with a laugh.
Playing time has also helped. On Wednesday, Herrera made a sixth straight start in place of Ramirez, who took ground balls, hit on the field, and said he hopes to be back in the lineup on Friday at Citi Field against the Mets.
"I guess everybody starts feeling more comfortable at home plate when you can see more pitches," Herrera said. "Every at-bat you have, you can get more ready, and I think that's helped a lot, and that's [meant] a lot to me."
Adam McCalvy is a reporter for MLB.com. Follow him on Twitter @AdamMcCalvy, like him on Facebook and listen to his podcast. This story was not subject to the approval of Major League Baseball or its clubs.