Avila to treat injured knee without surgery
Tigers veteran catcher aims to return this season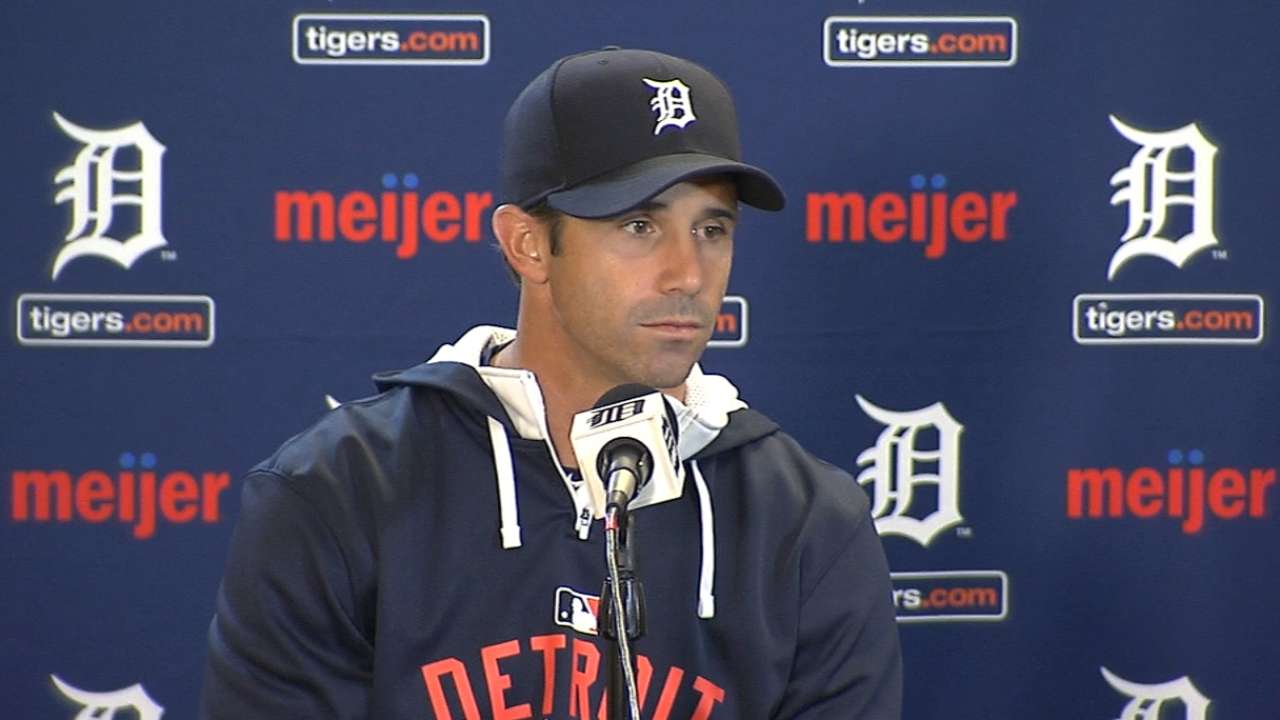 DETROIT -- After further evaluation, Alex Avila is not going to have surgery on his injured left knee. The Tigers catcher will undergo a treatment program with the goal of returning sooner.
The decision came after consultation with three doctors, two of whom suggested he might not need surgery to repair what was initially diagnosed as a loose body in his knee. The last examination came Wednesday from Dr. Kyle Anderson, a former Tigers team physician and current Lions team physician.
"With further examination and an enhanced MRI, they're not convinced that it's a loose body, that it may not be loose," manager Brad Ausmus said. "There's something there, but they're not convinced that it's loose."
A loose body in the knee typically requires arthroscopic surgery to remove, which carries a typical timetable of six weeks' recovery time. If the body isn't loose, however, then rehab and treatment could help.
"It wasn't something that I was trying to find a doctor that was going to tell me not to have surgery," Avila said. "It was kind of a collaborative thing to find out the best course of action on both. Basically the second MRI kind of made it look a little more clear and we were able to come up with this plan of action, to make sure it's something that can get me back on the field as quick as possible, but at the same time, with long-term in mind as well."
There's no timetable yet for a return, but Avila admitted he's hoping for a quicker return than the aforementioned timetable for arthroscopic surgery.
"I would hope so," Avila said. "I'm not sure just because everybody's body heals differently. Basically, it's going to go how the body feels, what it tells me."
Avila has been sidelined since last weekend, originally by a bruised right forearm suffered on a foul tip. While he sat Friday, he had his knee checked out. The knee had been bothering him for the last few weeks, Avila said Saturday, becoming increasingly difficult to play through.
Avila had tendinitis in his knee a few years ago, but nothing major enough to require surgery.
The 28-year-old is batting .200 (12-for-60) with a double, two home runs, eight RBIs, 13 walks and 21 strikeouts this season.
From a team standpoint, Avila's left-handed bat in a predominantly right-handed lineup and his handling of the Tigers' pitching staff makes him a major part of Detroit's postseason hopes, though rookie James McCann has filled in capably. From an individual standpoint, Avila is a free agent next offseason, making his health critical for his future.
His decision, he said, is a balance of the two.
"I wanted to make sure I got back as soon as possible," he said, "but at the same time, I'm thinking long-term and my career going forward. So that's why I took a couple days."
Jason Beck is a reporter for MLB.com. Read Beck's Blog and follow him on Twitter @beckjason. This story was not subject to the approval of Major League Baseball or its clubs.