Myers has wrist examined in San Diego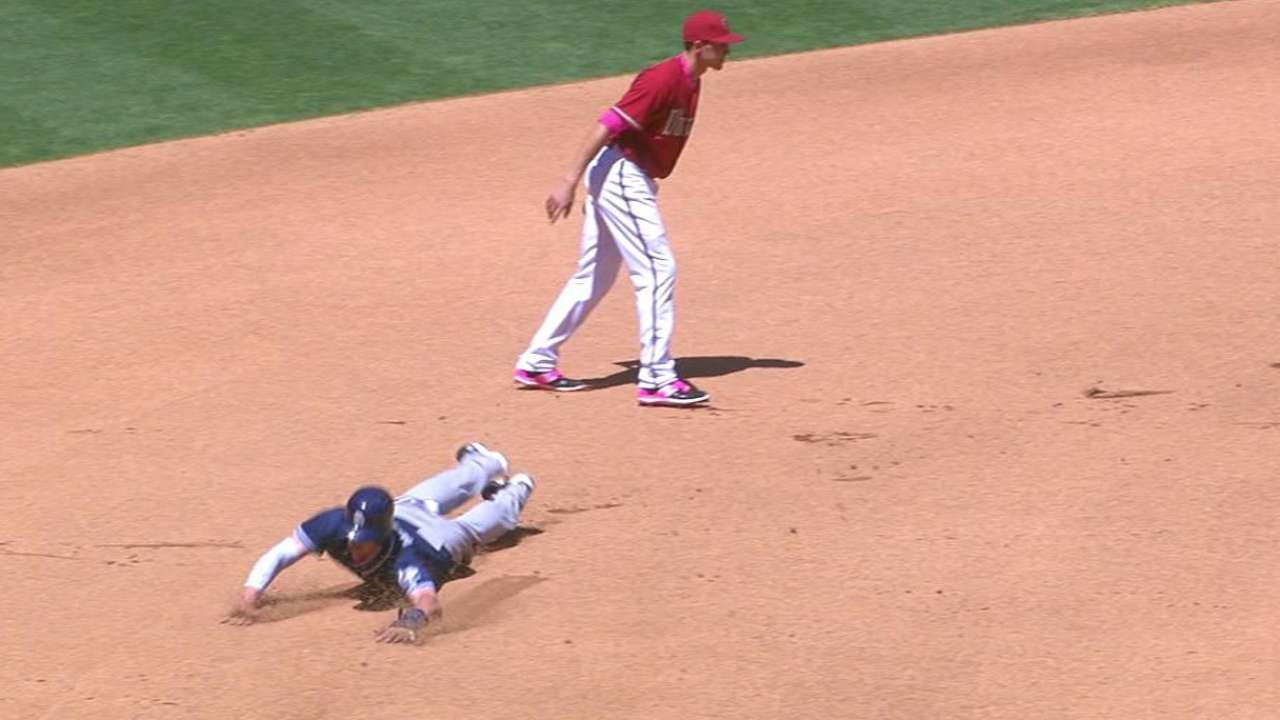 SEATTLE -- The Padres still aren't sure what to make of Wil Myers' sore left wrist Wednesday, so they opted to send him back to San Diego in order to get it examined.
Myers saw hand specialist Dr. Lorenzo Pacelli at Scripps Hospital on Wednesday. Manager Bud Black said that he wasn't expecting to hear the results until later Wednesday or possibly Thursday.
"I'm hoping for only a few days," Black said when he was asked how long he expects Myers will be out of the lineup. "I want to be encouraged, I really do."
Myers landed in San Diego in the early afternoon and was to go through "a number of tests and scans" with Dr. Pacelli.
"Dr. Pacelli said he'll get back to us when he has some definitive answers as to what Wil has going on."
Myers, who leads the team in hits and runs, originally hurt the wrist Sunday in Arizona when he used it to brace against the ground while running the bases. Myers said he hoped the off-day Monday would have been enough to give the wrist time to feel better.
He was scratched from the starting lineup before Tuesday's 11-4 loss to the Mariners.
Myers said the wrist pains him most on the follow-through of his swing, and was able to move the wrist around without much pain after the game. He considered himself "day to day."
Black said that might have been a bit optimistic.
"I think he was trying to downplay it a little," Black said. "That's what players do. Players don't want to be hurt, especially Wil. He likes to play. But he was in discomfort."
Myers, who is hitting .291 with five home runs and 19 RBIs, has had issues with his wrists in the past, but this isn't the right wrist he broke in an outfield collision last May while with the Rays.
Myers did jam his left wrist four games into the season in 2014, but that eventually healed while he was on the disabled list with the fractured right wrist.
Myers entered Tuesday's game with the most hits (34) and runs (28) on the team. He was set to start at first base for the fourth time in as many days after moving from center field after Yonder Alonso landed on the disabled list over the weekend.
Black said he's been impressed with Myers' steady improvement since Opening Day. Myers was hitting .327 in his last 49 games with a .411 on-base percentage.
"He's done good work and we've seen some incremental improvement in some things, the at-bats, the quality of the at-bats," Black said. "We talk about controlling the strike zone a little bit better and he seems to be doing that … swinging at strikes, taking balls.
"We've seen some growth in his game."
Yangervis Solarte got his second start in as many days at first base in Wednesday's series finale against the Mariners.
Corey Brock is a reporter for MLB.com. Keep track of @FollowThePadres on Twitter and listen to his podcast. This story was not subject to the approval of Major League Baseball or its clubs.