Simon sees eephus pitch as useful weapon
Right-hander shows off extra-slow pitch against former Tiger Hunter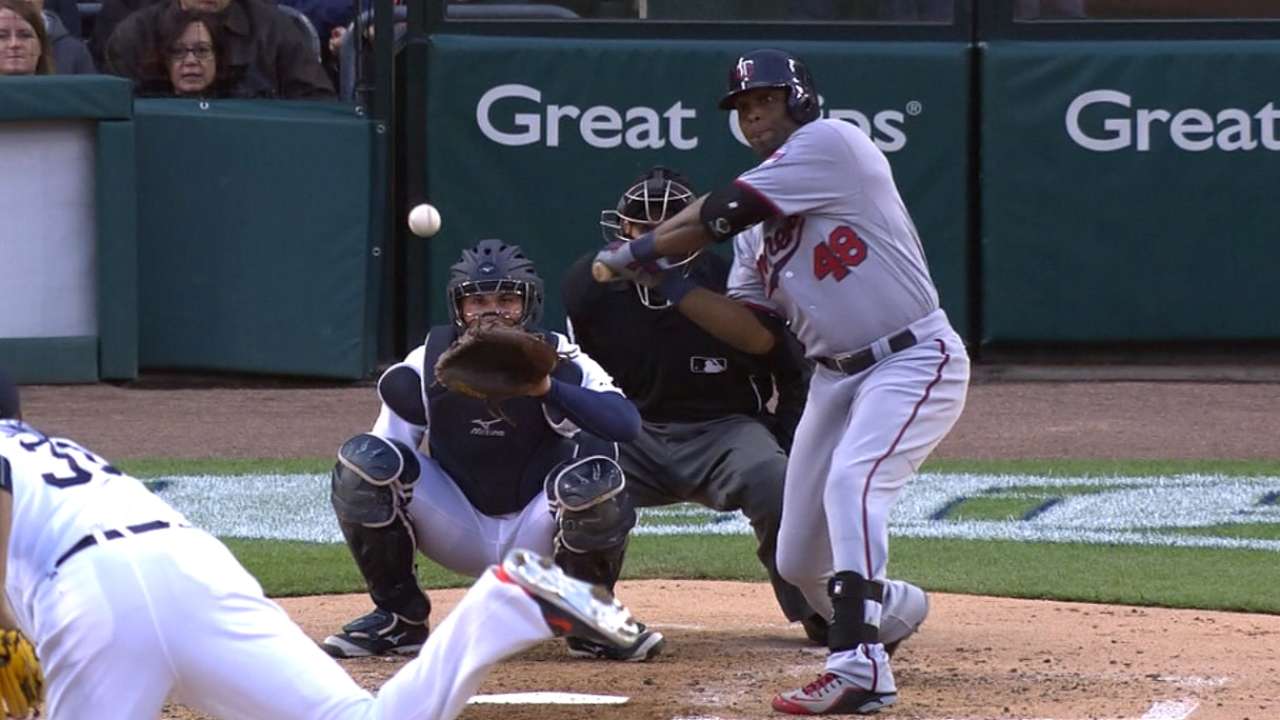 DETROIT -- Alfredo Simon said he was partly joking around with Torii Hunter when he threw the former Tiger his eephus pitch twice in a three-pitch at-bat on Tuesday, the last of which Hunter popped up for an out. But there's also a serious purpose for the pitch, rare as it is for somebody to throw it.
"When the hitter is looking for your fastball, they can't hit it," Simon said. "That pitch looks like you're going to throw a fastball. A slow split like that, it's not easy to hit."
Few pitchers throw it. Anibal Sanchez throws something similar around 70 mph or slightly slower. Former Tigers right-hander Armando Galarraga would throw one slow, looping curveball per game in his first season as a Tiger, but soon got away from it.
Neither throws his quite as slow as Simon, whose slowest would obey the speed limit on most Interstate expressways. Though he seems to throw one per game, he threw three on Tuesday, the last registering at just 53 mph on the Comerica Park radar gun.
MLB.com's Gameday application classifies it as an eephus pitch, a throwback to the old-school gravity curveball for which Rip Sewell is credited with creating for the Pirates in the 1940s. Other sites classify it as a changeup. Simon calls it a slow split.
"I just try to throw it like a fastball and I just slow my arm down," Simon said. "It's hard to hit it. When it's working really good and I have a lot of comfort with it, I can make an easy out."
Most times, Simon follows up the eephus with a fastball. Even if they know the fastball's coming, the adjustment from 55-60 mph to 90-94 mph can be tricky on the eyes.
"It's so slow, you still have time to get the bat there. You just can't get the bat there too soon," manager Brad Ausmus said. "The upside to an eephus is that a hitter is so far out in front of it, even if they know it's coming."
Hunter was the first batter to see it twice in an at-bat this season. He also saw an eephus pitch up and in from Yu Darvish last season.
"I kept thinking, 'Why me?'" Hunter said.
Jason Beck is a reporter for MLB.com. Read Beck's Blog and follow him on Twitter @beckjason. This story was not subject to the approval of Major League Baseball or its clubs.