Boyer finds groove as Twins heat up
Right-hander entered Wednesday's game with 13 1/3 straight scoreless frames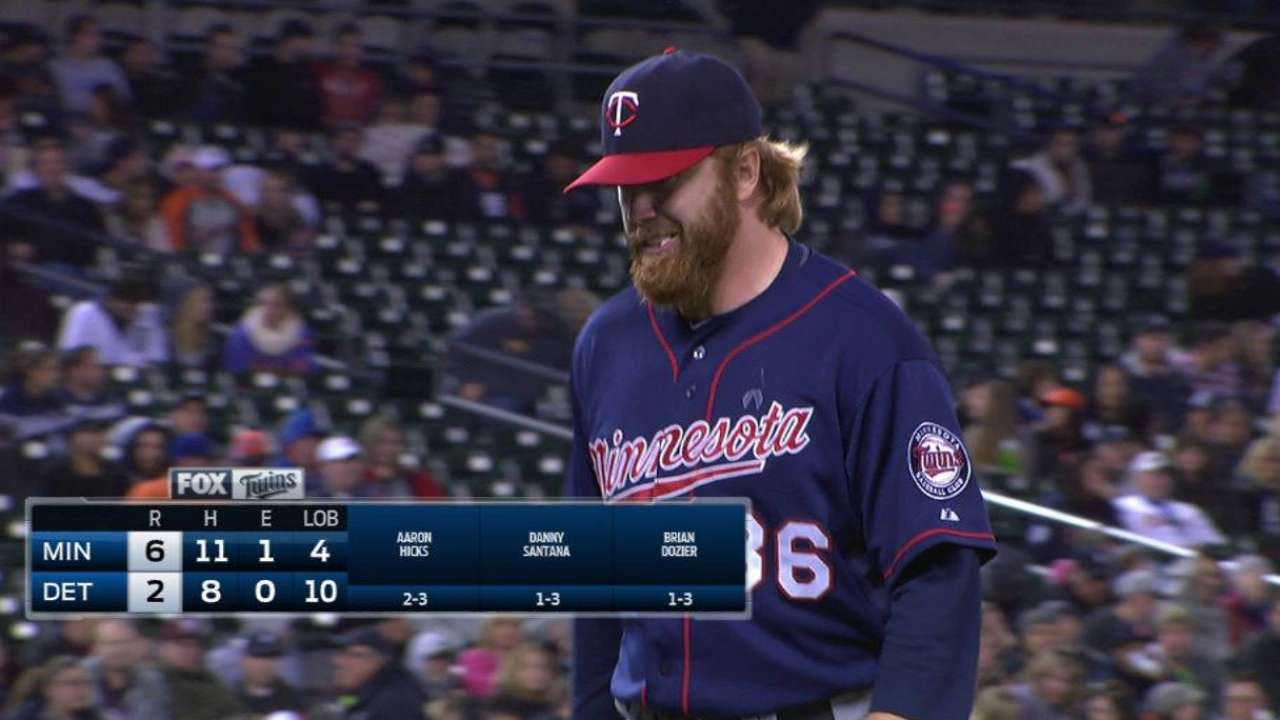 DETROIT -- Through the Twins' first seven games of the season, the club was 1-6 and right-handed reliever Blaine Boyer had a 15.00 ERA after giving up five runs over his first four appearances.
But Twins manager Paul Molitor calmly addressed the players after their slow start, and told them not to worry because there was still so much baseball to be played. The Twins turned it around since then, winning 18 of 27, while Boyer has been a big part of the bullpen with 14 straight scoreless innings over 12 appearances to lower his season ERA to 2.65. Boyer threw two scoreless innings in Tuesday's 2-1 loss, and followed that up by getting two outs in the eighth inning of Wednesday's 6-2 win.
Boyer said he also made a tweak to his mechanics to fix the timing of when he released the ball, but that it was Molitor's calming influence that really helped him bounce back after a rough start.
"When we were 1-6 and I was awful during that stretch, Mollie came into that clubhouse calmly as possible and just said, 'Hey guys. We're fine,'" Boyer said. "We just kind of lined up behind him and let him lead. It's just a testament to Mollie and what kind of leader he is. I think not just myself, but everybody, he just put at ease. So that certainly helped a lot."
Boyer, 33, is pitching for his sixth team in his nine-year career, but said Molitor possesses the same traits of Hall of Fame managers such as Bobby Cox and Tony La Russa, who both served as his manager.
"I just think he's a natural leader," Boyer said. "I've had good managers like Bobby Cox and Tony La Russa, but Mollie is of the same cut. He knows what it takes and knows each player is different so he knows how to communicate at different levels. ... To me, he's the perfect storm of a manager. He's been there, he's smart, confident, calm demeanor, leadership skills. It's all right there."
Molitor said he's been impressed by Boyer's turnaround, but said it didn't surprise him because he pitched so well as a non-roster invitee in Spring Training to make the club.
"He didn't start particularly well, but he didn't lose faith in himself and has responded very positively," Molitor said. "With Casey Fien out, he's probably the guy I look to late in games from the right side."
Boyer also pointed to a changed perspective on life for his success this year, as he spent a week in January on a mission trip in Haiti with a charity group. He said his wife, Ginsey, is going back this month and that he plans on going back after the season. He said the organization stands out because it empowers the local villages instead of just giving aid.
"It's just a game-changer for me," Boyer said. "They're doing unbelievable stuff and things other organizations aren't doing. They're trying to help everyone from orphans, to small villages, to building churches. They're helping empower communities on their own."
Rhett Bollinger is a reporter for MLB.com. Read his blog, Bollinger Beat, follow him on Twitter @RhettBollinger and listen to his podcast. This story was not subject to the approval of Major League Baseball or its clubs.