Cozart's presence strongly felt in return to action
Dealing with lingering wrist soreness, Reds SS doubles, scores, hits sac fly, makes clutch catch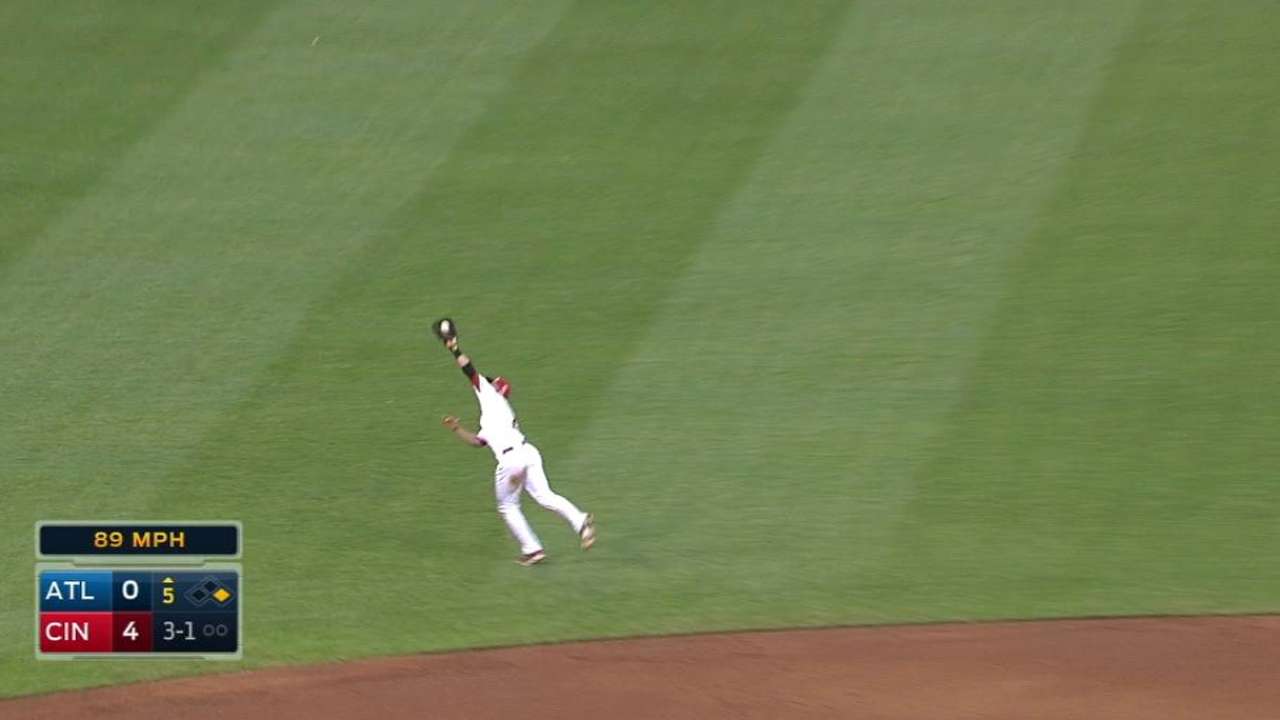 CINCINNATI -- When Zack Cozart's temperamental left wrist is feeling good, the Reds' shortstop can seem to do it all. Cozart returned Wednesday from two games out of the lineup with soreness and contributed with his bat and glove during a 5-1 victory over the Braves.
In the first inning, Cozart set the tone when he hit a first-pitch double to left field off of Braves pitcher Eric Stults. He scored the game's first run on Joey Votto's lined RBI single to center field, after being waved home by third-base coach Jim Riggleman and sliding just ahead of a tag at the plate. In the fifth inning, Cozart hit a long sacrifice fly that made it a 5-0 game.
"It was kind of just like it did in Chicago, it felt really good," Cozart said of his wrist. "I didn't have any problems. I had some good swings."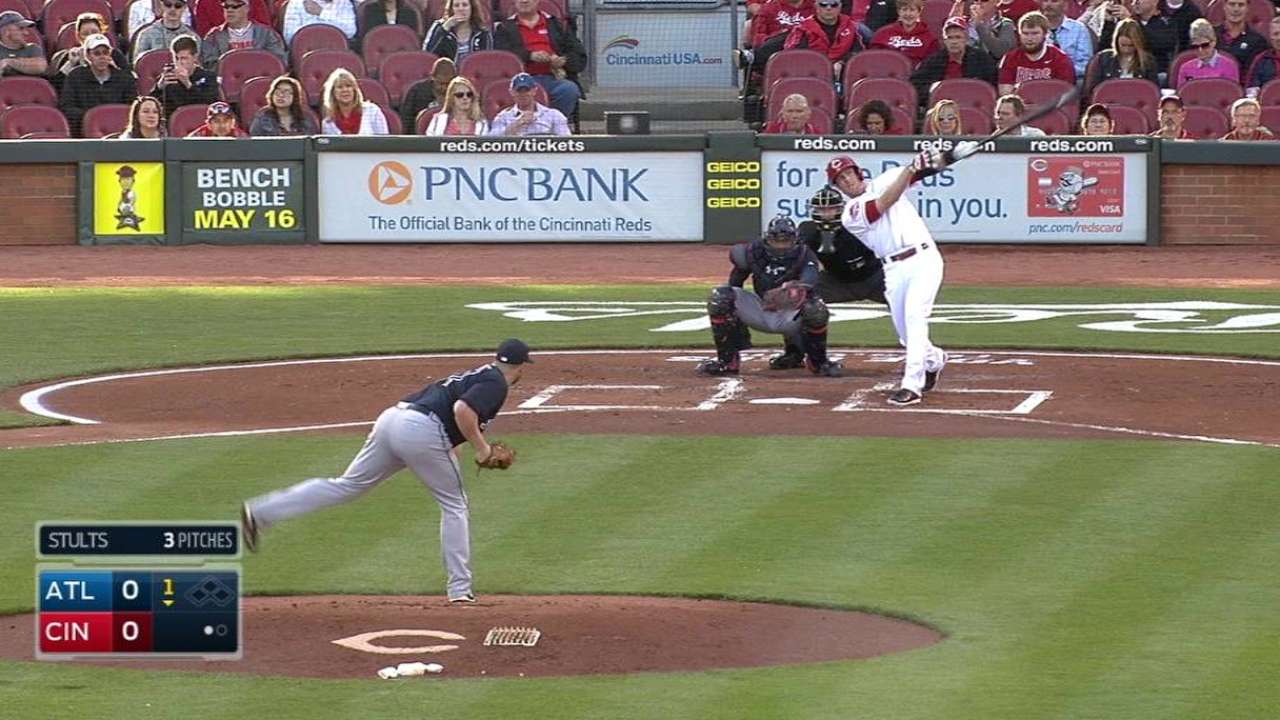 Cozart missed the previous two games, and five of the last eight games, with wrist soreness after he was hit by a pitch on May 3. In three games he did play vs. the White Sox, he was 5-for-10 and felt no issues until he took swings on Monday.
"It's kind of weird," Cozart said. "There's been some clicking and inflammation in there, sharp pains when it clicks and stuff. This morning it was a little less. I can't really tell until I get a bat in my hands. I just swung and did my early work, and it felt good -- like no pain. I wish I knew why it pops up and not, but I don't know. The good news is it's good to go today."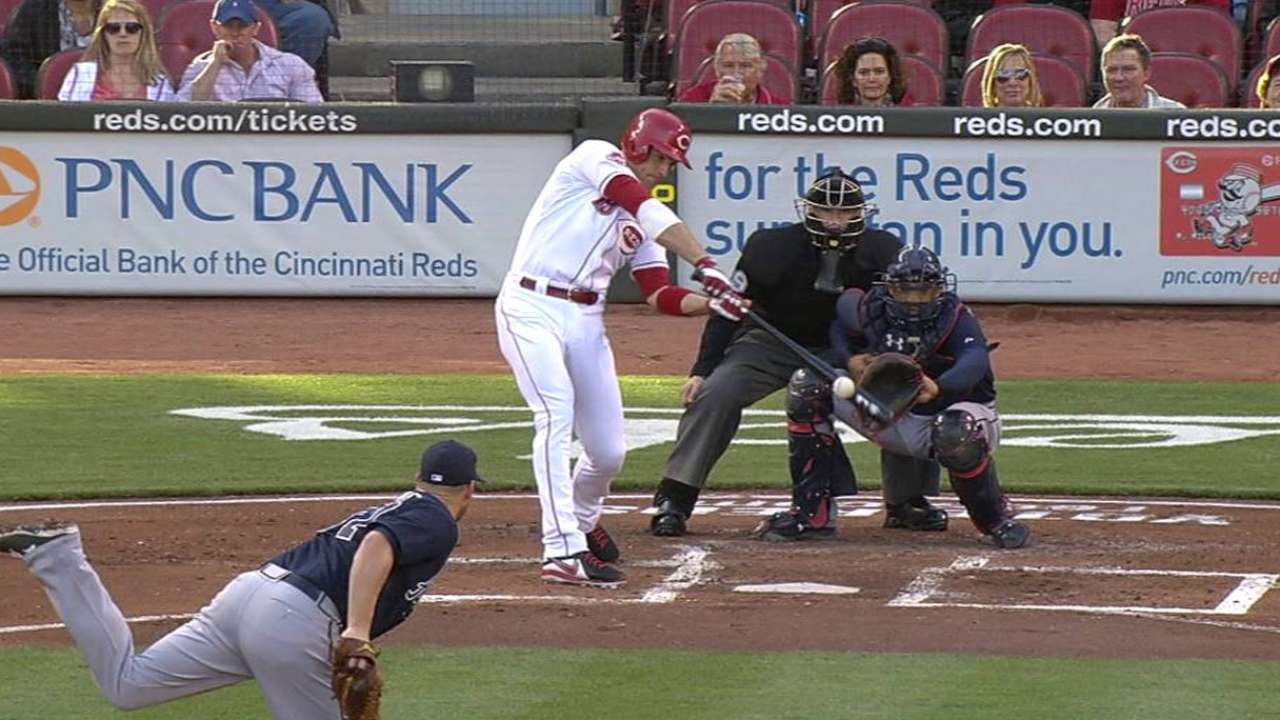 Cozart was used as a pinch-hitter in Tuesday's game, but could only bunt. In the seventh inning, he tried to sacrifice bunt but reached safely because of an errant throw to second base by pitcher Mike Foltynewicz.
"When I went up there to bunt yesterday, I'm trying to act like I'm taking practice swings, but I can't," Cozart said. "I was just trying to show them I might not bunt, but I was up there to bunt."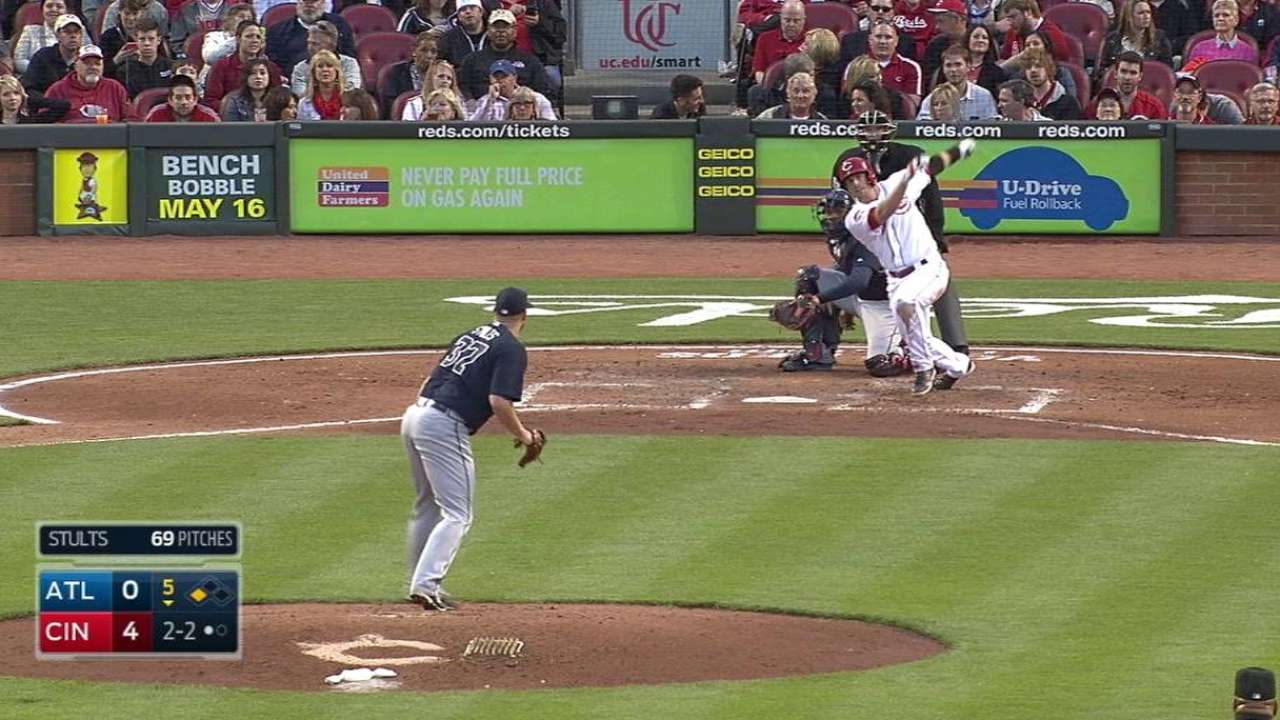 There were no such limits at the plate on Wednesday, nor any trouble making plays in the field. A real beauty came in the top of the fifth, when Cozart made a nice leaping catch to take a single away from Jace Peterson. At the time, pitcher Raisel Iglesias had yet to allow a hit.
"When the lefty hits it like that, I turned the one way and knew it was going to slice the other way," Cozart said. "When I turned around, I was kind of blind and the ball just happened to be there. It was a big play. I think I got a little lucky just turning at the right moment and the ball being there."
Mark Sheldon is a reporter for MLB.com. Read his blog, Mark My Word, follow him on Twitter @m_sheldon and Facebook and listen to his podcast. This story was not subject to the approval of Major League Baseball or its clubs.