Indians aren't ready to replace Ramirez with Lindor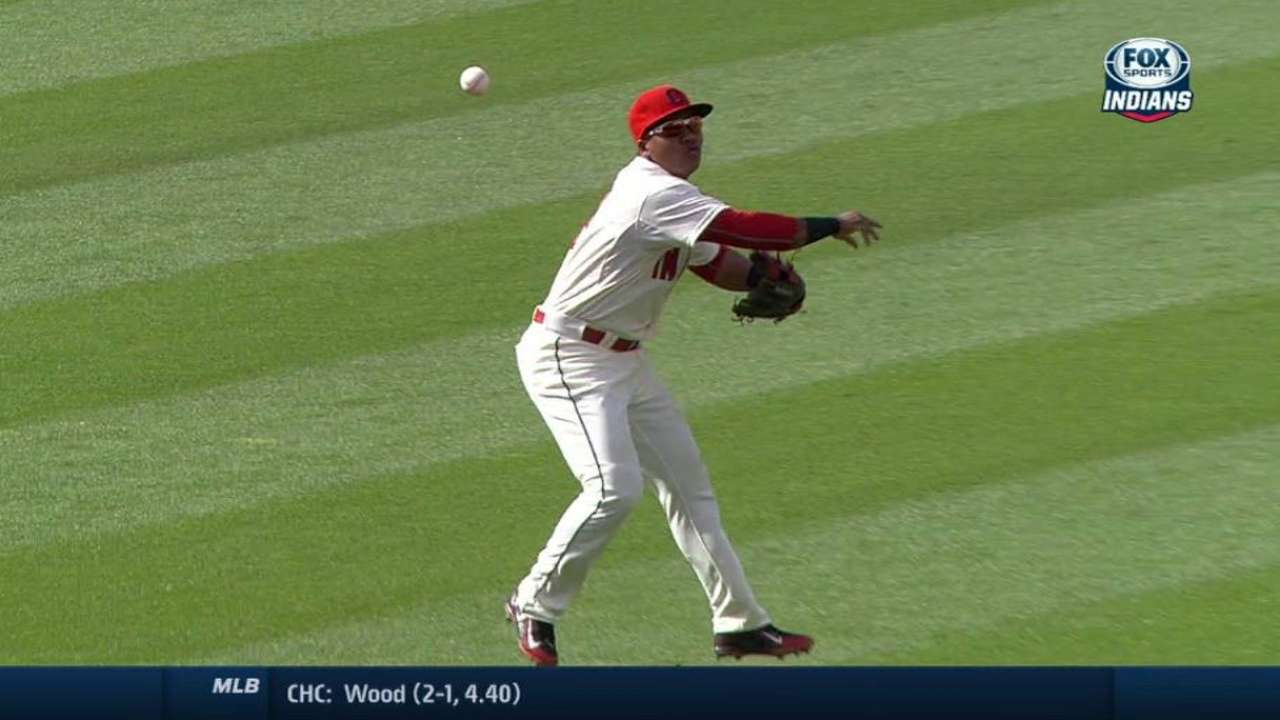 CLEVELAND -- As shortstop Jose Ramirez's struggles have lingered into the second week of May, the public cries for promoting top prospect Francisco Lindor have become louder. Indians general manager Chris Antonetti reiterated on Wednesday that Lindor's time will come.
"That timing isn't now," Antonetti said.
Evaluators within Cleveland's front office and player-development staff feel that there have been inconsistencies both offensively and defensively with the 21-year-old Lindor, who was the team's top pick in the 2011 First-Year Player Draft. While Lindor is clearly the team's shortstop of the future, the club feels he still has development left.
That said, the Indians understand that there is no denying that the 22-year-old Ramirez is struggling mightily at the moment. Ramirez carried a .179/.222/.238 slash line into Wednesday's game against the Cardinals, and the shortstop has also labored more in the field than in previous Major League stints.
Antonetti emphasized patience in a lengthy chat with reporters on Wednesday.
"I'm encouraged by the way Jose continues to work, both offensively and defensively," Antonetti said. "But, it's been a struggle for him. He's a young player that's going through an extended struggle in the Major Leagues in an environment where there's high expectations for team success. So, it's been a difficult thing for him to handle. It's something he'll learn from and grow from."
When veteran Mike Aviles returns from the Family Medical Emergency List -- potentially as soon as this weekend in Texas -- it is possible that he will assume the regular role at shortstop. If Ramirez's slump persists after Aviles' rejoins the club, he could head to Triple-A with utility man Zach Walters filling in as the Tribe's backup shortstop.
It does not appear that Lindor, who has a .698 OPS through 316 career plate appearances at Triple-A Columbus, is a part of the team's immediate plans.
"We can bring anyone we want to the Major Leagues," Antonetti said. "But we want to have a collective feeling that the player is prepared, or as prepared as possible, to not only come up here, but to come up here and succeed and contribute to a winning team. I think we've seen it in the past where there's been times where we and other teams may have been expedient in that and maybe brought players before they were ready."
Antonetti was asked if the Indians were keeping Lindor at Triple-A in order to hinder the young shortstop from achieving Super Two status for future arbitration years.
"Not at all," Antonetti replied. "Our focus right now is putting the best team we can up here."
Antonetti noted that Lindor is "holding his own" at Triple-A right now, but the shortstop is "not yet to the point of dominating that level and that pitching." Simply put: Lindor has yet to force Cleveland's hand with overwhelming numbers with Columbus.
"He's made great strides in his mindset and his approach and his work and some of the other fundamental areas that he's working on," Antonetti said. "He's progressing. At some point, we still expect him to be a very good player for a very long time. The only question is when that will happen."
Jordan Bastian is a reporter for MLB.com. Read his blog, Major League Bastian, follow him on Twitter @MLBastian and listen to his podcast. This story was not subject to the approval of Major League Baseball or its clubs.