Lynn making most of using his fastball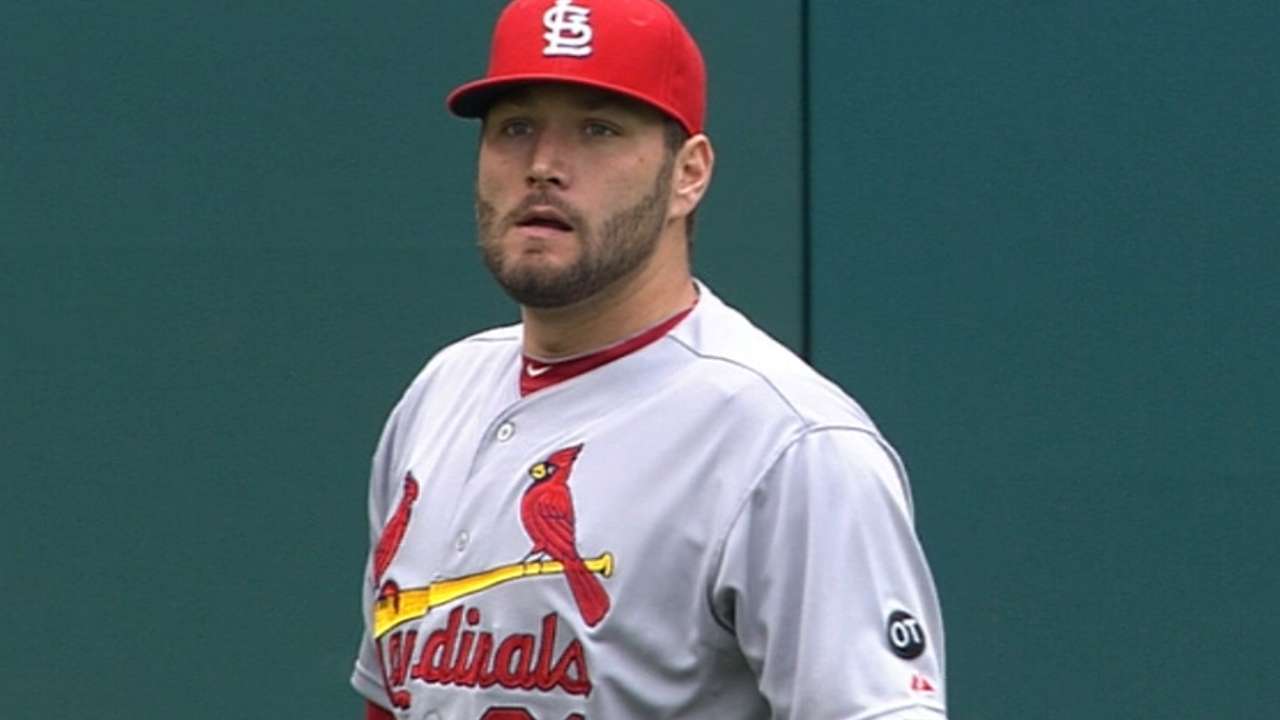 CLEVELAND -- All season long, opposing pitchers have been trying to figure how to get Indians outfielder Michael Brantley out. On a more granular level, they've been trying to figure how to get him to swing and miss.
It's not an easy task. This season, nobody has swung and missed less then Brantley. All year, he's whiffed at just seven pitches, from a total of 364. Just three times has he swung and missed at a pitch inside the strike zone. One of those was a 3-2 fastball from Lance Lynn with the bases loaded in the fifth inning of Tuesday night's 8-3 victory in Cleveland.
It was just fourth time all season a pitcher has struck Brantley out. In the biggest spot of the game at the time, Lynn got a positive result in the most unlikely of ways.
So, the rest of the league wants to know. What's the big secret, Lance?
"Fastballs," Lynn said with a laugh. "That's all I throw. So it worked out."
This season, 90 percent of Lynn's pitches have been fastballs -- a four-seamer, sinker or cutter. Few pitchers rely on the fastball more than Lynn. With this information, Brantley had to know a fastball was coming. And in a 3-2 count with bases loaded, he knew Lynn would be trying to find the zone. Yet, the best contact hitter in the game still couldn't square Lynn up.
"It was just a four-seamer that kind of rode and ran," Lynn said. "Sometimes you get away with a little late life. I had a little bit more giddy-up when I needed to with the ball running and a little late life with elevation."
The way Lynn explains the pitch makes it seem like the whiff was almost luck of the draw. But, really, for Lynn, it was nothing new.
Of the 64 starting pitchers who have thrown at least 200 four-seam fastballs this season, only Chris Sale gets batters to swing and miss at the heater more often than Lynn. When a batter offers at a Lynn four-seamer, they whiff 31 percent of the time.
It's almost hard to fathom how Lynn's fastballs are so effective when he rarely changes speeds. But rather than changing speeds, Lynn relies on changing his locations, and movement. Each of his three fastball offerings has its own spot in the zone, from which Lynn rarely deviates.
The four-seamer lives up. The sinker lives low, on one side of the plate -- inside to righties and away to lefties. The cutter lives low, too, but on the opposite side of the plate.
With nine of every 10 pitches Lynn throws being of the fastball variety, it may seem like he's a creature of habit. But with differences in location and movement, there's actually quite a bit going on, making his approach a unique, yet effective one.
"He reaches back," Cardinals manager Mike Matheny said. "He's able to locate [the four-seamer] and elevate it and then the [sinker] was working, too. [The four-seamer] is hard to pick up once you've got a couple elevated and he's got good movement going on the sinker."
August Fagerstrom is an associate reporter for MLB.com. This story was not subject to the approval of Major League Baseball or its clubs.