MLB.com Columnist
Lyle Spencer
Pederson thriving, but defers to his idols
Dodgers' rookie center fielder showing patience, pop at the plate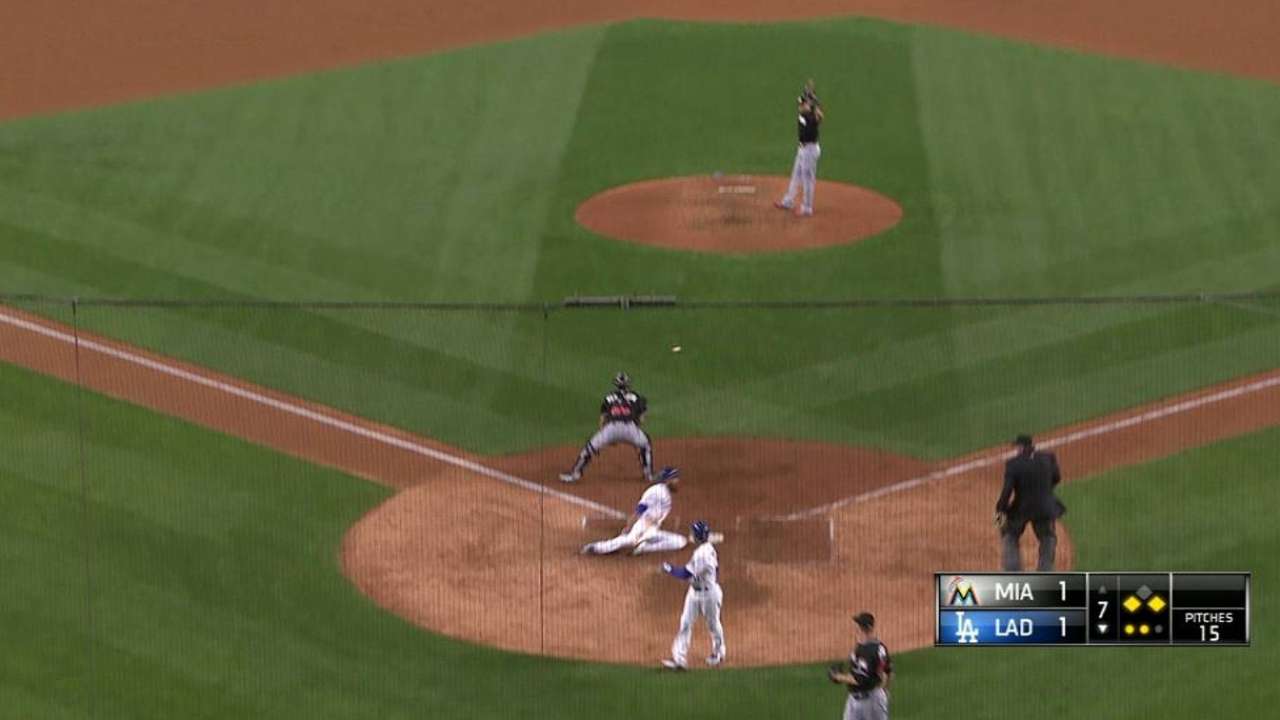 LOS ANGELES -- An off-hand remark caught Joc Pederson's attention and produced a swift rebuttal. Knowing it's wildly premature, he said he is adamantly opposed to including his name in the same sentence with Major League Baseball's official home run king, similarities in hitting approach notwithstanding. Reprimand accepted.
But the Dodgers' youthful center fielder said nothing about Bobby Bonds, who several generations ago set the template for Pederson's future leadoff profile while teaching the game to Joc's favorite player.
Since moving from the bottom to the top of the Dodgers' lineup, Pederson has been a remarkable source of walks, home runs and strikeouts. His boyhood hero's dad, Bobby Bonds, had a .275/.361/.480 career slash line and 177 home runs in the leadoff role across a 14-year career with nine clubs.
Growing up in Palo Alto, Calif., approximately 35 miles south of San Francisco's AT&T Park, Pederson cheered the Giants' left fielder who also is the all-time walks leader -- with 799 fewer singles than Hank Aaron. Calling Bobby's son "the greatest player of all time," Joc seemingly wouldn't be interested in the compelling case for Willie Mays, Aaron's contemporary and Bobby Bonds' teammate and mentor.
Through six weeks, Pederson is delivering at a high level for the National League West leaders. His production is similar to that of Nationals star Bryce Harper, who has been all the rage with a surge of home runs accompanying a dramatic rise in free passes.
Pederson, with 28 walks, trails MLB leader Harper by one. Pederson has a .422 on-base percentage and a .582 slugging mark, compared to .442 and .675, respectively, for Harper. These guys are on the attack all day long. Pederson's nine homers have him tied for sixth in the Majors, and he's also sixth in strikeouts with 43.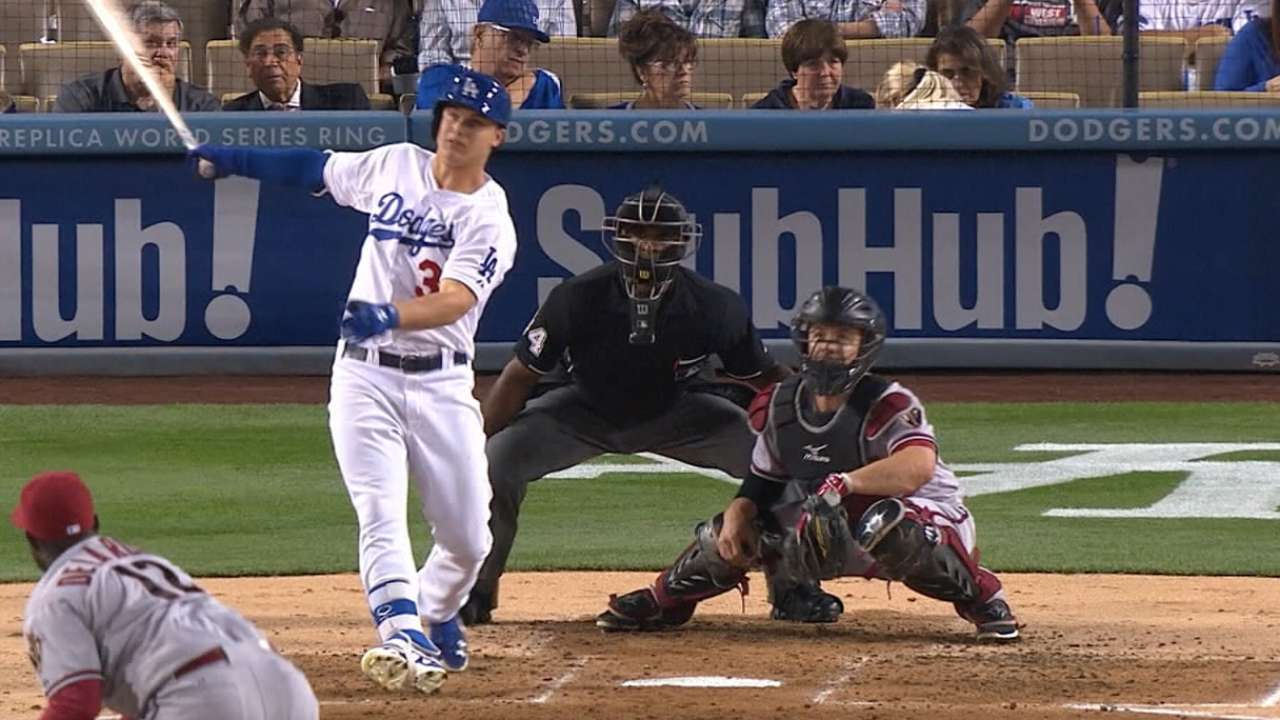 Pederson, who turns 23 in eight days, is six months older than Harper. Both were taken in the 2010 First-Year Player Draft out of high school -- Pederson in the 11th round, No. 352 overall, Harper in the first round, No. 1 overall.
Harper was 19 when he made his Major League debut in 2012 for the Nationals at Dodger Stadium. This is in his fourth season in the Majors, after playing just 139 Minor League games. Pederson made his MLB debut last September at 22 with 441 games of Minor League experience.
With their glut of quality outfielders, the Dodgers had no need to rush Pederson, sparing him some of Harper's early scuffles.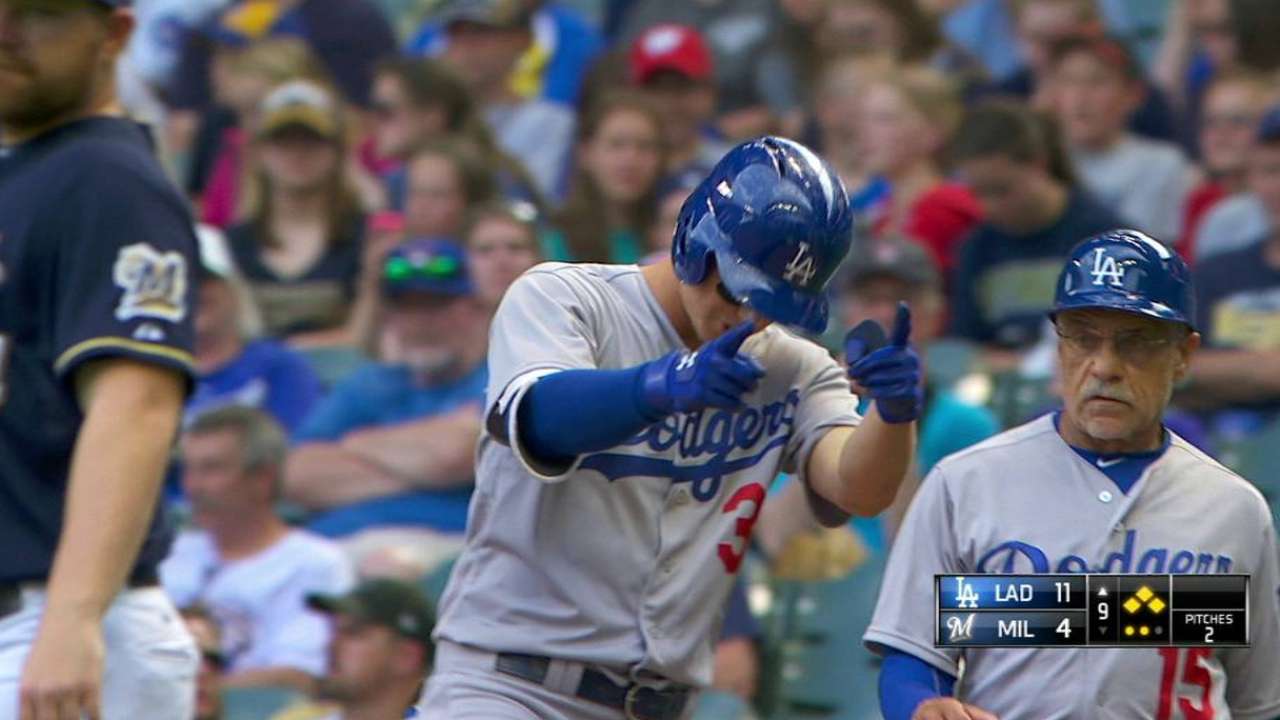 While neither Harper nor Pederson has reached Mike Trout's level, it's unfair to compare anyone with the Angels' superstar -- just as it was with Mays. Pederson eventually could evolve into a left-handed version of Trout, but he swats away that notion as firmly as any link to his boyhood idol.
"He's the best player in the game right now," Pederson said of Trout. "I'm just trying to compete."
There was a fascinating interplay between the two in Arizona during a Cactus League game this spring. Pederson launched a home run to the left of dead center field at Tempe Diablo Stadium. Trout stepped up and, just to show he's the boss, planted one in the same location -- at least 20 feet farther.
"I remember that," Pederson said. "He introduced himself to me. He's the best. I'm just trying to be the best I can be."
Like Trout, Pederson has a visible confidence and a natural swagger. You get the sense that this most humbling of games will bring neither player to his knees.
Trout grew up in Millville, N.J., with Derek Jeter as his favorite player, and it shows. Aware of his stature, Trout is responsive to fans and media, embracing the prospect of succeeding Jeter as the face of the sport.
When he broke in with the Angels in 2011, playing sparingly and nowhere close to his standards, Trout kept a low profile. He spoke rarely and was always respectful. Deep down, he must have been thinking, "My time will come."
Pederson, like Trout, has acquired the respect of teammates with his youthful enthusiasm and desire to learn the game's finer points.
"He's a good kid," Dodgers second baseman Howie Kendrick said. "He works hard. He's good, and he's going to get better."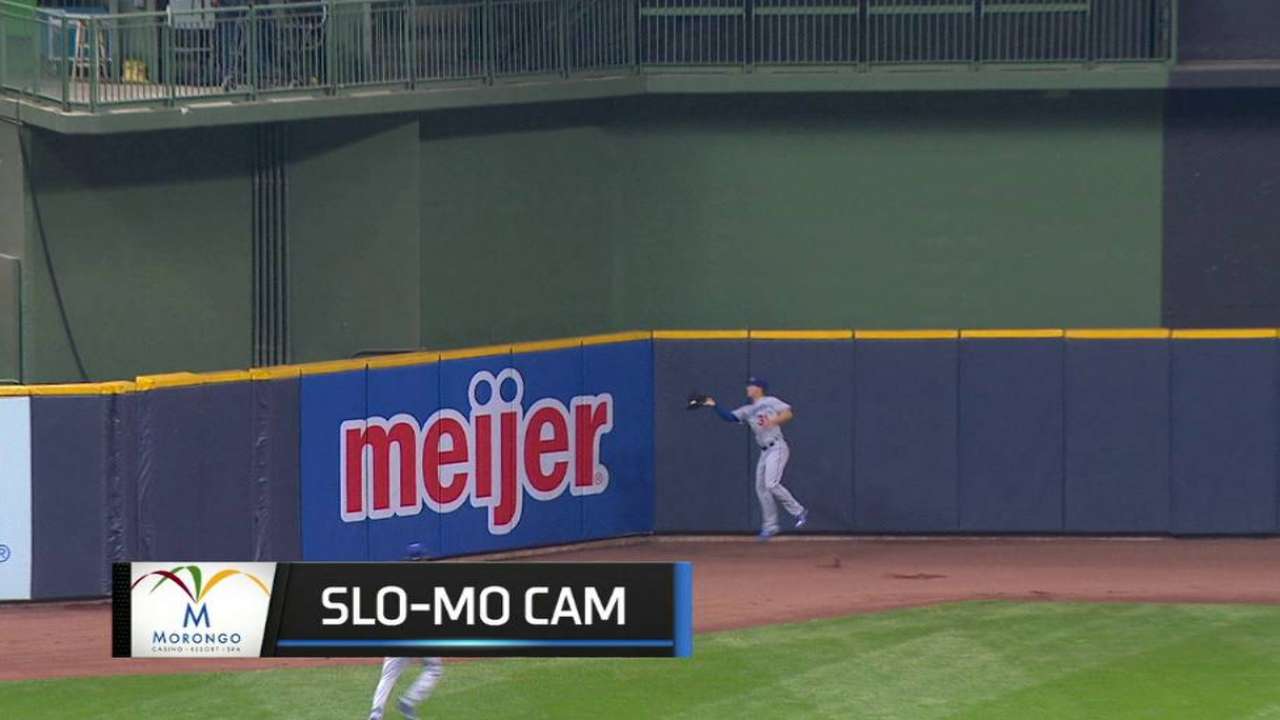 When Trout ascended to greatness with stunning swiftness in 2012, Kendrick dressed right next door in the home clubhouse.
"In demeanor, attitude, they're very similar," Kendrick said. "They love to play. Mike is an unselfish superstar. Joc is just getting started."
Dodgers highly perceptive co-ace Zack Greinke has been impressed with Pederson's development.
"Things he struggled with last year when he came up, he's made adjustments," Greinke said. "Even though he didn't hit [.143 in 38 plate appearances], he still had a high [.351] on-base percentage. Any time you're facing someone with his power, you can't just throw a pitch down the middle. He's done a good job of being selective and going after his pitch."
Dodgers veterans such as Adrian Gonzalez are keeping Pederson grounded.
"He's in over his skis," Gonzalez said through a wide smile recently after one of Pederson's brilliant performances.
Gonzalez was joking, but the kid is a rookie -- surely unworthy, for now, of being mentioned in the same sentence as Barry Bonds.
Lyle Spencer is a national reporter and columnist for MLB.com. Follow him on Twitter @LyleMSpencer. This story was not subject to the approval of Major League Baseball or its clubs.