Haren can't dodge comebacker, LA bats
Veteran hit on glove hand in first, and after escaping jam early, allows six runs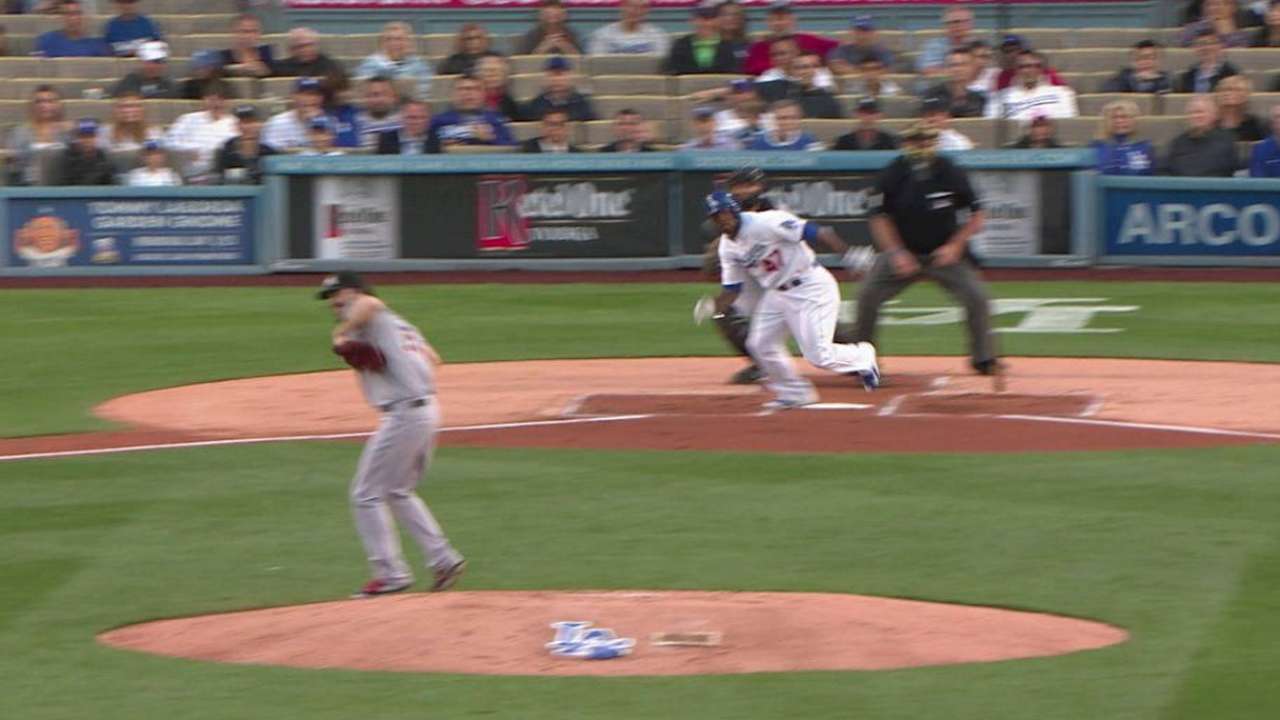 LOS ANGELES -- The Dodgers left their mark, literally, on Dan Haren in the first inning Tuesday night when Howie Kendrick's sharp grounder struck the Marlins right-hander just above the wrist on his glove hand.
Sporting a bruise, Haren pitched through it, but the night fell apart for him and the Marlins in the fifth inning as the Dodgers scored four runs and cruised to an 11-1 victory at Dodger Stadium.
A former Dodger, Haren has been the Marlins' most consistent starter this season. The 34-year-old came into the game having won three consecutive starts, and he was coming off a strong outing at San Francisco, where he allowed two runs in seven innings.
In a season-short 4 1/3 innings, Haren was tagged for six runs on 11 hits. He struck out four, but allowed two homers. Kendrick went deep on the first pitch of the third inning, after Haren escaped a bases-full, no-out situation in the second. Andre Ethier, who went 5-for-5, homered in the fourth. Haren has now allowed eight homers in seven starts.
"They made me work hard," Haren said. "I pitched out of a bases-loaded, no-out jam, and the first pitch I throw in the third inning is a home run.
"Obviously, they're a very good hitting team. Some of those guys have very good numbers off me in their careers. I knew it was going to be tough. I kind of navigated there through the first few innings with minimal damage. But in the fifth, things got away. A bloop hit started it all, and then they squared up a few balls pretty good."
Physically, Haren says he is fine. He noted that he felt some tingling and numbness immediately after being hit. He threw two warmup pitches and continued.
"I think he was fine," manager Mike Redmond said. "The ball hit him kind of on the wrist/forearm area. I'm sure he was sore. This is a tough lineup. They grinded him out and made him work. They just got him tonight. He's been really good for us.
"We went out and checked on him. He was sore. He said he wanted to pitch. I don't think it was a factor."
The Marlins are now 3-6 on the road trip, and they look to salvage the series finale on Wednesday night.
"Any time I've got to come out of the game early is not good for the team," Haren said. "We've got to come out tomorrow and try to win a game and salvage this thing."
Joe Frisaro is a reporter for MLB.com. He writes a blog, called The Fish Pond. Follow him on Twitter @JoeFrisaro and listen to his podcast. This story was not subject to the approval of Major League Baseball or its clubs.