'New and improved' Wilson shining for Angels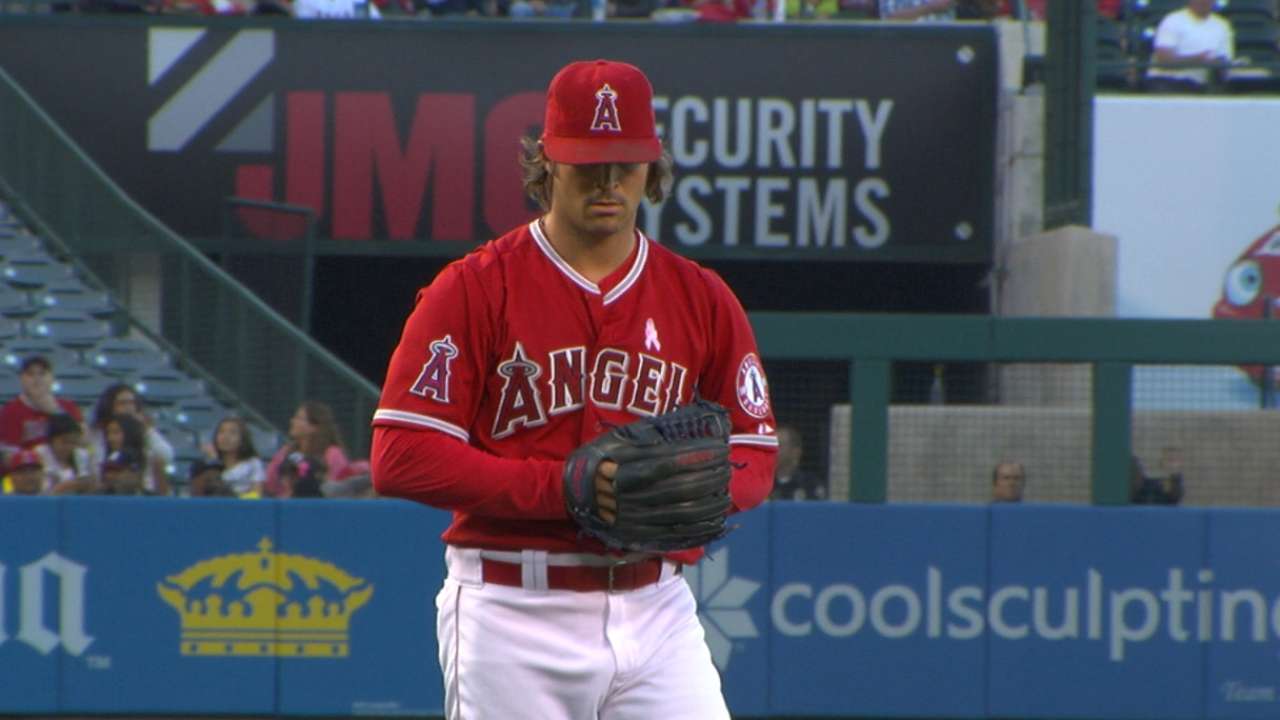 ANAHEIM -- The Angels came into this season hoping to get the C.J. Wilson from 2013, but they got someone else entirely.
"The new and improved Version 6," as Wilson put it after leading his team to a 5-2 win on Tuesday night. "This is Version 6 because this is my sixth full season as a Major League starter. I keep evolving, trying to learn."
And somewhere along the way, Wilson has seemingly learned to master the one skill that has eluded him his entire career: filling up the strike zone.
It's still early, and small sample sizes can be tricky. But Wilson is walking just 2.06 batters per nine innings through his first seven starts, while fashioning a 2.63 ERA and completing at least seven innings four times. His walk rate during his five previous years as a starter was 3.79, sixth-highest in the Majors.
Last year -- Wilson's worst in a Major League rotation -- it was a career-high 4.4.
"I'm just very grateful," Wilson said. "I'm thankful that all the work is paying off, but it's a lot of work. It's not the easiest thing in the world to reverse trends."
Wilson issued just one walk while throwing eight innings of two-run ball against a scuffling Rockies team with an equally scuffling offense. It came in the third, when he just missed on a 2-2 fastball to DJ LeMahieu and then missed way inside on an ensuing full-count pitch.
That was one of just seven baserunners the Rockies had against Wilson all night.
While relying heavily on a changeup that continues to be an important weapon, Wilson scattered five hits, struck out six and retired 12 of his last 14 batters. The 34-year-old has now completed six or more innings while allowing three or fewer runs five times this season, an encouraging start for the veteran left-hander who saw his ERA balloon to an uncharacteristic 4.51 in 2014.
"He's a better pitcher than we saw in the second half of last year," Angels manager Mike Scioscia said. "We know that."
Wilson threw more bullpen sessions than ever in the winter, not because his arm needed the work, but because he was hyper-focused on fine-tuning the mechanics that he felt would allow him to become a more consistent strike-thrower.
It's early, but Version 6 may have finally found something.
"When you put enough work on one thing, eventually it comes to you," Wilson said. "I've put so much work into my delivery and my pitches over the last couple years, as I've evolved and learned new things and experimented with new things, that it's just starting to pay off. I still feel like I have a lot of life left, mentally and in my pitching, that there's still a lot of different things I'm discovering."
Alden Gonzalez is a reporter for MLB.com. Read his blog, Gonzo and "The Show", follow him on Twitter @Alden_Gonzalez and listen to his podcast. This story was not subject to the approval of Major League Baseball or its clubs.