Rehabbing Hamilton finding swing at Round Rock
Outfielder hits two-run single in third game at Triple-A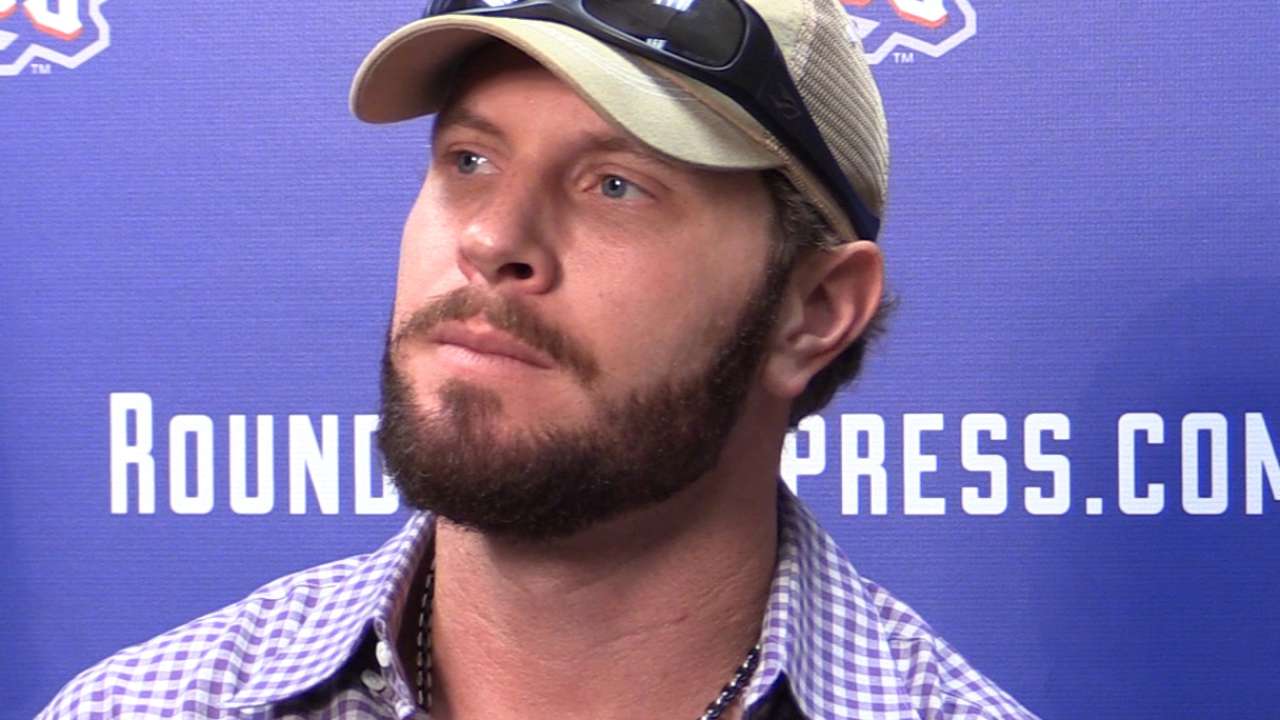 ROUND ROCK, Tex. -- Something felt different for Josh Hamilton in his 1-for-2 performance with the Triple-A Round Rock Express at the Dell Diamond on Tuesday night.
"I worked on a couple of things in the cage today that felt really good, and I was able to take it into my at-bats tonight," Hamilton said. "I have been lunging at the ball a little bit. Tonight I was able to stay back and do what I wanted to do."
He flied out to right field in his first at-bat on a 1-1 pitch, then pulled a 2-1 pitch through the right side of the defense for a two-run single in the bottom of the eighth inning of the Express' 11-1 win over Omaha.
Hamilton's two-run single was just his second hit since coming to Round Rock. He came into the game batting 1-for-7 in his previous two appearances for the Express.
Hamilton entered the game in the bottom of the sixth inning at designated hitter, spelling Mitch Moreland in the role. Moreland, also on rehab assignment with the Express, got the start at DH. He finished 0-for-2 with a walk on the day.
Hamilton is in Round Rock on rehab assignment after undergoing offseason surgery on his right shoulder.
"I am feeling pretty good," he said. "Body-wise I am going to be fine, it's just seeing pitches and getting at-bats in. It is something that can happen with one swing and one at-bat, then just be consistent after that."
After what felt like a breakthrough on Tuesday, he is hopeful his callup to the Rangers will come sooner rather than later.
"If they [at-bats] go like they did tonight, maybe the rest of this week," he said. "We will see how things go the rest of this series."
Hamilton felt at home with the Round Rock crowd, which gave him a warm reception. He spent an hour signing autographs before the game, followed by another 30 minutes after it was over.
"It felt good," he said. "I have been in a lot of big [league] ballparks and this feeling was right up there with them."
Rangers general manager Jon Daniels was in town on a pre-planned trip and took some time before the game to talk with the media about Hamilton's stint in Round Rock.
"I think Josh is in a really good place physically, but also mentally," Daniels said. "He wants to be active yesterday, but he understands it's a process. Whatever field we ask him to play or wherever we ask him to hit in the lineup, he wants to be there and he wants to be part of the team."
Hamilton was originally scheduled to take the Wednesday game off, but isn't sure whether he will see playing time now.
"I would say yes [to playing] now," he said. "I was originally scheduled to DH tonight and take tomorrow off. I told [Round Rock Express manager Jason Wood] the same thing, so we'll see."
Chris Dukes is a contributor to MLB.com. This story was not subject to the approval of Major League Baseball or its clubs.