Struggling Masterson's rotation spot in question
OAKLAND -- Red Sox right-hander Justin Masterson's start was not only shaky on Tuesday night against the Athletics, his performance was worrisome to those who evaluate him.
Masterson was shelled to the tune of six hits and six runs over 2 1/3 innings in a 9-2 loss to the Athletics, and there seems to be a pretty decent chance someone else will start on Sunday against the Mariners when the veteran's turn in the rotation comes up again.
"Yeah, the last two times out for Justin have not been anything close to what he's even shown this year," said Red Sox manager John Farrell. "Clearly, he's not right. Whether that's physical, whether that's delivery-wise, the ball not coming out of his hand as he's shown for the better part of this year. We've got to gather some information overnight. We've got to check on him when he comes in in the morning, go through a full workup and just kind of get a better assessment of where things are."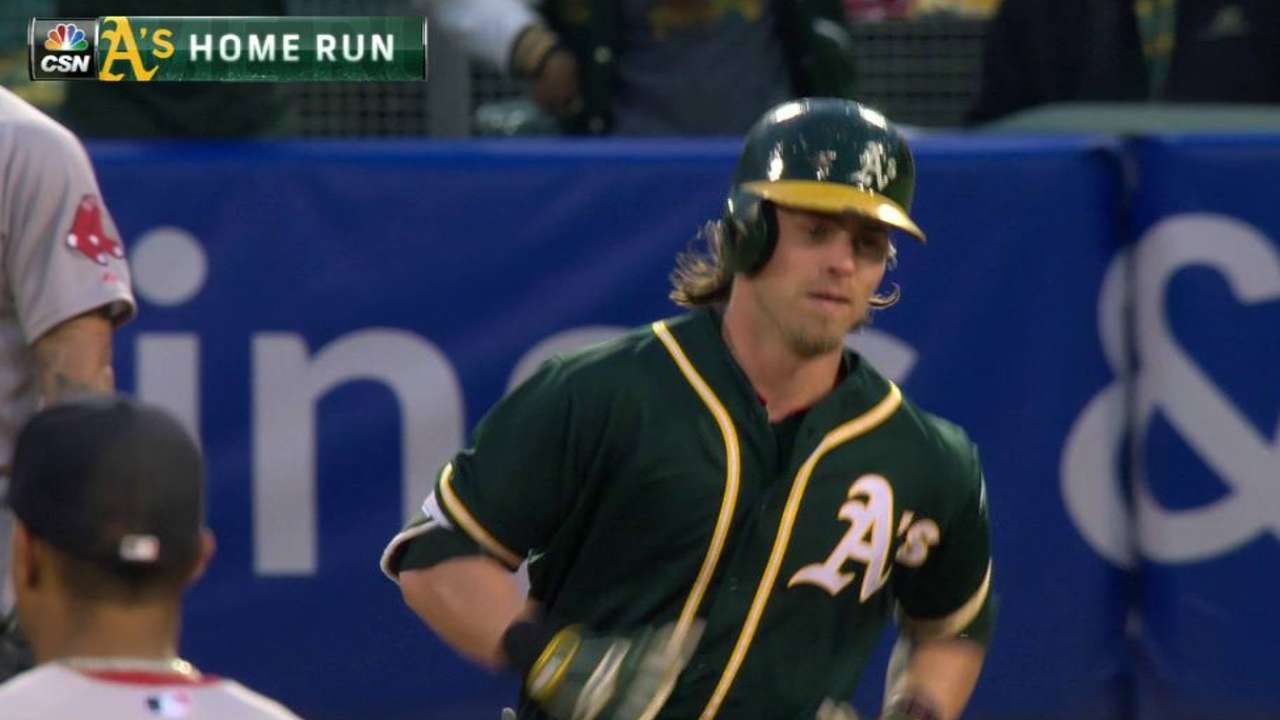 Coming off an injury-plagued 2014, Masterson was hoping to recapture his form in gradual fashion this season. But he has regressed the last couple of starts.
"Another one of those where I never had a chance to feel comfortable," said Masterson. "Didn't feel comfortable in the pregame bullpen as far as just being able to have a good release point. Then once the game came, every single pitch ... I was trying to take a ball in, I'd leave it in the middle for a homer. Try to take it over [the outside corner], leave it down the middle. Everything just ran back to the middle. That's not really what we're trying to do."
Masterson, who is 2-2 with a 6.37 ERA, can't pinpoint an injury, but he admitted he is working too hard to generate velocity.
"Today was really disappointing," he said. "That's the biggest thing where I was laboring a little too much to get 86s and 87s out there. Who knows? The guns can always be different in different spots. Today, I just wasn't behind the ball."
Steven Wright came on in relief and gave the Red Sox 5 2/3 innings, giving up three runs on six hits.
Perhaps the knuckleballer could slide into Masterson's spot on Sunday.
"Well, even when we broke Spring Training, he was in consideration for a spot if needed," Farrell said of Wright. "He's done nothing but continue to support that."
As for Masterson, he thinks he would be able to compete if given the chance on Sunday in Seattle.
"As we discuss right now I think [I'm] more than capable," Masterson said. "I really think it's not really anything too extreme at this point. The way I feel, I shouldn't be having effects or anything while I'm out there throwing and doing my thing. So I think it would be a good time to work and assess and really go out and try to have some fun in Seattle."
Ian Browne is a reporter for MLB.com. Read his blog, Brownie Points, and follow him on Twitter @IanMBrowne. This story was not subject to the approval of Major League Baseball or its clubs.