Rangers' miscues mount up in tough defeat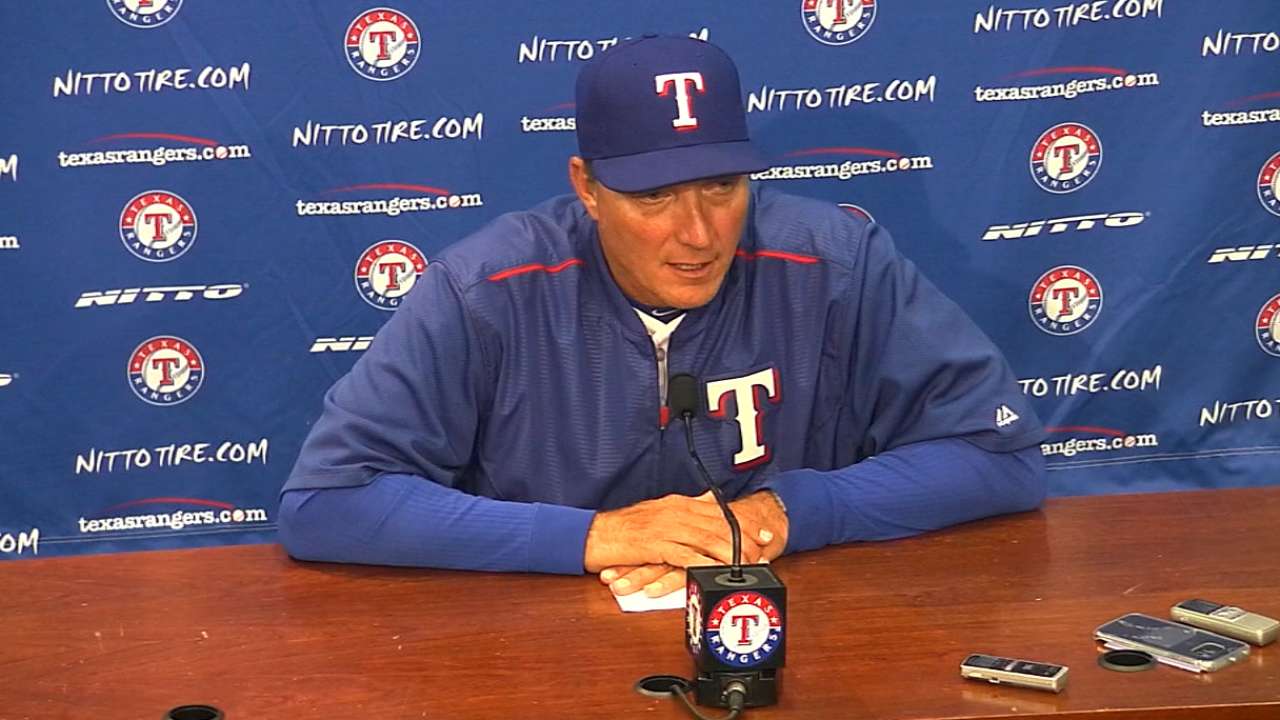 ARLINGTON -- The multiple mistakes finally overwhelmed the Rangers in a 7-6 loss to the Royals on Tuesday night. The decisive blow was a home run by Alex Gordon in the 10th inning off reliever Stolmy Pimentel, but the late-inning transgressions ran deeper than just one ill-fated pitch.
"They don't make us feel good," manager Jeff Banister said. "To beat a team that was in the World Series last year and playing well now, we've got to make sure we make all the plays we need to make. You don't want to give them extra chances. We'll continue to work on it.
"Mistakes are going to happen, but you've got to limit mistakes. It seems right now when we make a mistake, we pay for it."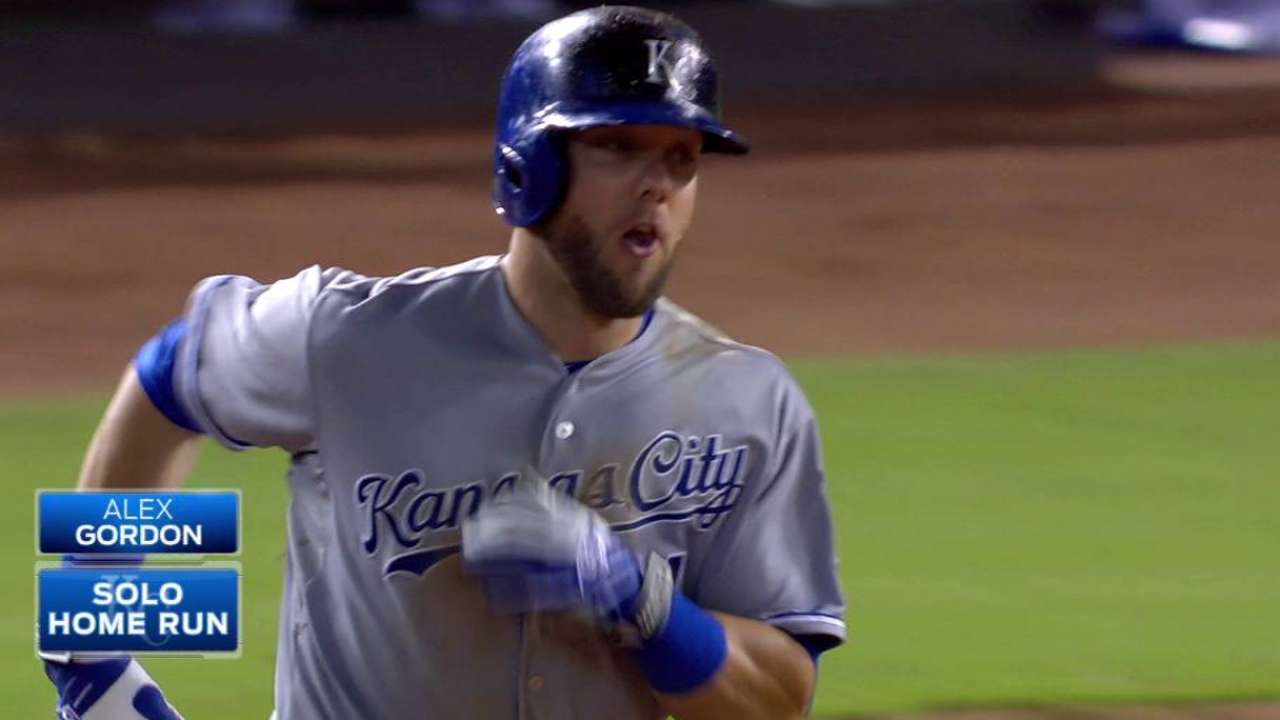 There were mistakes in all phases of the game, including a throwing error by shortstop Elvis Andrus in the sixth that led to an extra unearned run off starter Nick Martinez. Andrus has nine errors on the season.
That finished off a three-run rally and gave the Royals a 4-3 lead. The Rangers got the run back in the bottom of the sixth on a game-tying sacrifice fly by Robinson Chirinos.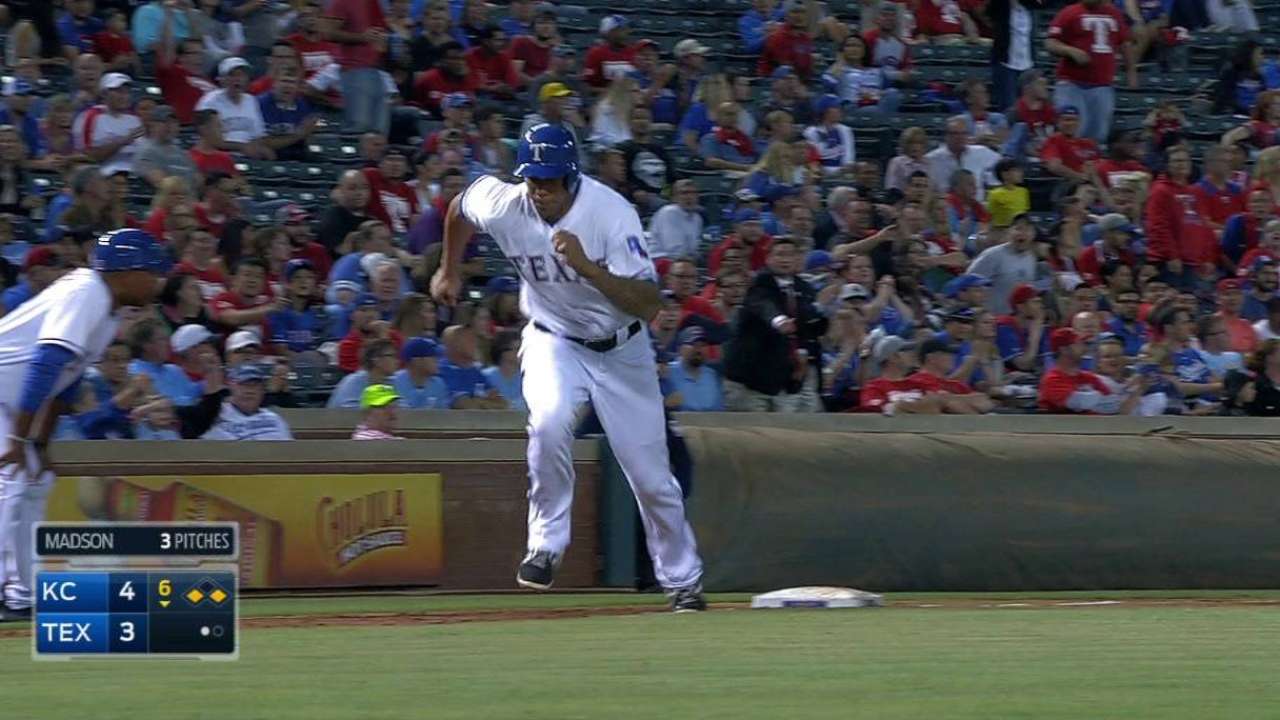 Left-handed reliever Alex Claudio was brought into a tie game in the seventh. With one out and the bases empty, his assignment was to contain left-handed power-hitter Mike Moustakas. Claudio got ahead, 0-2, with two straight sliders. He tried to throw a third slider and Moustakas hit it out of the park.
"He tried to run it off the plate and he left it over the plate," Banister said. "A good hitter hit it out of the park. We've got to make sure we execute pitches in those situations."
The Rangers tied it in the bottom of the inning, but they missed a bigger opportunity with a base-running mistake. It happened twice late in the game.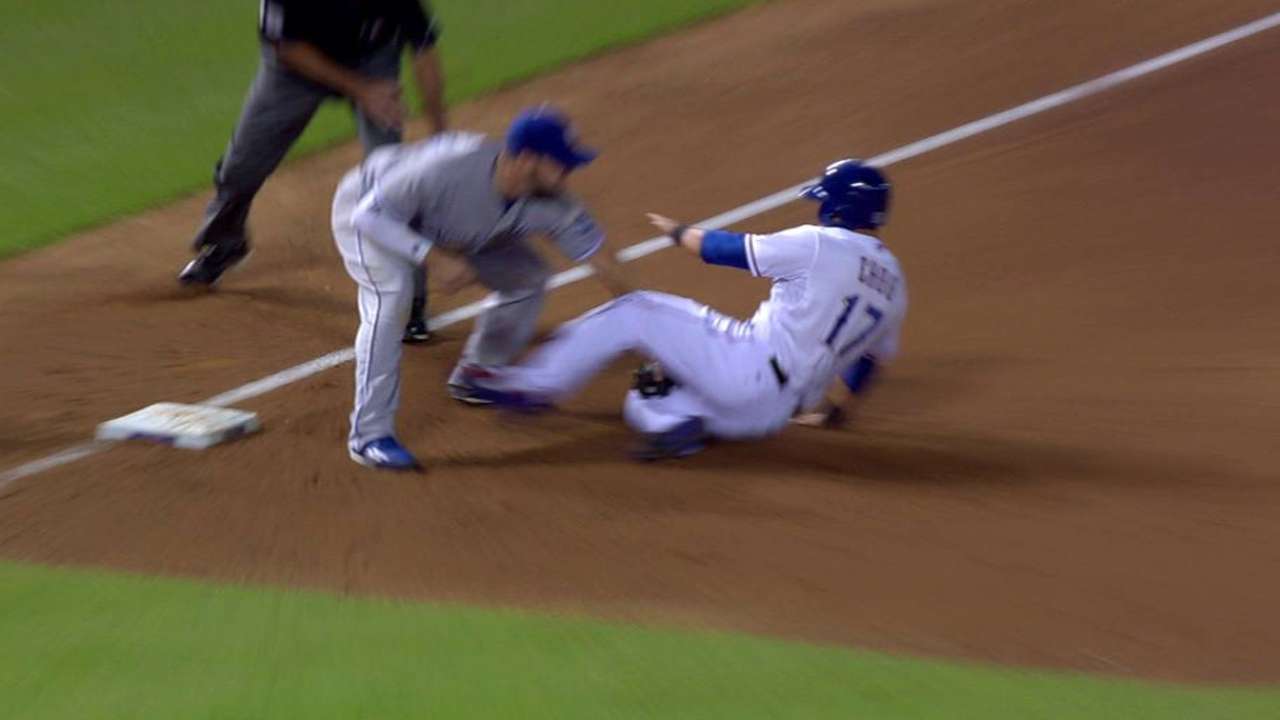 After Shin-Soo Choo led off with a single, the Rangers went with the hit-and-run and Andrus grounded one through the left side. Choo hesitated, then slipped as he rounded second base. He still went to third and left fielder Gordon threw him out.
"I slipped and he made a perfect throw," Choo said.
The Royals took another lead in the ninth on singles by Alcides Escobar and Moustakas, and an infield grounder by Lorenzo Cain. The Rangers then rallied in the bottom of the ninth as Choo singled off closer Greg Holland, was bunted to second by Andrus and scored on a two-out single by Adrian Beltre.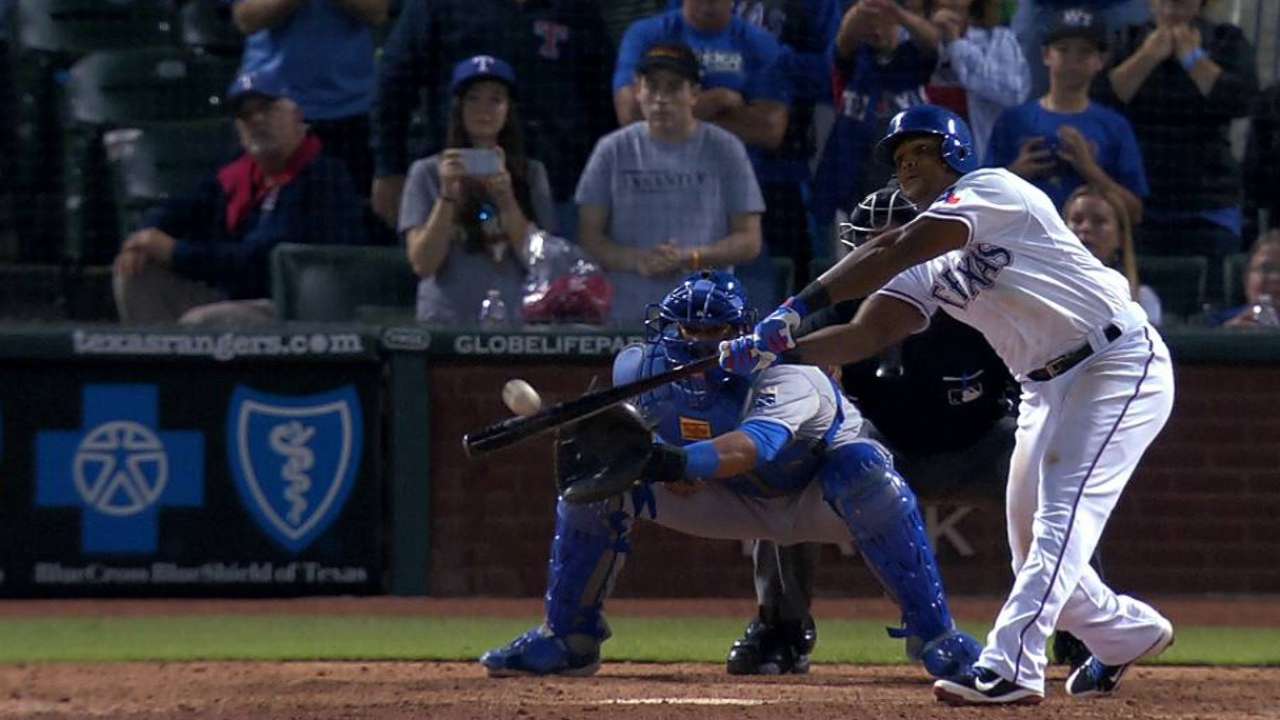 The rallied ended suddenly. Holland threw an 0-1 curve in the dirt, catcher Salvador Perez made a great block and caught Beltre off first base. Beltre dove back and was initially ruled safe, but the call was overturned on replay.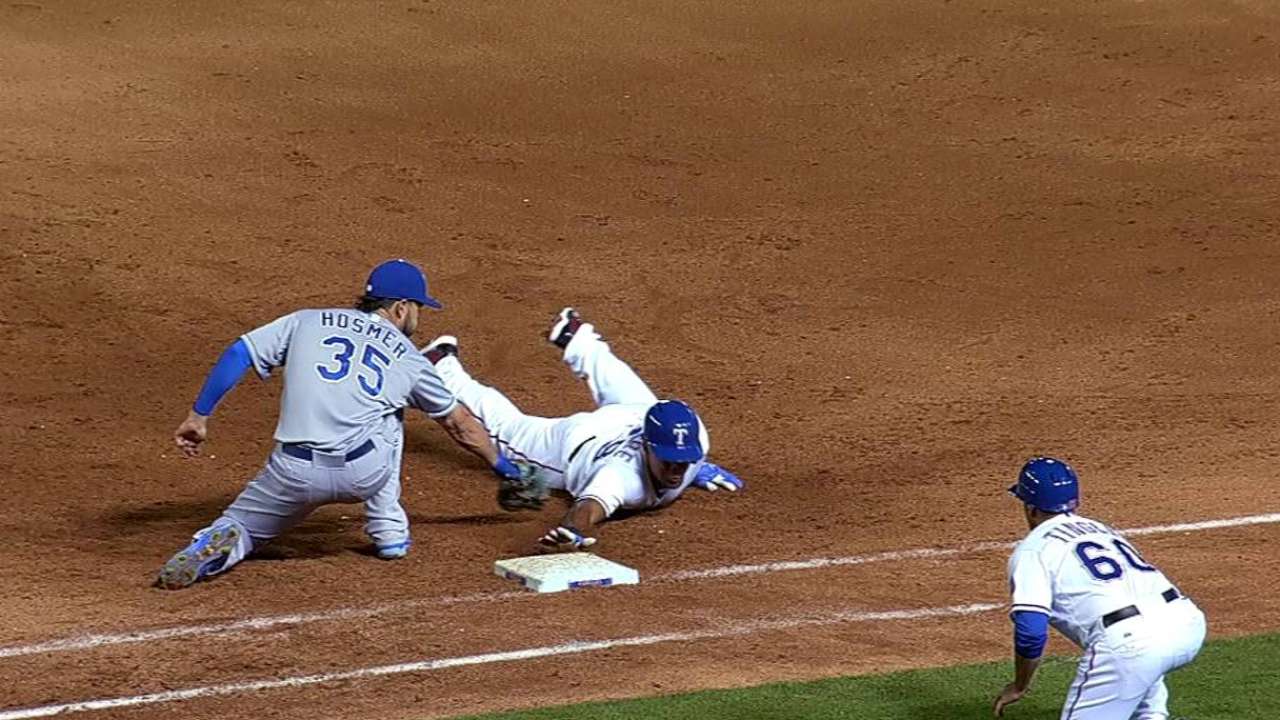 "The ball was down and I expected him to block it and knock it down," Beltre said. "I can't believe he caught it. I was ready to go. I tried to get back, but the guy is too quick and had too good of an arm."
The Rangers also made too many mistakes.
T.R. Sullivan is a reporter for MLB.com. Read his blog, Postcards from Elysian Fields, and follow him on Twitter @Sullivan_Ranger. This story was not subject to the approval of Major League Baseball or its clubs.