MLB.com Columnist
Phil Rogers
Bryant wins Round 1 in matchup of phenoms
Cubs slugger notches single, first career triple in Syndergaard's MLB debut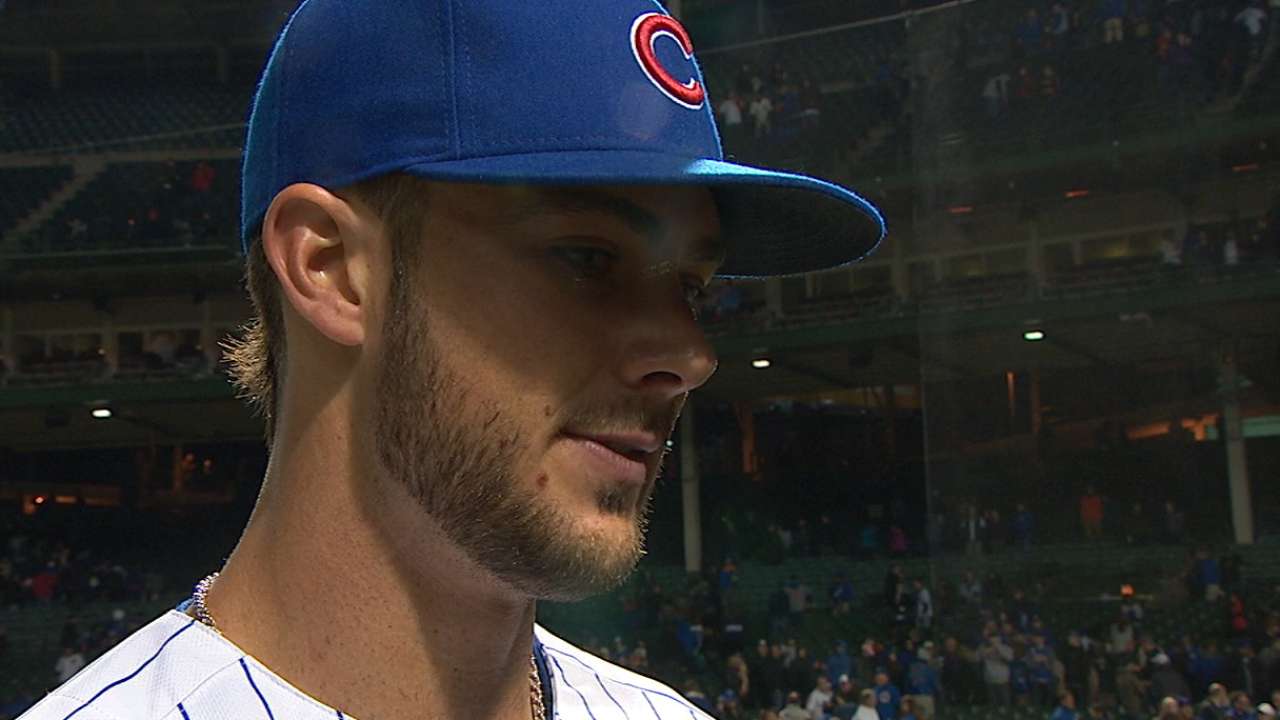 CHICAGO -- There are always matchups that draw us to the ballpark, the ones that we'll be telling our grandkids that we were lucky enough to see.
Ted Williams faced Bob Feller 158 times in his career, and he flat wore him out. Pete Rose, on the other hand, could never get into Sandy Koufax's head like he could most others.
It's always a treat to see Clayton Kershaw break off his curveball against Troy Tulowitzki or to watch with anticipation as Miguel Cabrera digs into the batter's box to face Chris Sale. As dangerous as it is to project greatness onto neophytes, it would have been analytic malpractice to overlook the main event-worthy showdown on Tuesday night at Wrigley Field: Kris Bryant, in his 24th game, against the Mets' Noah Syndergaard, in his big league debut.
The 22-year-old pitcher from Mansfield, Texas, had faced the 23-year-old third baseman from Las Vegas only once previously. That happened last August at Principal Park in Des Moines, Iowa, when Bryant went 1-for-3 as Syndergaard consistently fired upper-90s fastballs up in the strike zone.
Consider that a prelim for the competition that has now started for real, with no idea how many years it will extend. Maybe five, maybe 10. Maybe a few times in October, if we're lucky.
Score the first round for the hitter. Here's a breakdown of Bryant's matchup with Syndergaard on a night when his homer against reliever Hansel Robles capped a 6-1 victory for the Cubs.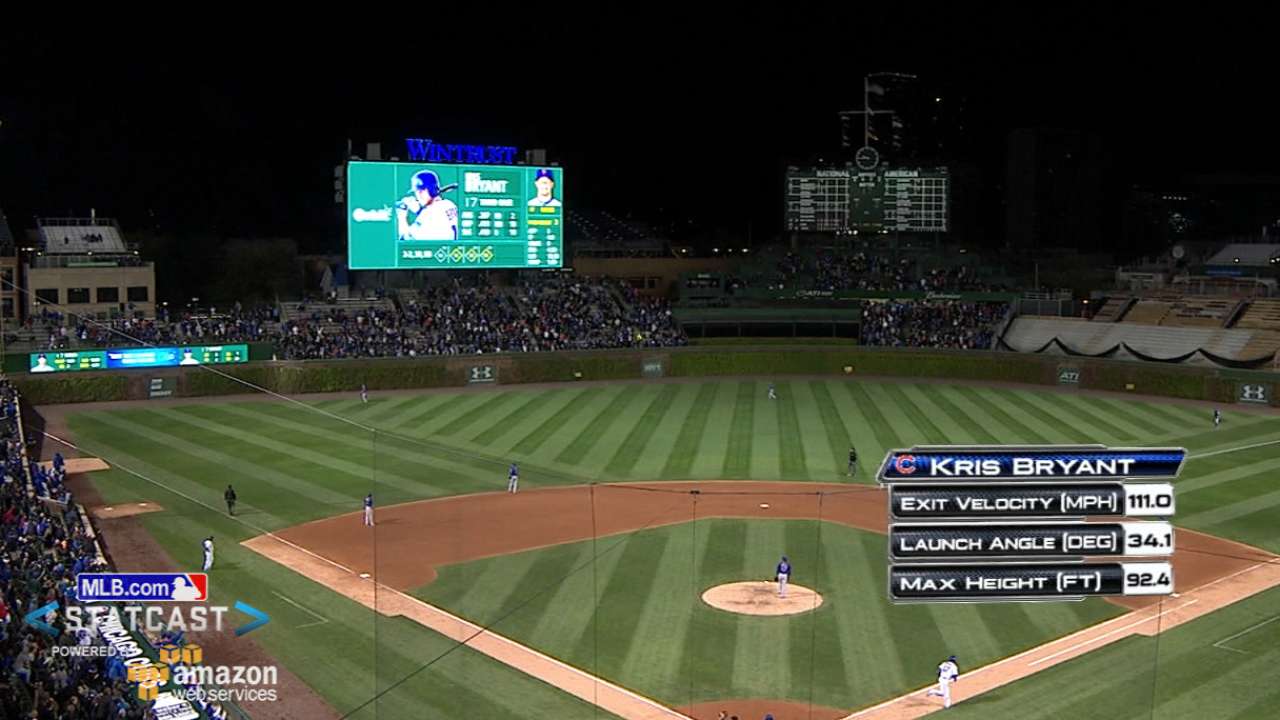 A QUICK FIRST LOOK
Bottom of the first, one out, nobody on -- we were still getting our adjectives in order and, poof, it was over. Bryant lined a 98-mph fastball to center fielder Kirk Nieuwenhuis on an 0-1 count.
It's worth considering why Bryant, who had homered 55 times in 181 Minor League games after leading the NCAA in home runs at the University of San Diego, was batting second in the first place. He's being pitched with a crazy amount of respect for a rookie -- with 20 walks already -- so manager Joe Maddon moved him in front of Anthony Rizzo, hoping he'd get more pitches to hit.
Syndergaard obliged, starting Bryant out with two fastballs. The first registered 99 mph, even though it was only the fifth pitch for Syndergaard. It was low and away, but the next pitch was a strike, down a little and on the outside half of the plate, and Bryant's fly to Nieuwenhuis became part of a seven-pitch first inning.
"Yeah, any time you've got a guy who's throwing 100 miles an hour, you don't want him to get ahead of you," Bryant said. "It's not fun to hit behind in the count against a guy like that. Get out there, attack the first three pitches, hopefully he throws [one] in the middle of the plate."
WHEELS IN MOTION
Bottom of the third, two outs, nobody on -- Bryant again put a 1-0 pitch into play, this time hitting a grounder to third baseman Daniel Murphy for what appeared a routine out. But Bryant used his surprising speed and ever-present hustle to leg out a single when Murphy made a nonchalant throw over to Lucas Duda.
This time around, Syndergaard had started off Bryant with a slider, which was low and outside for a ball. Bryant was ready when he came over the middle of the plate with a 97-mph fastball, pulling it to Murphy.
Statcast™ clocked Bryant at 19.9 mph on his way to first, making the trip in 3.9 seconds. That's incredibly quick for a right-handed hitter, especially one with Bryant's 6-foot-5, 215-pound frame.
"Any ground ball I hit, I'm going to run as hard as I can," said Bryant, who is hitting .276 with an .877 OPS. "I think that's pretty easy to figure out. It's something I can control. It's something I believe -- if you treat the game the right way, it will treat you the right way back."
USING THE WHOLE FIELD
Bottom of the fifth, two outs, nobody on -- Rizzo said before the game that pitchers have been playing "a cat and mouse game" with Bryant, and that he keeps telling the rookie he has to take his walks. But Bryant was looking for a fastball after Syndergaard fell behind him, 2-0, and he went with the pitch to crush a drive down the right-field line.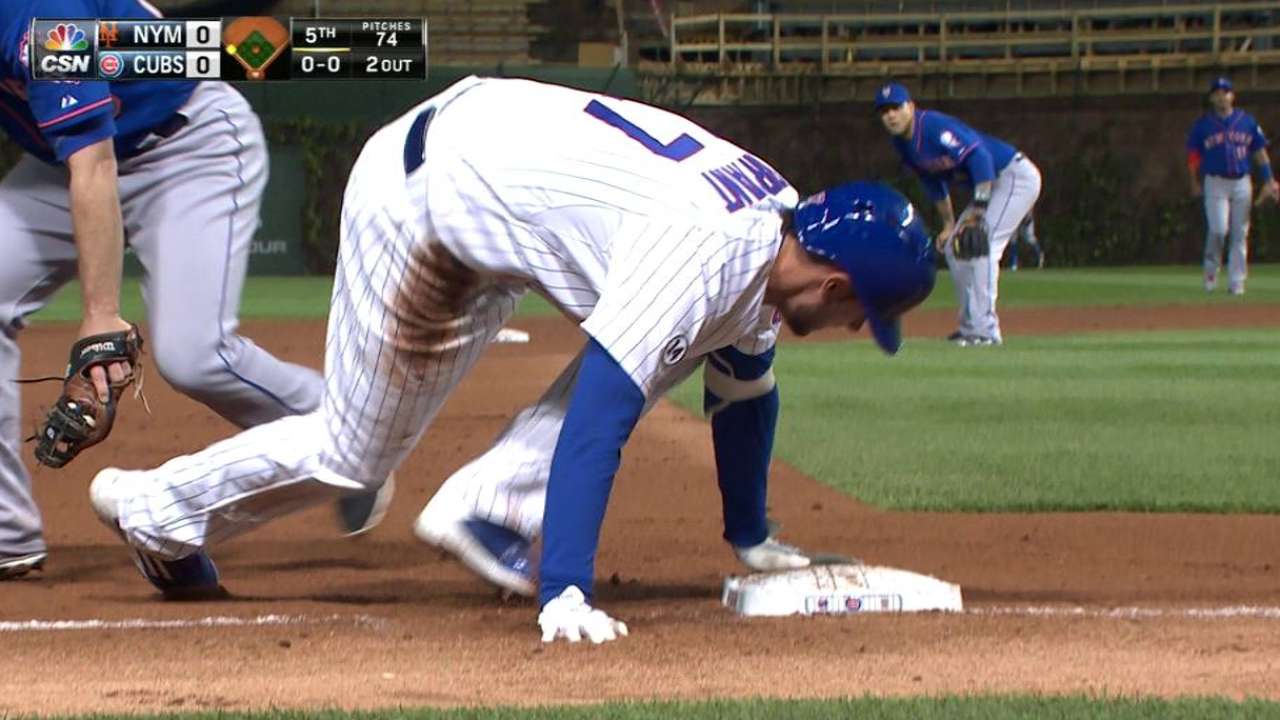 Curtis Granderson couldn't quite get to it, and Bryant steamed to third base (with a top speed of 20.9 mph, according to Statcast™). The exit velocity of the ball off his bat was recorded at 102 mph.
Syndergaard had started Bryant with two sliders, the first one low and the second one inside, and the 96-mph fastball that he hit was thrown right where catcher Kevin Plawecki called for it. Bryant extended across the plate to get the barrel of the bat on it, and he said afterward that was more gratifying than the ball he drove into the bleachers off Robles.
"I think that's the swing I haven't been able to do a lot up here," Bryant said. "It was good to get that swing down to right field and take off from there.''
That would be the last time this night that Bryant faced Syndergaard, who gave up three runs on a Starlin Castro double and a Chris Coghlan homer in the sixth inning after reaching that point with the game scoreless.
"He did a really good job, I thought," Bryant said. "He did a lot better than I did in my debut."
Bryant was 0-for-4 with three strikeouts against James Shields and the Padres. It was a game he had to get out of the way, and just like Syndergaard, he did it at Wrigley Field. There are worse settings.
Phil Rogers is a reporter for MLB.com. This story was not subject to the approval of Major League Baseball or its clubs.