MLB.com Columnist
Mike Bauman
ASG debate: Miggy, Abreu eye power play
Incumbent Cabrera has major challenger in Chicago's sophomore slugger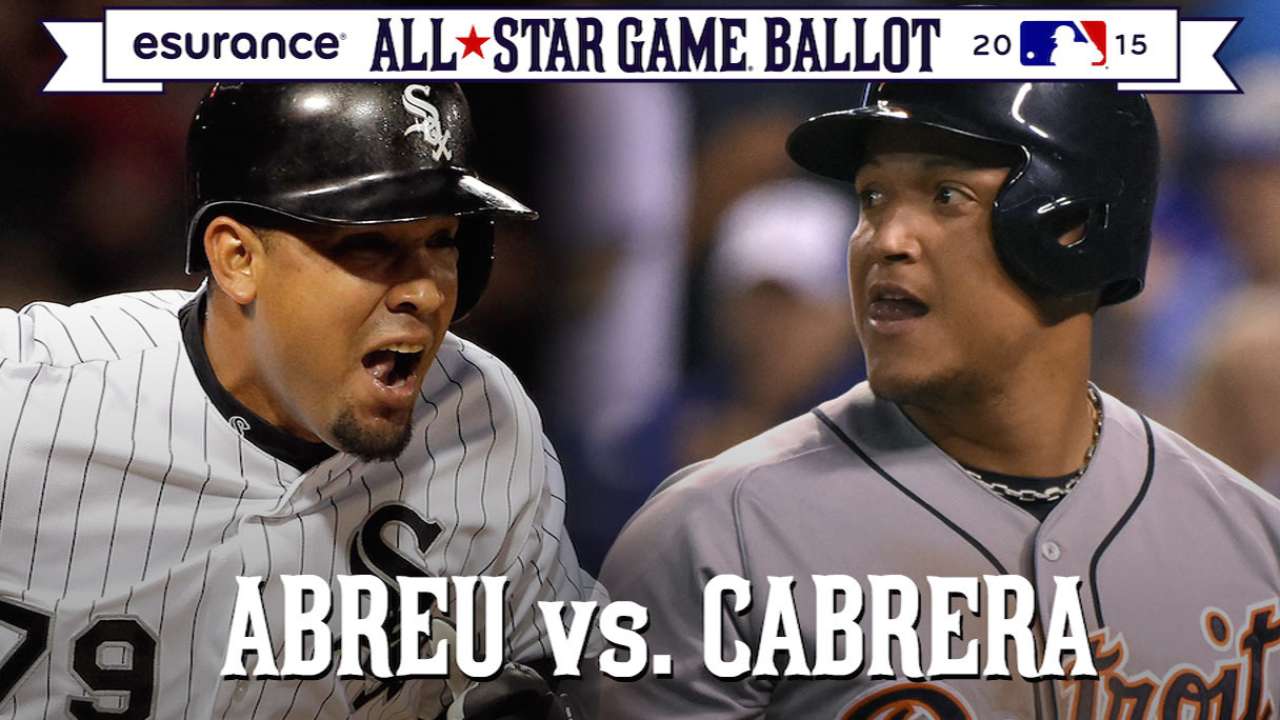 It's Miguel Cabrera vs. the world in an All-Star race that truly has a surplus of completely worthy candidates. The American League will have a superb starter at first base in the 2015 All-Star Game. But which superb starter?
Cabrera of the Tigers is truly a perennial All-Star. He has been on nine All-Star squads. As the AL starter at first base in 2014, Cabrera comes to this debate with the advantages of incumbency.
Cabrera's record requires no extra polish. Twice an AL MVP Award winner and once, in 2012, an AL Triple Crown winner, he has been the cornerstone of consistently successful Detroit teams. Cabrera is an inevitable part of any All-Star discussion at this position in this league.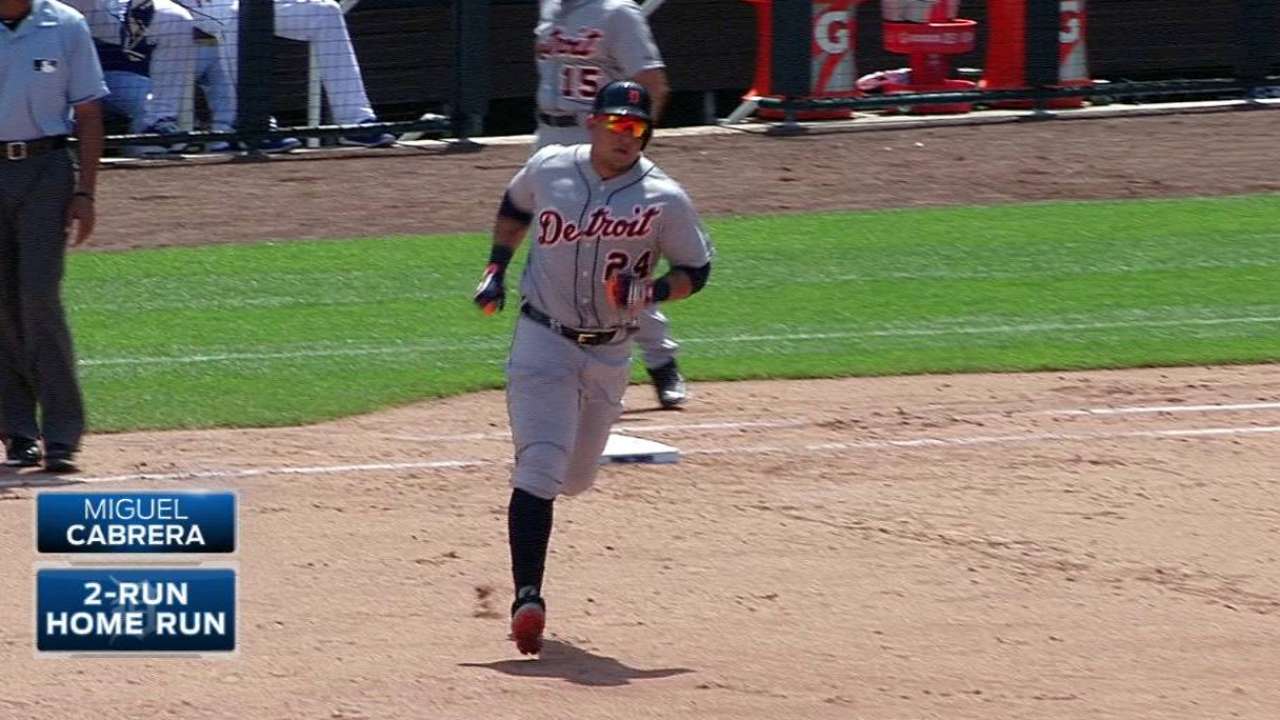 At the other end of the experience spectrum is second-year player Jose Abreu of the White Sox. The impact he had in his rookie year can't be overstated. Abreu was a unanimous winner of the AL Rookie of the Year Award by the Baseball Writers' Association of America. He led the AL in slugging percentage, and he was second in total bases and OPS, third in home runs.
Abreu is slightly off that pace so far in 2015. But the first six weeks of his season would still look like the beginning of a career season for a lot of players. Abreu should be a legitimate All-Star candidate for many seasons to come.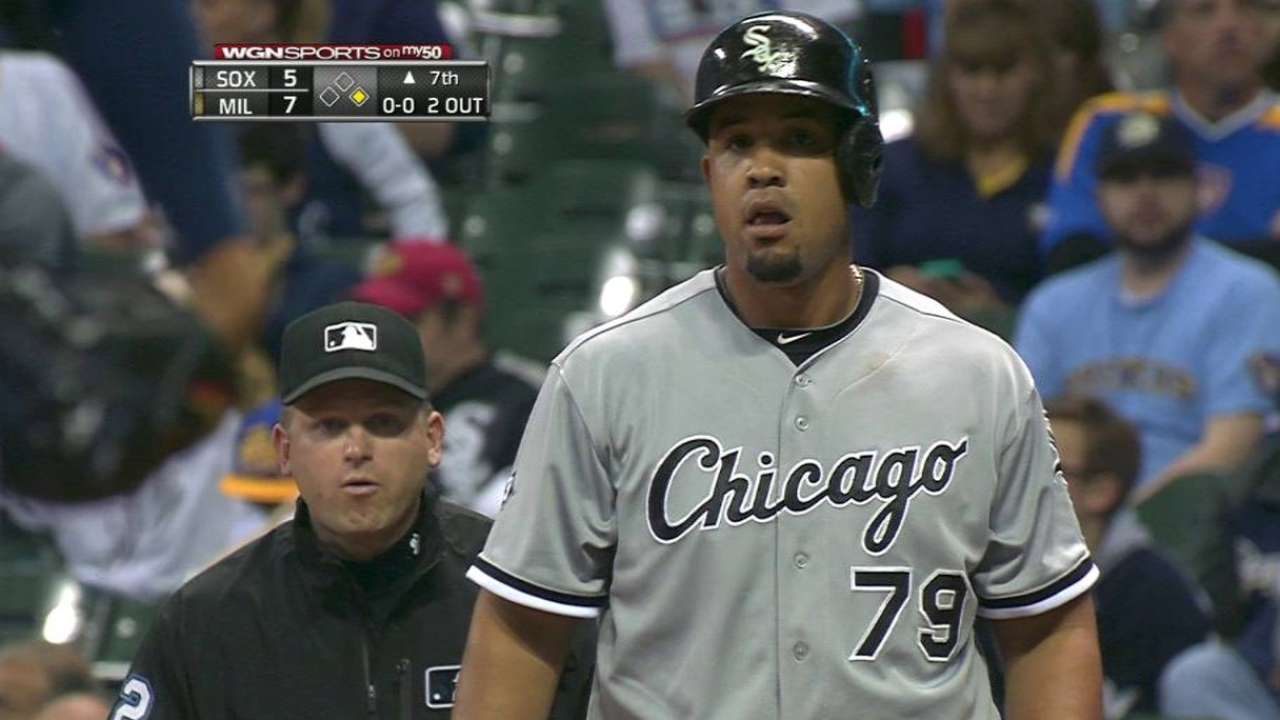 But there are other viable candidates. The Rangers' Prince Fielder is resurgent after missing most of last season after neck surgery. After 32 games, he was hitting .336, with a .393 on-base percentage.
Fielder has been a member of five All-Star teams, three in the National League, two in the AL. He was the MVP of the 2011 game as a member of the Milwaukee Brewers.
For an all-around choice at first base, the selection could be Eric Hosmer of the Royals. He is truly a superior defensive player who has won Gold Glove Awards the last two seasons.
This year, Hosmer is also making progress offensively. Through 32 games, his slash line was .317/.387/.540. Between the exposure that the Royals' run to the World Series brought last October, and Hosmer's own considerable game, he should be a genuine contender for a starting position this season and beyond.
For sheer power, Mark Teixeira ranked second in the league in homers and third in slugging percentage. His average and on-base percentage are below the high standards of his career, but this may still be seen as a bounce-back year for Teixeira, who has been a big part of the Yankees' early success this season.
Teixeira is a five-time Gold Glove winner, most recently in 2012, and was twice an All-Star.
On paper, Miggy would still be, even in the midst of this impressive field, the favorite to open at first base for the AL in the 2015 All-Star Game. But there are plenty of worthy challengers who will make this yet another highly competitive All-Star selection.
Fans can cast their votes for starters at MLB.com and all 30 club sites -- on their computers, tablets and smartphones -- using the 2015 Esurance MLB All-Star Game Ballot until Thursday, July 2, at 11:59 p.m. ET. For the first time, voting is exclusively online, where fans may submit up to 35 ballots.
Fans may also receive the ballot by texting VOTE to 89269 (USA) or 101010 (Canada). Or text VOTA for a ballot in Spanish. Message and data rates may apply. Up to five messages. No purchase required. Reply STOP to cancel. Reply HELP for info.
Following the announcement of the 2015 All-Stars, be sure to return to MLB.com and cast your 2015 Esurance MLB All-Star Game Final Vote for the final player for each league's All-Star roster. On Tuesday, July 14, watch the 2015 All-Star Game live on FOX, and during the game visit MLB.com to submit your choice for the Ted Williams Most Valuable Player Award presented by Chevrolet via the 2015 MLB All-Star Game MVP Vote.
MLB.com will provide extensive online coverage of All-Star Week festivities.
The 86th All-Star Game will be televised nationally by FOX, in Canada by Rogers Sportsnet and RDS, and worldwide by partners in more than 200 countries via MLB International's independent feed. ESPN Radio and ESPN Radio Deportes will provide national radio coverage of the All-Star Game. MLB Network and SiriusXM will also provide comprehensive All-Star Week coverage. For more information, please visit allstargame.com.
Mike Bauman is a national columnist for MLB.com. This story was not subject to the approval of Major League Baseball or its clubs.