Noah's arc: Prospect flashes talent in rise to bigs
Syndergaard pitches 5 shutout innings before faltering in 6th while losing debut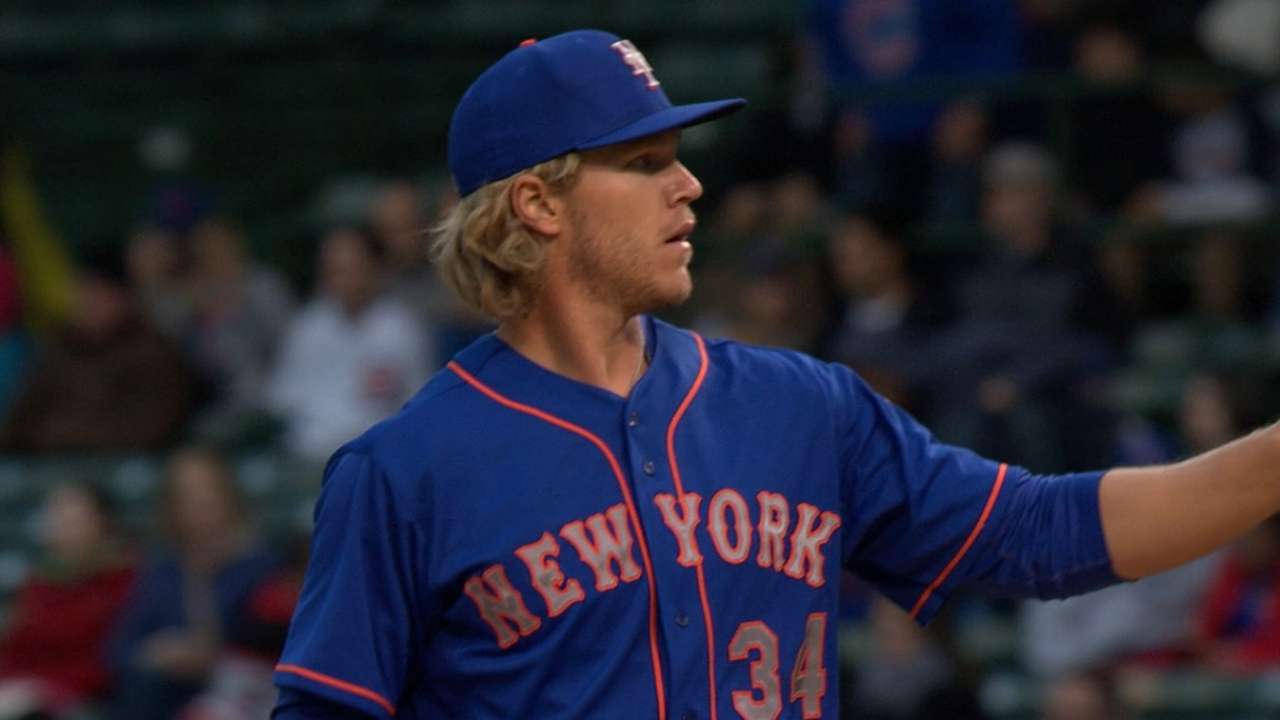 CHICAGO -- Before things grew ugly in Tuesday's 6-1 Mets loss to the Cubs, back when it was still Noah Syndergaard's night to own, New York's latest uber-prospect demonstrated exactly how he had established that reputation.
On a chilly late spring evening at Wrigley Field, Syndergaard opened his big league career with a 97-mph fastball. He struck out Dexter Fowler three pitches later to settle into a groove, showcasing his power curveball and changeup nearly as much as the heat. Syndergaard delivered five shutout innings in all before the Cubs did any damage, doing his best to cover up the shaky defense and nonexistent offense around him.
"I'm not going to lie, I was really nervous up until I walked up the steps of the dugout and started warming up," Syndergaard said. "But from the first pitch on, I felt really good out there. I felt ready to go."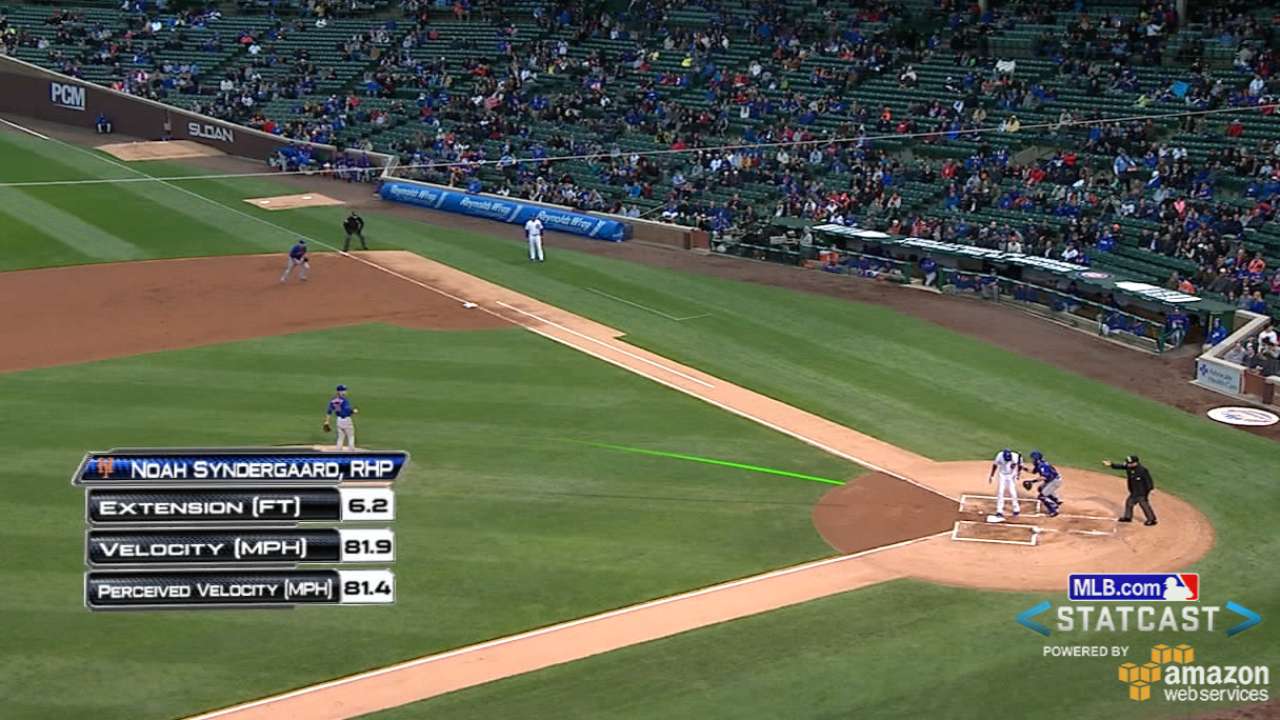 The end result was a loss in Syndergaard's Major League debut, thanks to Starlin Castro's RBI double and Chris Coghlan's two-run homer in the sixth. But for a pitching prospect who struggled at times late in his Minor League development with the Mets, arriving to the Majors nearly a year later than many around the organization expected, the game showcased how elite his talent remains.
"The thing I liked about it is he's a pitcher, too," Cubs manager Joe Maddon said. "He's not just out there throwing. He was able to throw his curveball for a strike. He had a good changeup. I was impressed. Very composed. He was very comfortable."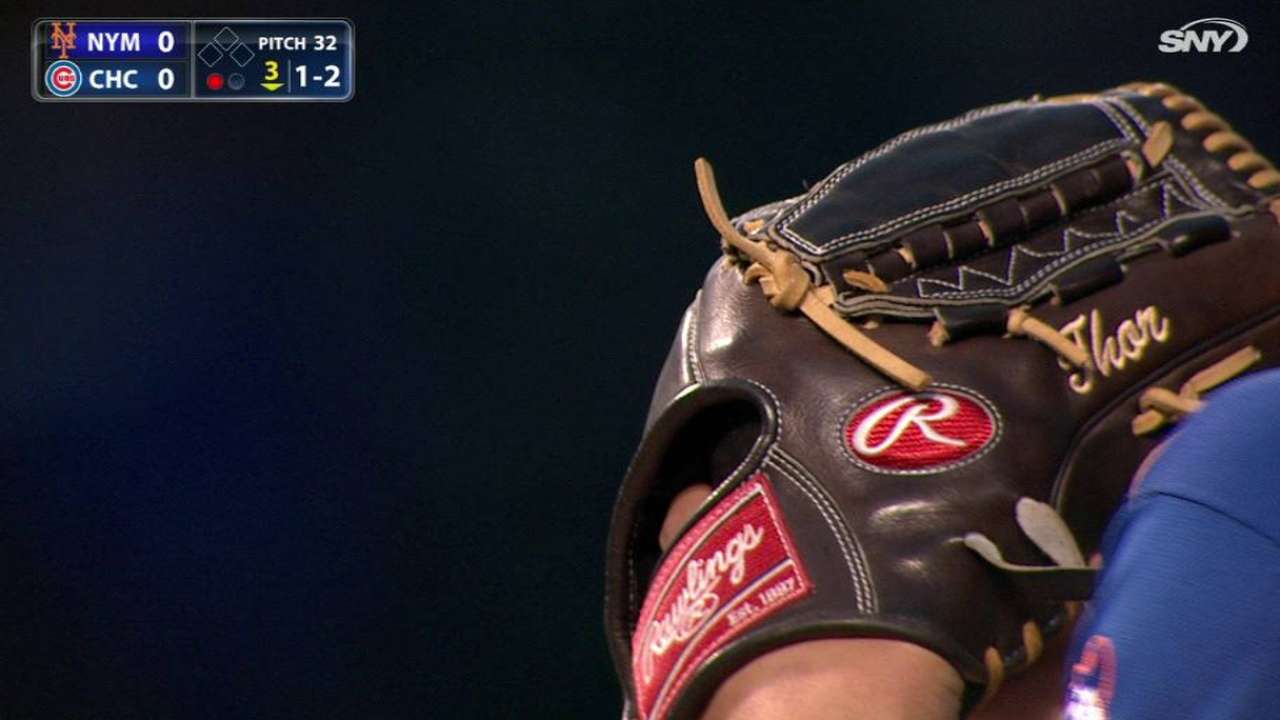 The No. 11 prospect in baseball, according to MLB.com, Syndergaard said the most difficult part of his debut was the debut itself. Taking some advice from teammate Michael Cuddyer, the right-hander stepped onto the National League's oldest field and took a moment to absorb everything, before reminding himself that none of it was much different from what he already knew. The stadium may have been more crowded, the opposing lineup better, but navigating it required the same skill set that Syndergaard flashed during his final three starts at Triple-A Las Vegas, going 3-0 with a 0.82 ERA.
"It's the same game," Syndergaard said. "You don't really believe that until you get out there. But then I went out there and made my debut at Wrigley Field. I looked around and it just felt like another ballgame."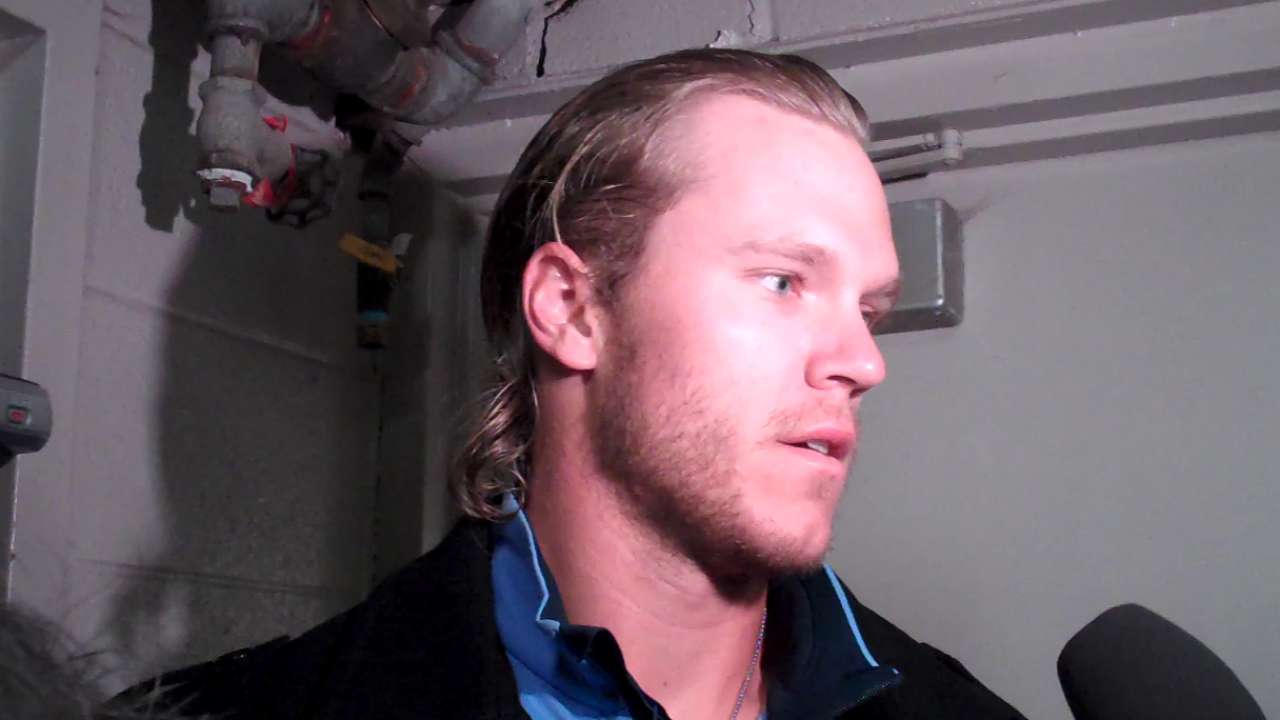 The difference was that the Mets obscured much of Syndergaard's dynamism with their flaws around him. At the plate, they did not record their first hit until the fourth inning, or their second until the eighth. In the field, Daniel Murphy increased the difficulty of Syndergaard's task by throwing sluggishly to first base on a potential third-inning groundout, resulting in a Kris Bryant infield hit and 18 additional Syndergaard pitches. On the bases, Curtis Granderson snuffed out a fourth-inning rally with his ill-advised attempt to reach third on Murphy's single. On the mound, Alex Torres relieved Syndergaard and walked the bases loaded, before allowing a run.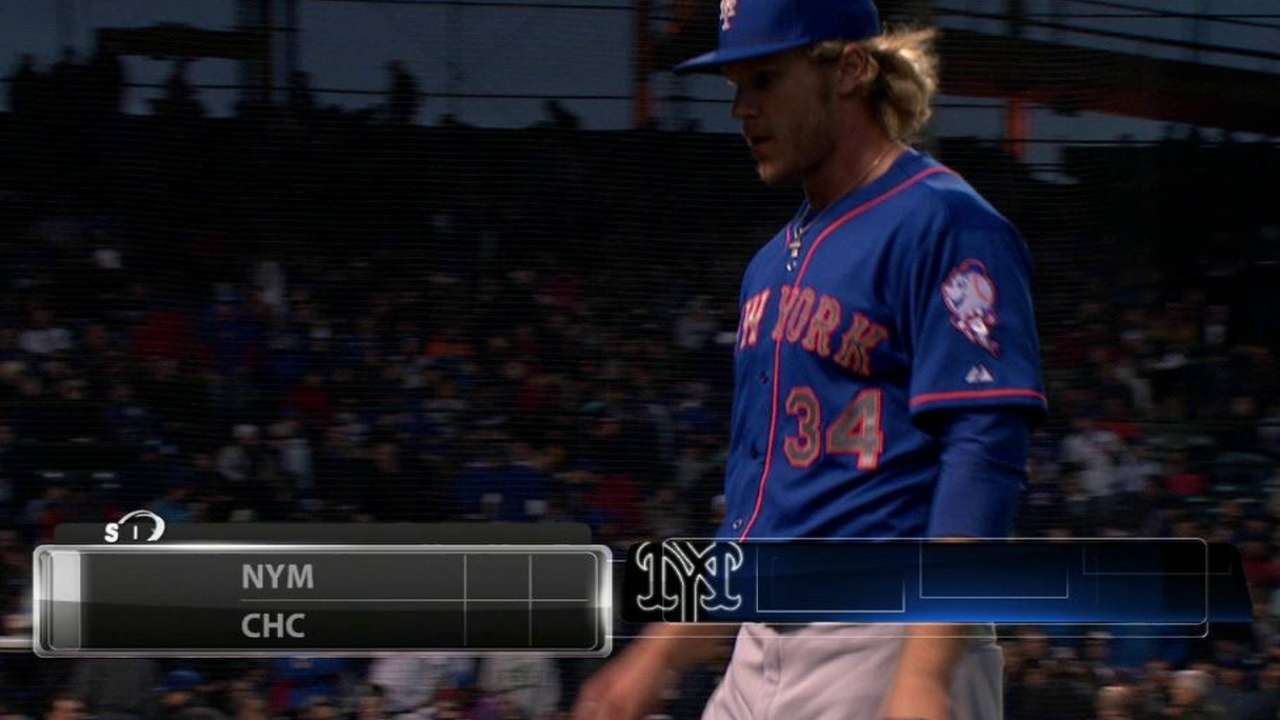 "We didn't do much to help him," Mets catcher Kevin Plawecki said.
For five innings, Syndergaard needed no help. In the sixth, he unraveled, but even that could not spoil the Mets' impressions of him; when Syndergaard starts again in five days, the Mets will once again be eager to watch his growth.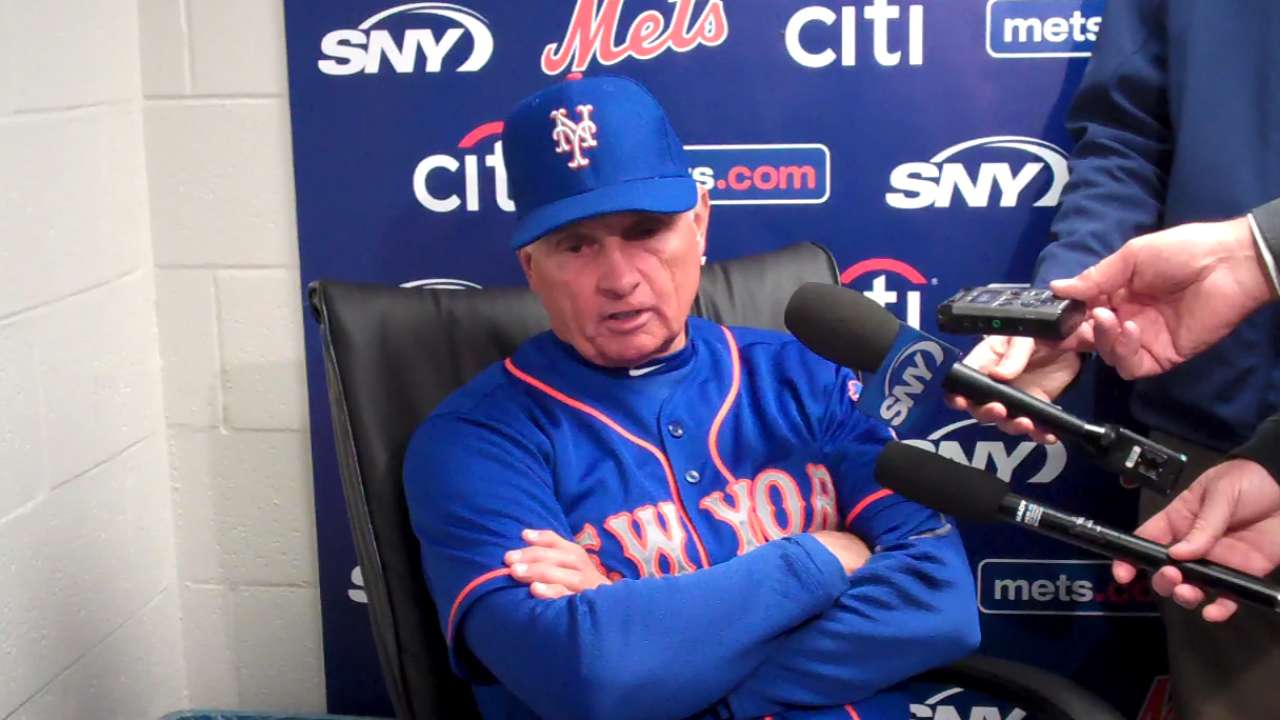 "Obviously, he's got good stuff," Mets manager Terry Collins said, "and I was certainly impressed with the way he threw it."
Anthony DiComo is a reporter for MLB.com. Follow him on Twitter @AnthonyDiComo and Facebook, and listen to his podcast. This story was not subject to the approval of Major League Baseball or its clubs.