Fiers sees 7-K outing as a building block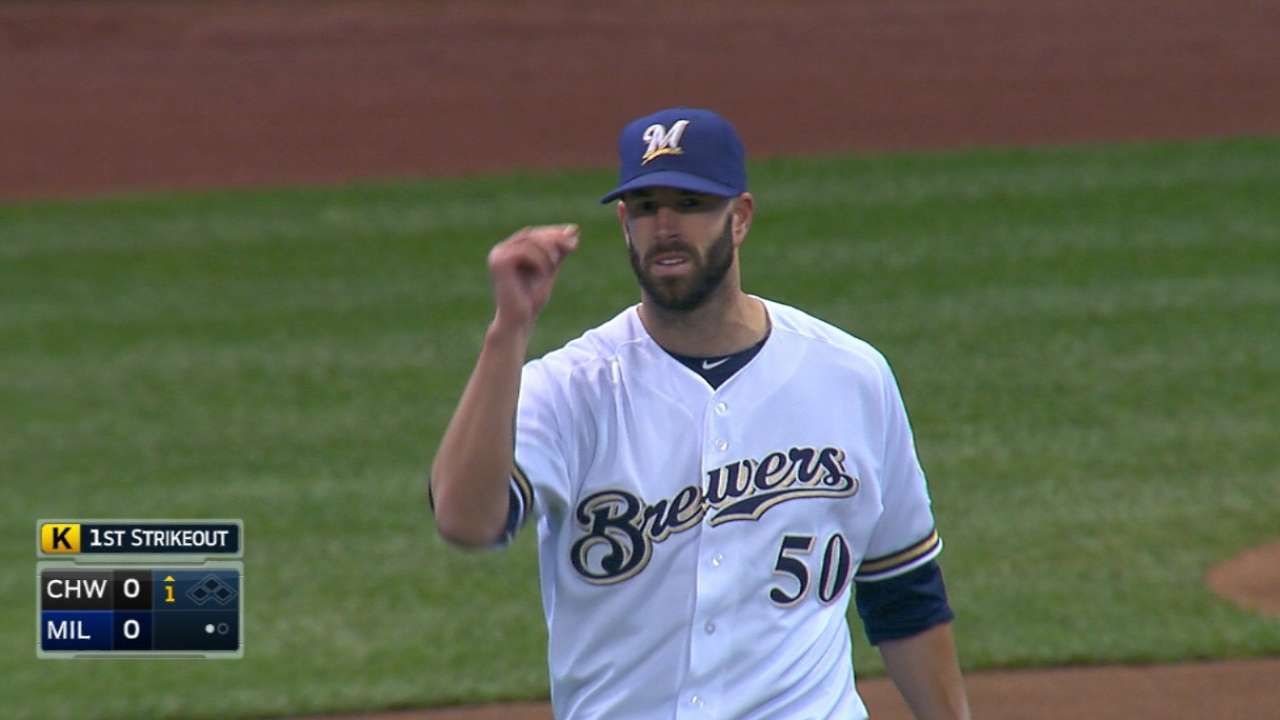 MILWAUKEE -- Mike Fiers struck out 12 Cubs two starts ago, but Tuesday's outing against the White Sox might have been sharper. Fiers retired the first 11 men he faced, matched his season low by issuing only one walk and pitched into the seventh inning for the first time this season.
Though the outing came in a 4-2 loss to the White Sox at Miller Park, Fiers views it as something to build on as he seeks his first back-to-back quality starts of the season.
"I'm still not as consistent as I think I should be or want to be this season, but again, this is another step in the right direction," Fiers said after allowing two runs on five hits in 6 1/3 innings. "Limit the walks and I'm a different pitcher. You go out and walk four or five, I don't think there are many guys that can be successful doing that. For me, it's getting ahead and limiting the walks."
After seven starts, Fiers is 1-4 with a 5.00 ERA, but he has struck out seven batters in three consecutive starts, and overall, has 49 strikeouts in only 36 innings.
"I think Mike is, like, this close," manager Craig Counsell said. "I really think Mike is right on the edge of really breaking out here. The stuff, the strikeouts tell you that. The strikeouts tell you what the hitter is feeling. I'm confident in Mike moving forward.
"Strikeouts are just a sign of how tough you are. If you can make Major League hitters swing and miss in the strike zone, it's really hard to do. When you're doing that, there's success in there. That's the easiest way to put it."
Fiers pitched with a one-run lead on Tuesday until the White Sox opened the fifth inning with three straight hits to take a one-run lead of their own. After Elian Herrera's home run tied the score at 2, Fiers was knocked out after surrendering a one-out single to Tyler Flowers and a walk to No. 8 hitter Micah Johnson in the seventh. Reliever Will Smith escaped without further damage.
Fiers settled for a no-decision, and White Sox starter Chris Sale took the win after allowing two runs on only three hits in eight solid innings.
"I thought [Fiers] was excellent," Counsell said. "I thought he had a very good fastball tonight. It had life. He did a nice job. He did his job, for sure. You get in a game against Chris Sale and you have to be perfect."
Adam McCalvy is a reporter for MLB.com. Follow him on Twitter @AdamMcCalvy, like him on Facebook and listen to his podcast. This story was not subject to the approval of Major League Baseball or its clubs.