Ventura, White Sox thrilled by vintage Sale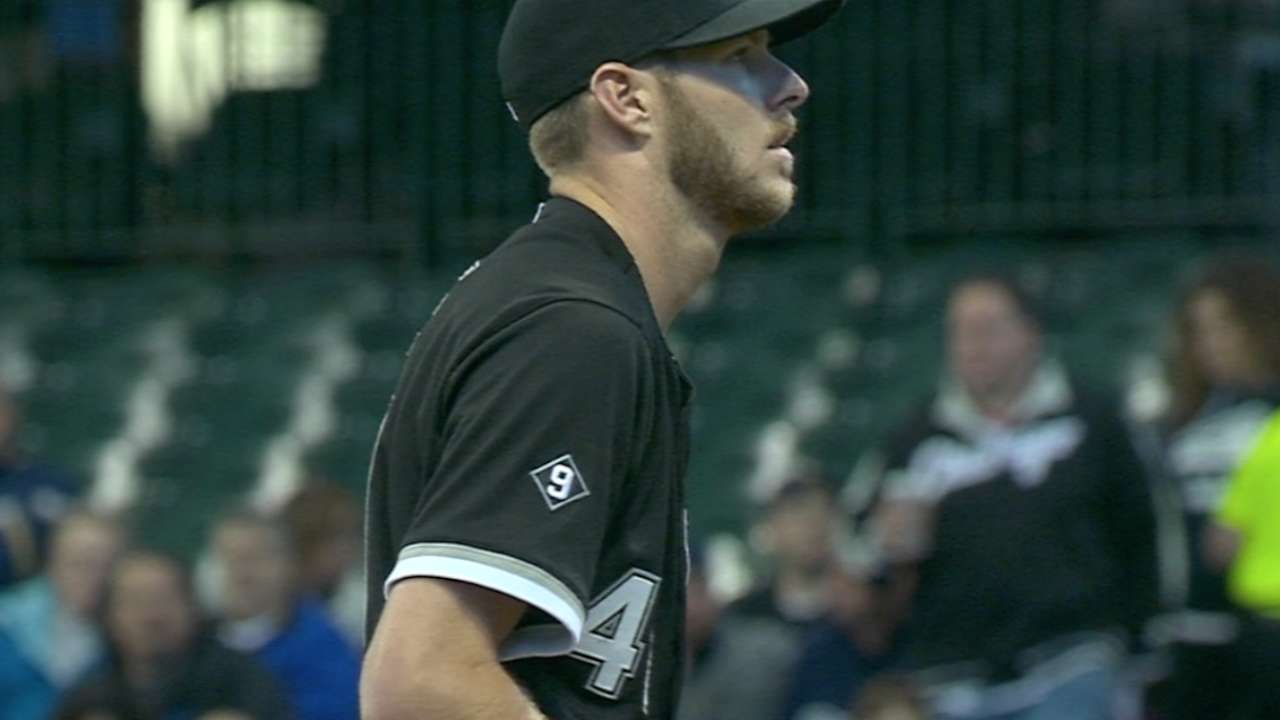 MILWAUKEE -- The Chris Sale who returned to the mound following a five-game suspension for a 4-2 victory over the Brewers on Tuesday night at Miller Park very much resembled the third-place finisher in the 2014 American League Cy Young voting and one of the best starters in baseball.
One can make a safe bet that the White Sox were glad to see Sale, especially with the rotation featuring a 7.27 road ERA entering the second of three contests in Milwaukee. Behind eight innings of three-hit baseball and 11 strikeouts -- which increased his franchise record to 19 games with double-digit K's -- Sale almost singlehandedly put an end to the team's seven-game road losing streak.
This effort also came on the heels of two straight non-quality starts from Sale, marking the first time since 2012 that he had such back-to-back performances. He has never had three.
"Obviously, as a starter, you want to get as far into the game as you can, especially after having a couple of really bad ones and leaving my guys out to dry," said Sale, who threw 77 of his 110 pitches for strikes. "Rest the guys a little bit and just build off of it."
"It's good for Chris in particular coming off a couple of tough starts, not really feeling that well, to even have an opportunity to go that deep in a game against a team that's swinging the bats pretty well right now," catcher Tyler Flowers said. "That does a lot for him and helps out the bullpen, too."
Sale's true elite form became evident during his final four innings. Elian Herrera, who hit three of his five career homers off Chicago baseball teams this season, went deep off Sale to tie the score leading off the fifth. But Sale did not allow a hit from that point forward, striking out seven, including Jean Segura, Khris Davis and Ryan Braun in the sixth.
After the White Sox took the lead in the eighth, Sale recorded two more strikeouts sandwiched around a walk to Gerardo Parra that represented his only baserunner allowed after the homer.
"Another thing I haven't done too well is when we score, holding them," Sale said. "I feel like a lot of times, we score and I run out and give it right back. You try not to let it snowball on you late in the game."
"There was a point there you could have pinch-hit for him and gotten something going, but he was throwing so well you really didn't want to take him out," manager Robin Ventura said. "We figured we could scratch something later. To get him two more innings was big for us."
That point came in the seventh, when Sale bunted into a fielder's choice at third with two on and one out. But the White Sox didn't need him to be good with the bat on this night. They just needed him to do his thing on the mound.
"He had that slider he really needed on some guys," Ventura said. "This is just a little more vintage of what you would expect out of him."
Scott Merkin is a reporter for MLB.com. Read his blog, Merk's Works, and follow him on Twitter @scottmerkin. This story was not subject to the approval of Major League Baseball or its clubs.