Encarnacion busts out with 2 oppo homers
Slugger heating up in May again for Blue Jays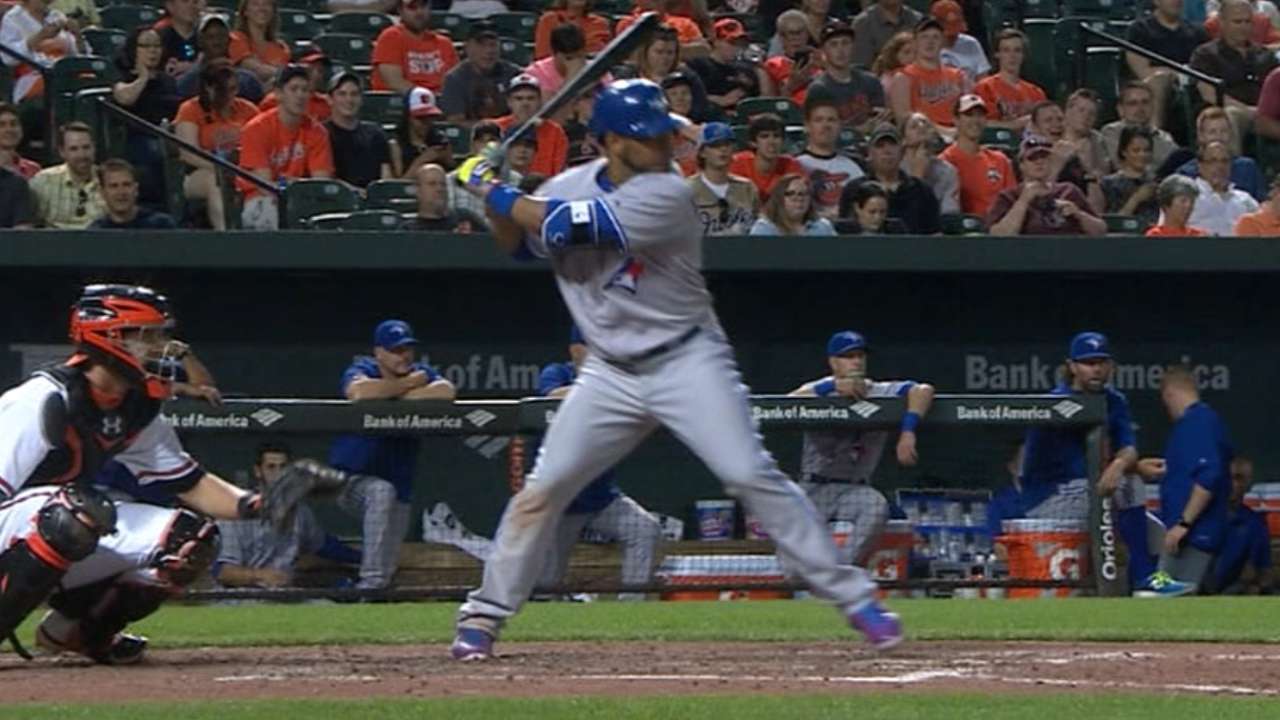 BALTIMORE -- Edwin Encarnacion is on a roll during May for the second consecutive year, and that means bad things for pitchers across the American League.
Encarnacion homered twice during Tuesday night's 10-2 victory over the Orioles. It was a continuation of his recent torrid pace, and it's helped the veteran slugger overcome what had been a slow start to the season.
The average has been creeping up for the past couple of weeks, and the power followed suit at Camden Yards. Encarnacion's solo shot in the sixth and two-run shot in the seventh were integral to Toronto evening the series at one game apiece.
"I'm happy to be feeling better at the plate since the last couple of weeks," said Encarnacion, who is hitting .244 with seven homers and 21 RBIs on the season. "I know the power is there and I know it's going to come.
"The way I'm hitting tonight, us winning, 10-2, that's good for me and good for the team. I know when I start hitting, and getting hot, we're going to win a lot of games."
Encarnacion has reached base in 14 consecutive games, and he's batting .346 (18-for-52) over that span, with three homers, four doubles and 13 RBIs. He has two multi-homer games this year -- both against Baltimore -- and 19 for his career.
Home runs have become a regular occurrence for one of the best sluggers in the game, but the fact that both of Encarnacion's shots on Tuesday night went over the wall in right field is rare. Last year, Encarnacion went deep 34 times but not a single one of those were hit to the opposite field.
Encarnacion's recent outburst doesn't mean he's going to start taking everything the other way, but it's an encouraging sign for the Blue Jays. When Encarnacion is sending pitches on the outer half of the plate to right field, it usually means his timing couldn't be much better.
"I'm not a guy who's going to hit 20 homers oppo," Encarnacion said. "I'm not that kind of guy, I know me, [but] it's good like tonight when I have two oppo homers. That, for me, is my timing getting better and getting right.
"In this game you have to make adjustments. If they keep throwing it away, you have to let them know that you can hit it that way. ... That's part of the adjustment I have to make at this level."
Gregor Chisholm is a reporter for MLB.com. Read his blog, North of the Border, follow him on Twitter @gregorMLB and Facebook, and listen to his podcast. This story was not subject to the approval of Major League Baseball or its clubs.