Ramirez to start for Rays on Thursday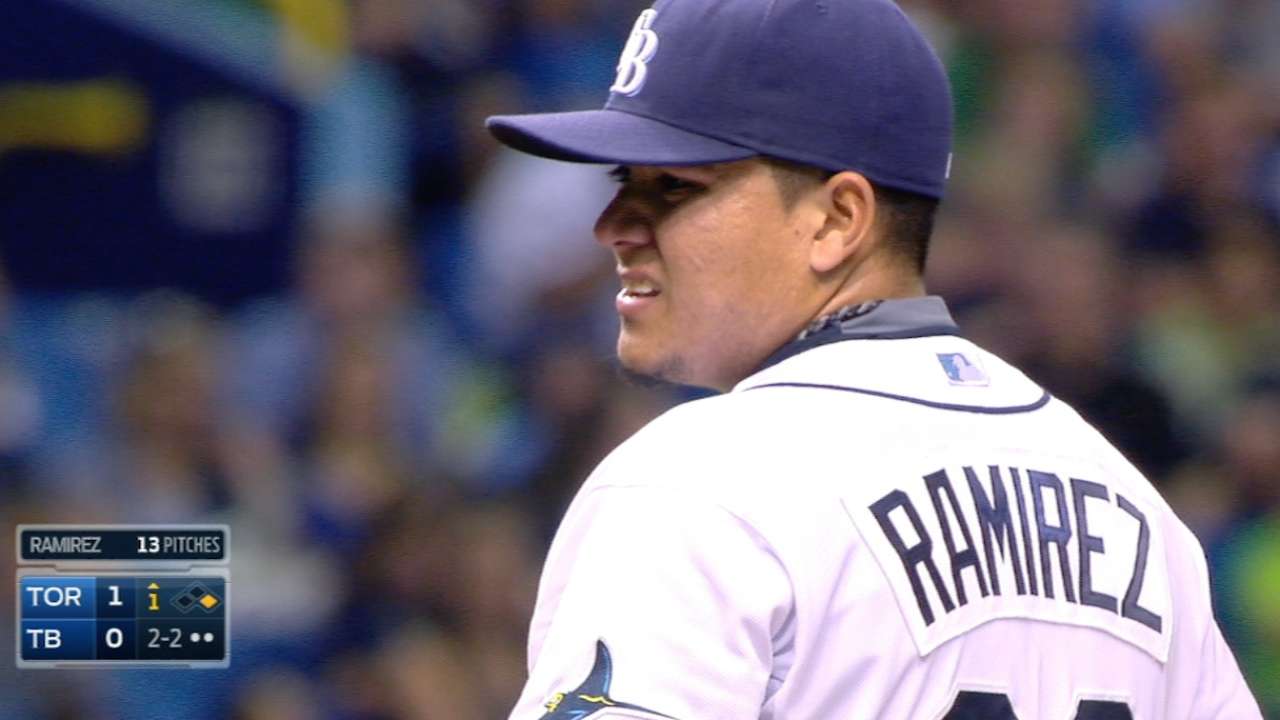 ST. PETERSBURG -- After mulling over his options for a few of days, Rays manager Kevin Cash decided that Erasmo Ramirez will start Thursday in the series finale against the Yankees.
"He's thrown the ball really well lately," Cash said. "With the fluctuation in our bullpen with guys being sick and down, he's the one that really bounces back good."
Ramirez will make his third start of the season and his first since April 25, when he surrendered just one earned run on four hits in four innings against the Blue Jays.
With the fifth spot in their starting rotation left vacant because of injuries to righty Alex Cobb (Tommy John surgery) and lefty Drew Smyly (torn labrum), the Rays have filled the hole on a start-by-start basis.
Matt Andriese and Andrew Bellatti were the other pitchers Cash was considering putting on the mound, but he ultimately decided to go with Ramirez.
"I'll play just like every time," Ramirez said. "Every time they ring the phone and say, 'Ramirez, you go in,' it's the same call. You have to be prepared to throw strikes -- they have aggressive swingers and are a good team. I just have to go and do my job. … I'm happy for the chance."
Ramirez tossed 21 pitches in two innings against the Yankees on Monday, but he said that outing should not have an effect on his start Thursday.
In total, Ramirez has made nine appearances for the Rays -- most of which have come as a long reliever -- and he owns an 0-1 record with an 8.38 ERA. The multiple transitions from starter to reliever, however, have not changed the right-hander's approach on the mound.
"Right now, my mind is kind of locked," Ramirez said. "No matter how you get in the game, if you are in the game, your job is to throw strikes and get some outs, so why would you put too much pressure on your mind? It's just about being yourself."
The Rays might be getting a boost to the rotation soon, as Matt Moore, who underwent Tommy John surgery on April 22, 2014, is inching closer to a rehab assignment.
"The last I heard, [he'll have] another [bullpen session] tomorrow, and then probably sit down and have a discussion if we think another live BP is warranted," said Cash before Tuesday's 4-2 win against the Yankees. "Or if it's more of a game, up-down session. And then get out and start a rehab assignment and pitch innings."
Troy Provost-Heron is an associate reporter for MLB.com. This story was not subject to the approval of Major League Baseball or its clubs.