Gonzalez shows faith in young Foltynewicz
Right-hander strikes out seven over 6 2/3 innings vs. Reds, but makes costly error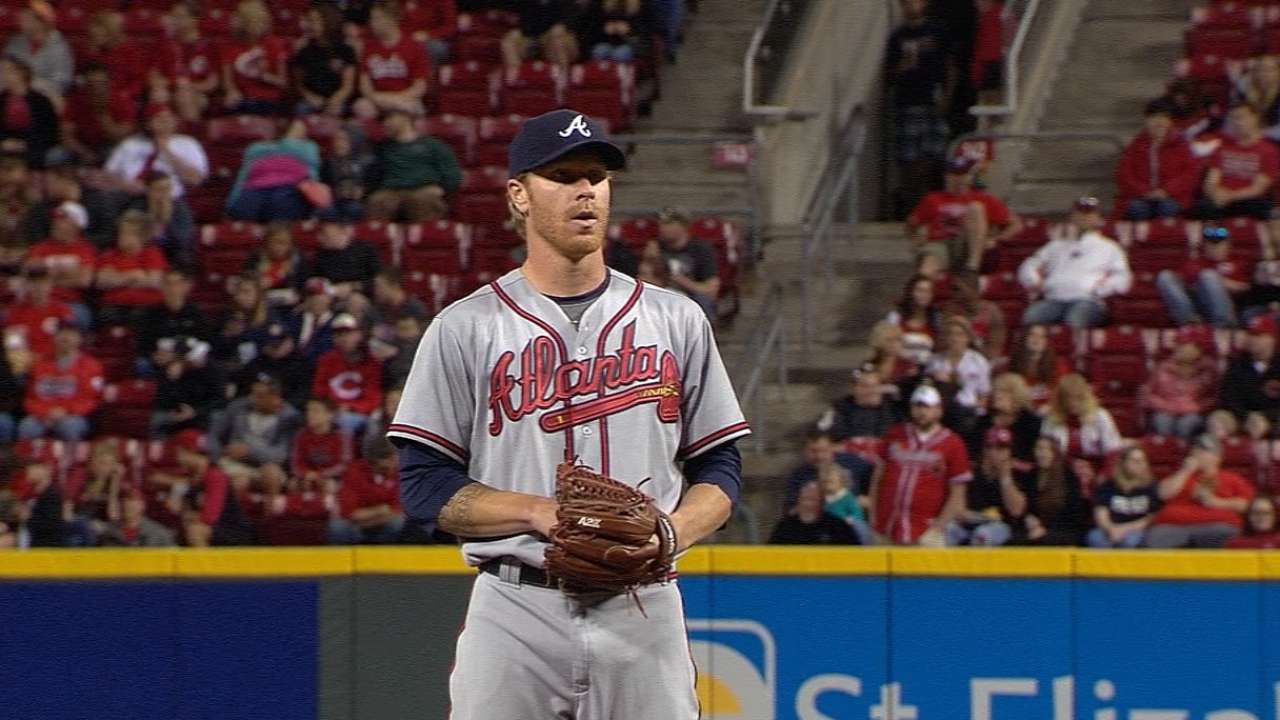 CINCINNATI -- When Braves manager Fredi Gonzalez sent Mike Foltynewicz back out to pitch the seventh inning of Tuesday night's game against the Reds, he was telling his young hurler that he had earned the right to be trusted to protect a one-run lead.
Unfortunately for Foltynewicz, in the process of taking another positive step forward in his development, he soured his strong performance with a seventh-inning throwing error that helped the Reds complete a 4-3 comeback victory that concluded with Devin Mesoraco's walk-off double in the ninth inning.
"Two mistakes and it cost you the game, but that is baseball and you've just got to get them one last time," Foltynewicz said after limiting the Reds to two earned runs and six hits over 6 2/3 innings.
Though Foltynewicz proved to be more impressive than he had been in his only two previous Major League starts, he exited this outing forced to ponder the seventh-inning throwing error and the two-run homer Todd Frazier hit after Joey Votto had battled back from a 0-2 count to draw a two-out walk.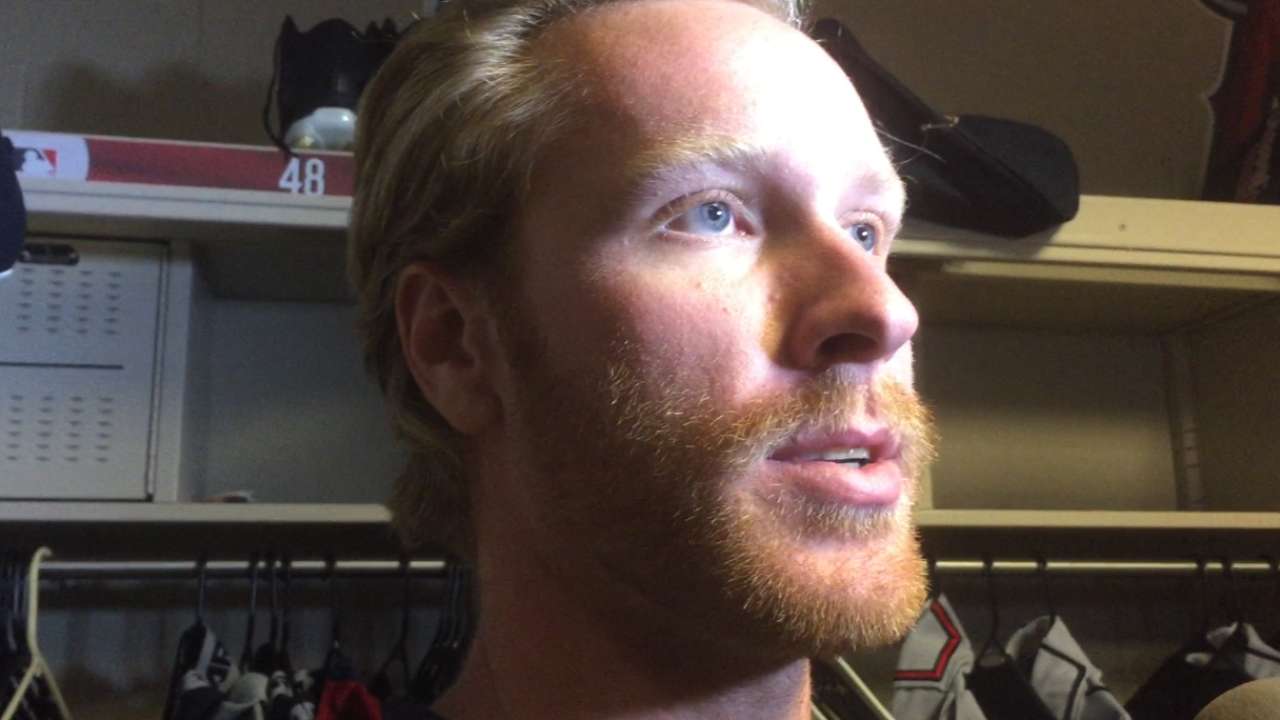 "I think I tried to overthrow a couple pitches [to Votto], trying to get him to swing and miss," Foltynewicz said. "Then, Frazier came up and hit the home run. Then, the throwing error …"
Unfortunately, the home run and error blemished what was an otherwise impressive 104-pitch outing for Foltynewicz, who had been bidding to open his career by winning each of his first three starts. The 23-year-old right-hander left a pair of runners stranded in the third with an inning-ending strikeout and followed the two-out walk he issued to Votto in the fifth by getting Frazier to swing through a 2-2 curveball.
Armed with the best curveball he has displayed thus far, the highly-regarded pitching prospect notched seven strikeouts, including two in the sixth inning. He proved impressive enough to be sent to the mound having already thrown 95 pitches before he began the seventh inning.
"Folty was outstanding, he really was," Gonzalez said. "I think every chance we have to get him in those situations, it's going to be good for him."
After allowing Brayan Pena to begin the seventh with a single, Foltynewicz fielded Zack Cozart's sacrifice bunt and made an errant throw to second base. Two batters later, Marlon Byrd, who had not hit the ball beyond the batter's box in his two previous at-bats of the night, delivered a game-tying sacrifice fly.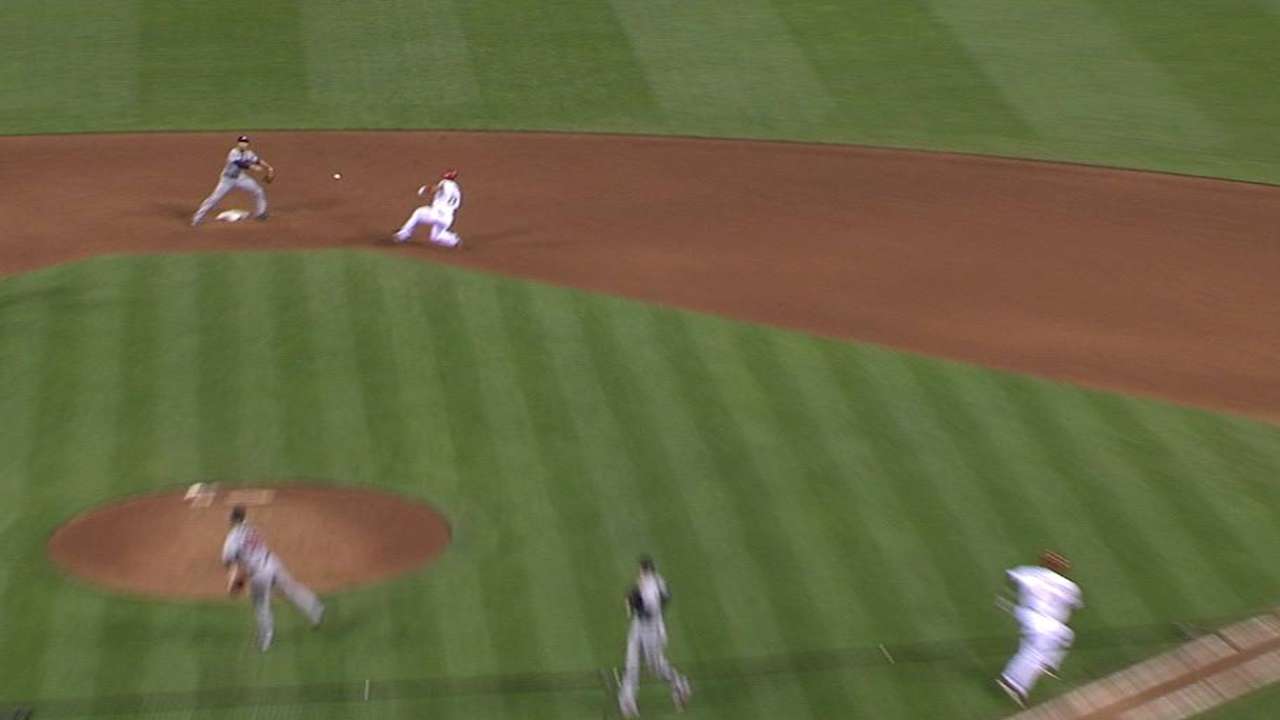 "I haven't [fielded a bunt] all year, and I just didn't have a good grip when I threw it," Foltynewicz said. "It just kind of sailed on me. In that situation, you've got to make that play. Unfortunately, I didn't. That one is on me."
While Foltynewicz walked away from this outing with some regret, he had reason to feel good about the confidence Gonzalez showed by sending him back to the mound to begin the seventh, and by keeping him in the game after the Reds had put runners at second and third base with Byrd coming to the plate.
"He was really impressive," Braves left fielder Jonny Gomes said. "He's taken strides every time he's walked out there. That is all you can ask of the kid."
Mark Bowman is a reporter for MLB.com. Listen to his podcast. This story was not subject to the approval of Major League Baseball or its clubs.