MLB.com Columnist
Jesse Sanchez
International market gains three Cuban players
Camacho and Perez establishing residence in Haiti, while Martinez is eligible to sign
Another group of players from Cuba is garnering interest and is poised to shake up an already jam-packed international market.
Infielder Luis Yander La O Camacho, 23, and left-handed pitcher Cionel Perez, 19, have left the island and are in the process of establishing residency in Haiti, the first step to becoming Major League free agents, according to an industry source. Additionally, Cuban center fielder Eddy Julio Martinez, 20, has been declared a free agent and is eligible to sign.
Camacho, who played six seasons for Santiago de Cuba in Serie Nacional, can sign as free agent once he establishes residency outside of Cuba and the United States, petitions Major League Baseball for free agency, and is declared eligible to sign. Because Perez and Martinez are younger than 23 and have not played at least five years in Serie Nacional, they will be subject to the international signing guidelines.
An established hitter, Camacho posted a .312 batting average with eight home runs and 113 RBIs in his career in Cuba. He hit .325 with two home runs and 39 RBIs in 76 games for Santiago and Matanzas during the 2014-15 season.
Camacho was a key player for Cuba's 2015 Caribbean Series championship team in Puerto Rico, picking up seven hits in 16 at-bats with two runs and one RBI in four games. He struck out four times and walked once during the tournament.
Martinez, who trained with the International Prospect League in the Dominican Republic on Tuesday, will work out for scouts Wednesday and Thursday. It's unclear if the outfielder, who played two seasons for Las Tunas in Cuba, will sign during the current international signing period or wait until the next period that begins on July 2.
As for Perez, he went 7-2 with 75 strikeouts and 32 walks in 87 1/3 innings for Matanzas in 2014-15, his only two seasons with the club.
There has been a flurry of movement on the Cuban market in recent weeks.
Two weeks ago, top Cuban pitching prospect Vladimir Gutierrez, 19, established residency in Mexico and registered with Major League Baseball. The right-hander, who defected during Caribbean Series in Puerto Rico, will be subject to the international signing guidelines when he is declared a free agent by MLB.
Outfielder Guillermo Heredia, 24, also recently established residency in Mexico, but he will be exempt from international signing guidelines because of his age and experience when he declared himself eligible. Heredia was the starting center fielder for Cuba during the 2013 World Baseball Classic.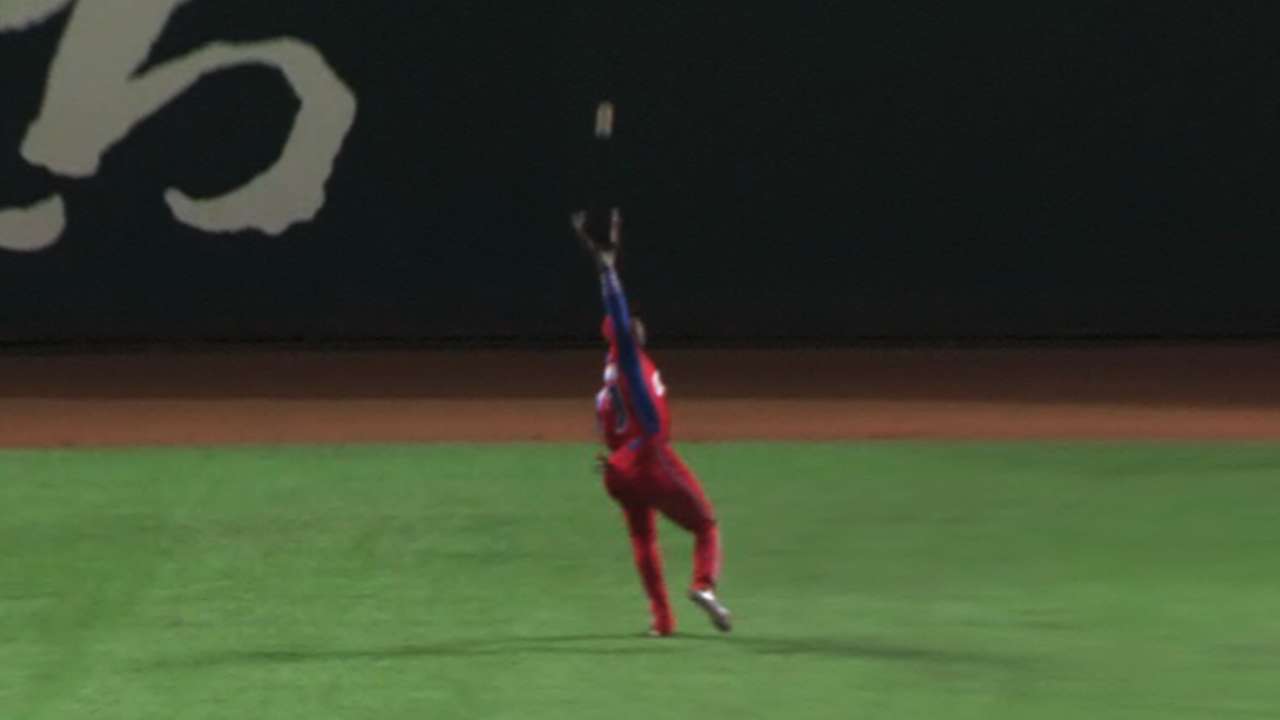 Last month, right-handed pitcher Yasiel Sierra, 23, left Cuba and began the process of establishing residency, either in the Dominican Republic or Haiti. Center fielder Yordanis Linares, 26, also defected.
Linares will be subject to the international signing guidelines, while Sierra will be exempt when the players are eligible to sign. Outfielder Yusnier Diaz, 18, also left Cuba last month, but it's uncertain if he will file the paperwork to qualify for the upcoming international signing period.
In March, right-hander Carlos Sierra, 20, established residency in Spain. He will be subject to the international signing guidelines when he becomes eligible to sign.
Highly coveted right-handed pitcher Yadiel Alvarez, 18, is expected to be declared a free agent this month, which would make him eligible to sign during the upcoming international signing period.
The players do not qualify for MLB.com's Top 30 International Prospects list because they are not yet eligible to sign.
Jesse Sanchez is a national reporter for MLB.com. Follow him on Twitter @JesseSanchezMLB. This story was not subject to the approval of Major League Baseball or its clubs.