Francona acknowledges Ramirez may be pressing
Young shortstop, struggling at the plate, makes key error against Cards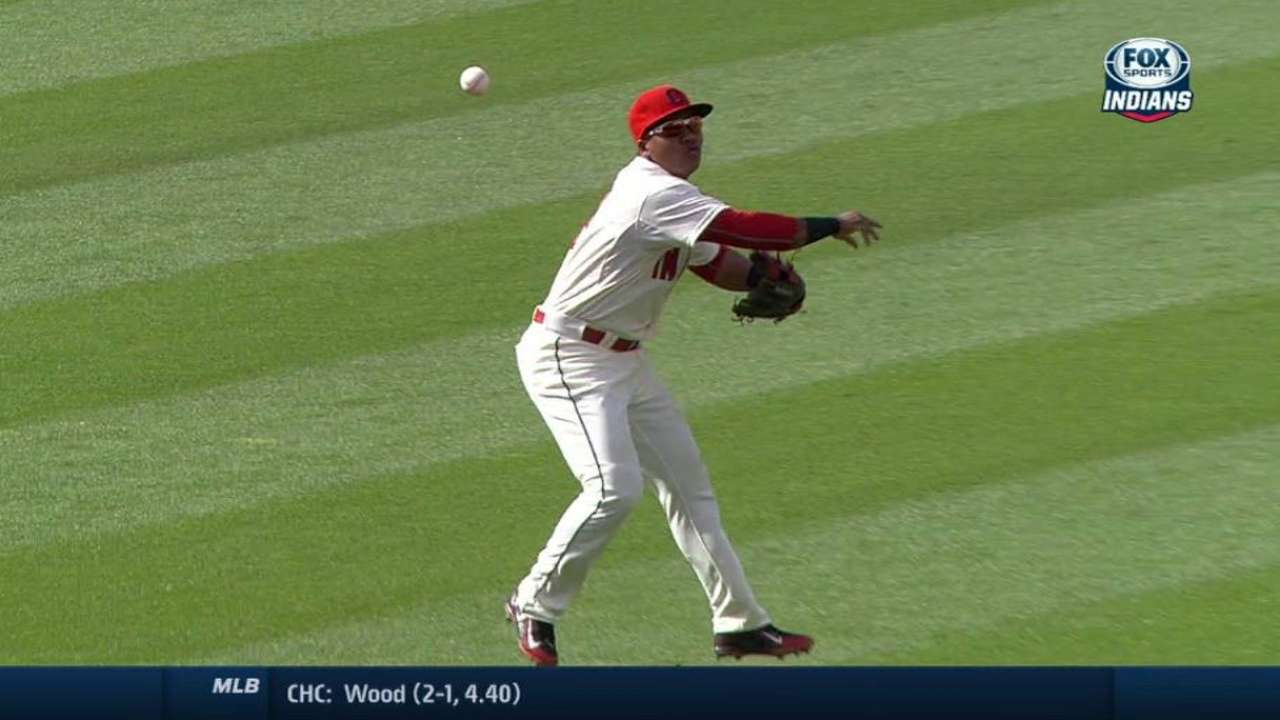 CLEVELAND -- Indians manager Terry Francona has been unwavering in his public praise for Jose Ramirez throughout the young shortstop's early-season struggles. On Tuesday night, the manager finally admitted to being worried about Ramirez's confidence level.
During an 8-3 loss to the Cardinals in the opener of a three-game series, Ramirez made a costly defensive gaffe that helped St. Louis blow things open with a four-run eighth inning. In the immediate aftermath of the defeat, Francona said that the shortstop does not seem to be carrying himself in the same way as last season.
"He used to walk around like he owned the field," Francona said. "And the one thing we always talked about so much was his clock. Right now, I think he's definitely pressing a little bit, and I understand it."
There are two elements that could be playing into Ramirez potentially putting too much pressure on himself.
First, the 22-year-old shortstop is trying to sort through his own adjustments now that pitchers around the league have become more familiar with his offensive approach. Beyond that, Ramirez knows that highly-touted shortstop prospect Francisco Lindor is only a phone call away with Triple-A Columbus.
Ramirez, who used veteran pitcher Bruce Chen as an interpreter, said his confidence level has not waned.
"My confidence is good," Ramirez said. "I know I'm going to be OK and the team is going to be good and we're going to get out of this."
Ramirez's defensive blunder came in the eighth, when the Cardinals were clinging to a 4-3 lead. With one out and a runner on first base, Indians reliever Bryan Shaw induced a chopper back to the mound from Peter Bourjos. Shaw bobbled the ball -- likely taking a double play out of the equation -- but Cleveland still had a sure out at second base.
Shaw relayed the ball to Ramirez, who missed the catch and allowed both runners to reach safely. Matt Carpenter later came through with a two-out RBI single, and Cardinals slugger Matt Holliday followed with a three-run home run off Cleveland reliever Scott Atchison.
"I tried to make the double play," Ramirez said. "It was a tough play at second. The ball moved a little bit, and I tried to make the double play, so I could get out of the inning and help the team win."
It marked the sixth error of the season in 24 games played for Ramirez, who made only four errors in 56 games last season. Entering Tuesday's game, Ramirez ranked 20th in the Majors in Defensive Runs Saved (minus two) and 17th in UZR/150 (minus 2.2). In 2014, he led the Majors with an 18.9 UZR/150 among shortstops with at least 400 innings.
Offensively, Ramirez has turned in a .179/.222/.238 slash line and has been benched for the time being against left-handed pitching due to his 1-for-24 (.042) showing. In 2014, Ramirez hit .262 with 14 extra-base hits in 68 games, including a .298 average in his final 43 games.
"[Ramirez is] still a very talented player," Indians second baseman Jason Kipnis said. "And he's still a player that can help us win. He just might be pressing a little bit. He wants to do well. He's trying to do well. We all know that if you try to do too much and press a little bit, you're just digging your hole a little deeper. I think that's just happening to him. He'll get out of it."
Francona was asked if Ramirez might be worrying about having the 21-year-old Lindor (Cleveland's top overall pick in the 2011 First-Year Player Draft) right below him at Triple-A. Lindor is an above-average defender, switch-hits and is batting .256 with seven steals, nine extra-base hits, 11 RBIs, 12 runs and 16 walks this season.
"There's always gonna be somebody there," Francona said. "You can always come up with a reason to feel pressure, whether it's in Spring Training to make the club [or something else]. So, that's why you try to rely on working hard and playing the game right and things take care of themselves."
Francona also downplayed the potential benefit of sending Ramirez back to the Minor Leagues.
"I don't think we want to lose patience that quickly," Francona said. "I think we're always trying to figure out ways to get better, but maybe more with trying to help our players get better, as opposed to just getting rid of them. I don't think that makes a lot of sense."
Jordan Bastian is a reporter for MLB.com. Read his blog, Major League Bastian, follow him on Twitter @MLBastian and listen to his podcast. This story was not subject to the approval of Major League Baseball or its clubs.