Pena flourishing as Mesoraco finds way to contribute
All-Star catcher delivers walk-off double vs. Braves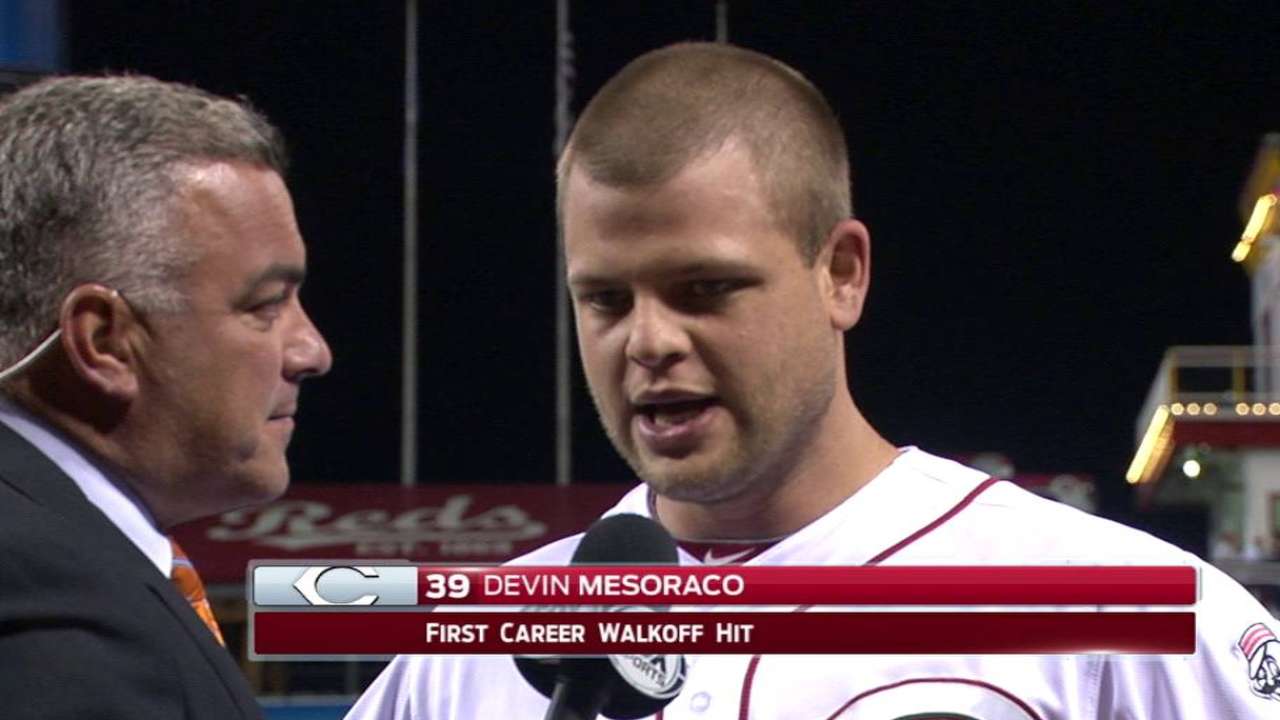 CINCINNATI -- The Reds would certainly love to have Devin Mesoraco behind the plate and in the lineup again every day. If it wasn't for a left hip impingement, Mesoraco would be doing just that while his backup, Brayan Pena, contributes from the bench.
On Tuesday, in a thrilling 4-3 walk-off victory over the Braves, the Reds got a 3-for-4 game from Pena while Mesoraco delivered the game-winner with a pinch-hit double. It wasn't how it was blue-printed before the season began, but it worked for a win.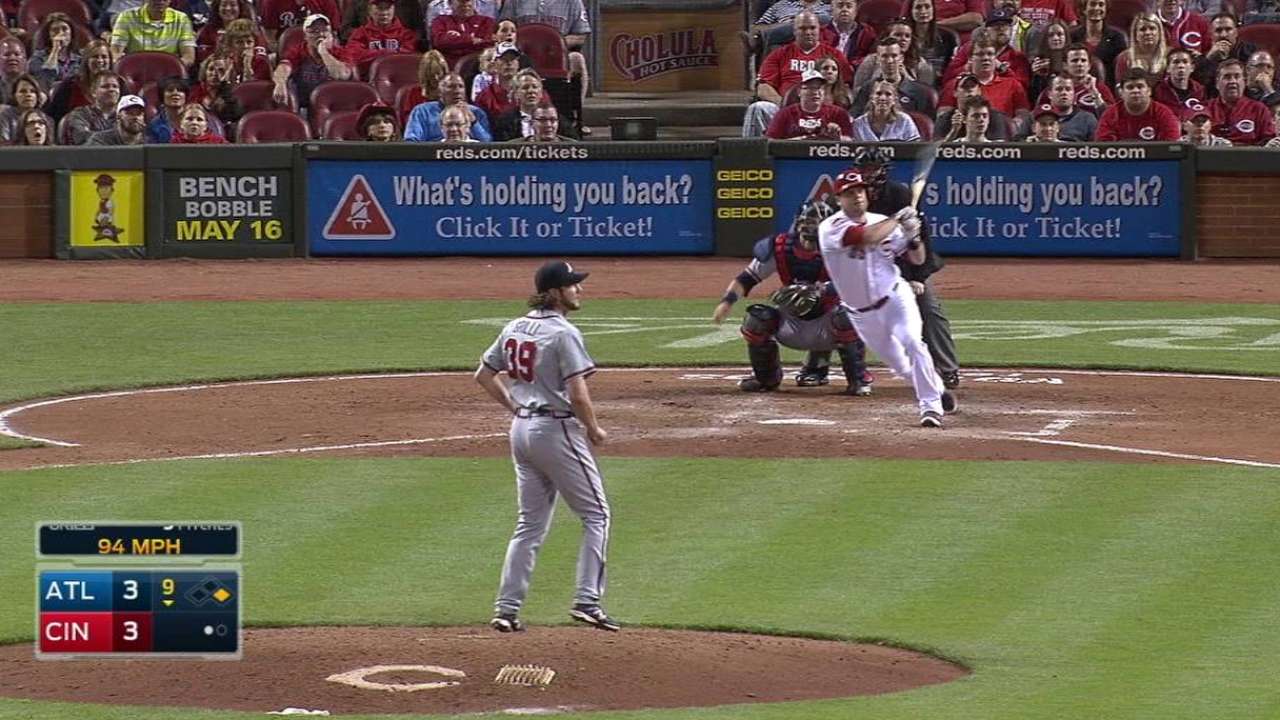 "This is Devin's team," Pena said. "I'm just holding it down for him until he comes back. At the same time, I have to thank Bryan [Price, the manager] for the opportunity to go out there and grind it out."
Because of his injured hip, Mesoraco hasn't started behind the plate since April 11. With the exception of two games over the weekend against the White Sox when he was the designated hitter, the rest of his at-bats came as a pinch-hitter, during which he had been 0-for-5 with three walks.
There have been clamors that the Reds should have put Mesoraco on the disabled list. The club wanted to keep his power bat on the bench since he could still hit and run the bases.
"Choosing when to use Devin is something I think about every day because he's a potent weapon even though he hasn't gotten off to the greatest start," Price said.
Meanwhile, Pena is batting .412 (21-for-51) over his last 16 games with a five-game hitting streak.
"I've gotten a good opportunity to be in the lineup. I try to take advantage and not let Bryan down," Pena said.
Pena hit a lead-off single in the seventh inning and scored the tying run against starting pitcher Mike Foltynewicz. In the ninth, it was Pena's one-out single off Jason Grilli that set the stage for the climax.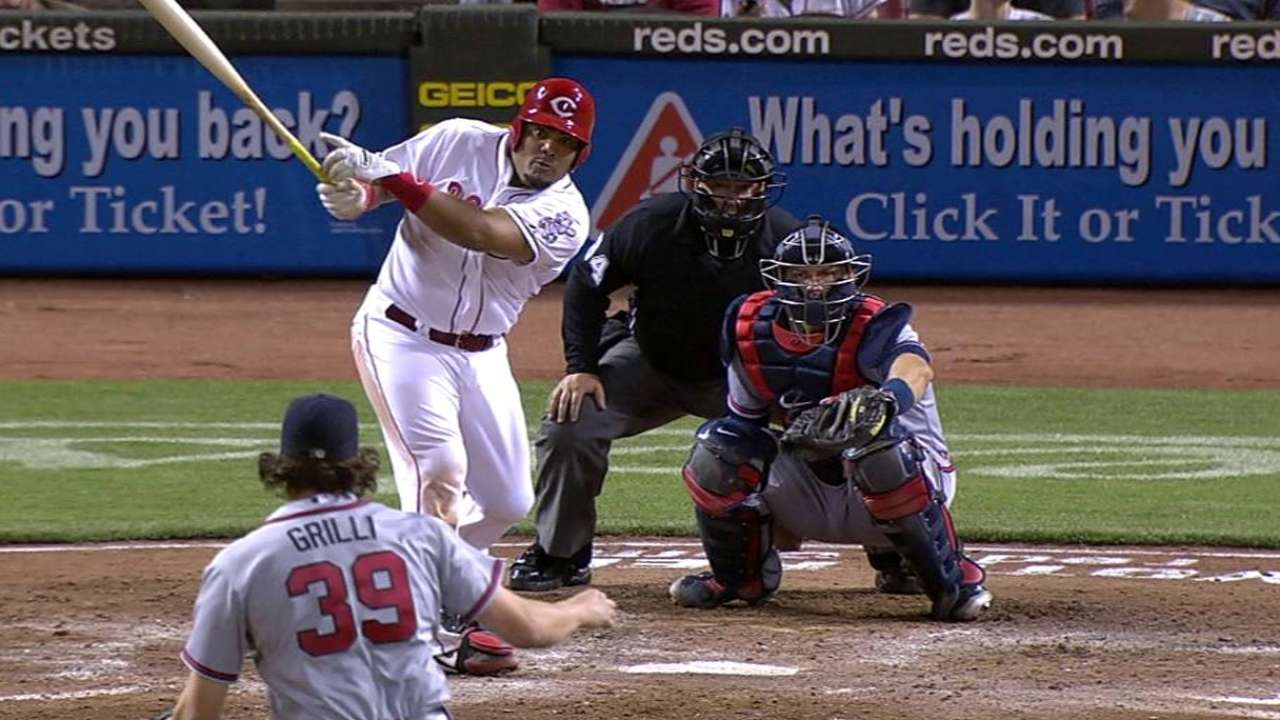 "It's been a big help when you lose someone like Devin to have Brayan step in, and doing such a nice job offensively is a bonus," Price said.
Price summoned speedy pitcher Michael Lorenzen to pinch-run for Pena in the ninth. Grilli's first-pitch fastball was lined to left field by Mesoraco. Lorenzen trucked home from first base to score the winning run as Mesoraco had the first walk-off hit of his career.
Until his two-hit game on Saturday against the White Sox as the DH, Mesoraco had gone about a month without a hit.
"That was certainly difficult. I wasn't helping out. I wasn't healthy," said Mesoraco, who signed a four-year, $28 million contract in the offseason. "That's not what I was looking toward for this season. I wanted to be back there a lot, helping a lot in the middle of the order and I haven't done that. To get this little opportunity and be able to produce, it definitely meant a lot."
Price and the Reds did not anticipate Mesoraco would be unable to catch this long. He is trying all routes of treatment to avoid surgery. The team is holding out hope he can still try catching, or perhaps something else.
"What matters is today he came up with the big at-bat for us," Price said. "He had a nice at-bat in Chicago and he's finding a way to be able to help us. He's taking a few balls off the bat in the outfield too. It doesn't mean he's going to play in the outfield. But you never know in a pinch, if we needed somebody to go out there, it might be Devin Mesoraco."
Mark Sheldon is a reporter for MLB.com. Read his blog, Mark My Word, follow him on Twitter @m_sheldon and Facebook and listen to his podcast. This story was not subject to the approval of Major League Baseball or its clubs.